When it comes to building a WordPress website, choosing the right developer is crucial for the success of your project. A certified WordPress expert possesses the experience, skills, and knowledge necessary to create a high-quality website that meets your needs and drives results. In this article, we'll discuss the benefits of choosing a certified WordPress expert for your project, and why Belov Digital Agency is the ideal partner for your website development needs.
Extensive Knowledge and Experience
Certified WordPress experts have a deep understanding of the platform, its features, and best practices. They are well-versed in WordPress coding standards, theme and plugin development, and website optimization techniques. By partnering with a certified expert, you can be confident that your website will be built to the highest standards and optimized for performance and user experience.
Tailored Solutions for Your Business
A certified WordPress expert will take the time to understand your unique business needs and goals, ensuring your website is tailored to your target audience and industry. They will create custom themes and plugins, if necessary, to provide a bespoke solution that sets your website apart from the competition.
SEO Optimization
Certified WordPress experts, like our WordPress SEO experts, understand the importance of search engine optimization (SEO) for your website's success. They will optimize your site's structure, content, and meta tags to improve search engine rankings and attract more organic traffic.
Security and Compliance
A certified WordPress expert is knowledgeable about website security and privacy regulations, such as GDPR. They will implement best practices to protect your website from security threats and ensure compliance with relevant privacy laws.
Ongoing Support and Maintenance
Certified WordPress experts often provide ongoing support and maintenance services to ensure your website remains up-to-date, secure, and optimized for performance. This includes regular updates, bug fixes, and performance improvements to keep your site running smoothly.
Proven Track Record
A certified WordPress expert, like the team at Belov Digital Agency, has a portfolio showcasing successful projects and satisfied clients. This track record demonstrates their commitment to delivering high-quality websites that drive results for businesses like yours.
Choose Belov Digital Agency for Your WordPress Project
At Belov Digital Agency, our team of certified WordPress experts has the experience, skills, and passion necessary to create a custom website that meets your needs and exceeds your expectations. We specialize in web development, WordPress development, WooCommerce development, and WordPress SEO to ensure your website's success.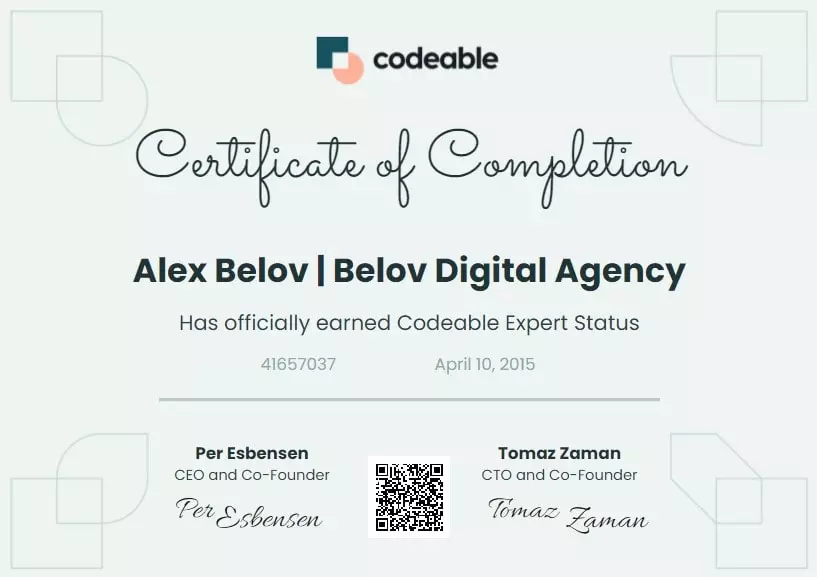 Contact us today to discuss your project and discover how our team of certified WordPress experts can help you achieve your online goals.
Learn More About Us
To learn more about our team, our values, and our commitment to providing exceptional service, visit our About page. We look forward to partnering with you and becoming a part of your online success story.
Get a free proposal for your project today