In the era of the remote working format, online spaces for joint meetings, effective collaboration, and sketching for new products began to gain popularity in many firms. According to users, Miro is considered a shark in the market of such sites and one of the most convenient programs at the moment. Let's compare FigJam vs. Miro whiteboards in action – through the eyes of ordinary employees of the design and management departments.
Block 1: Figma and FigJam review
Block 2: Miro from the users' side
Block 3: FigJam vs. Miro compared
Block 4: FigJam vs. Miro – Summarizing key points
The story of two departments: Case studies
Welcome to the virtual office of Solutions Inc. This team of professionals works to improve and ennoble the web space. Their values are based on collaboration, networking, team spirit, and structured data. And, of course, advanced folks like them use the most relevant and up-to-date platforms to organize their work.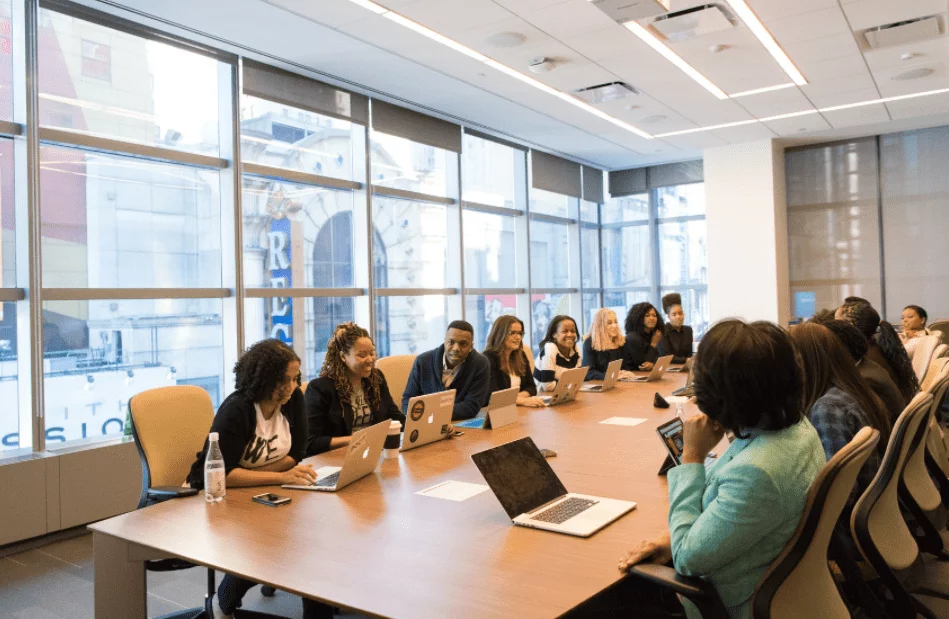 Let's take a closer look at the design department. FigJam is the main whiteboard tool here.
Block 1: FigJam users and why they love it
Meet Farrukh and Jessica, the main UX/UI designers at Solutions Inc. Among colleagues, they are known for their expressiveness, creative solutions, and extraordinary approach to work. Now they are holding a meeting with the client on edits in the new project. The main working platform for these workers is Figma.
During a business call, when they need to fix a lot of details, they connect the whiteboard tool FigJam. They use this for collaboration and parallel comments. When the client hangs up, they need to immediately discuss everything while the ideas are still sitting in their heads fresh and clear. Farrukh and Jessica consider FigJam to be the most convenient tool for such purposes. The ideal environment for brainstorming right on the spot:
➕ project developments on the next Figma tab,
➕ notes from the call, with comments after collaboration with a teammate (each block is automatically signed by the author so as not to get confused),
➕ a large selection of writing functions, blocks, arrows, and much more.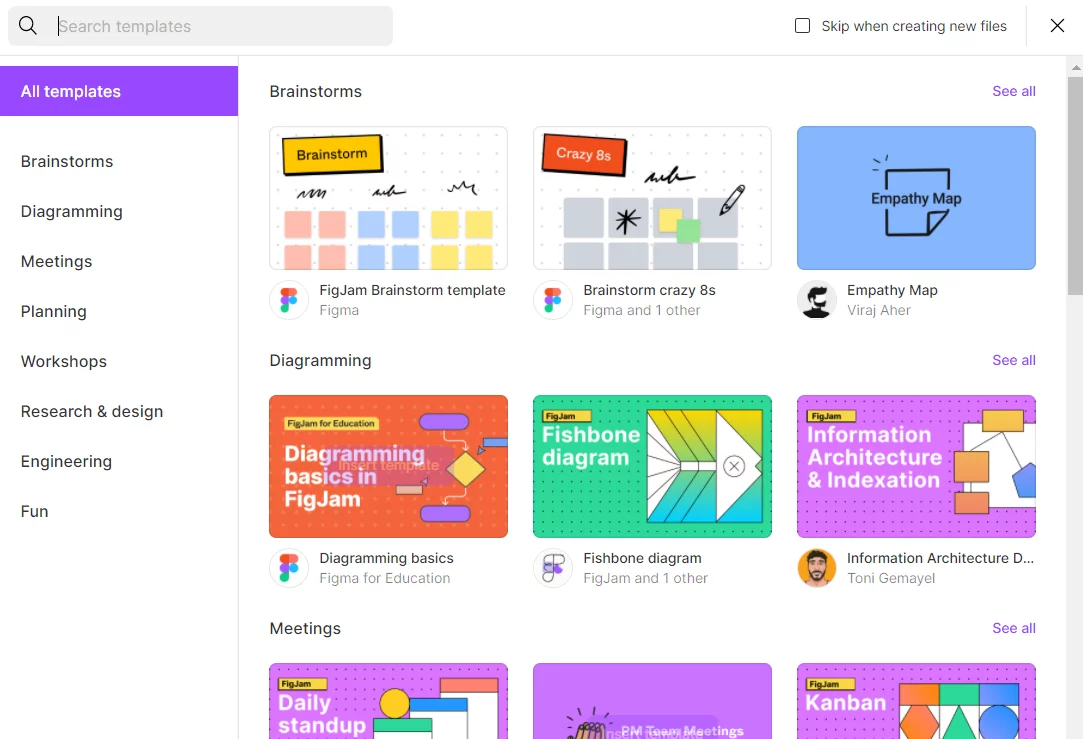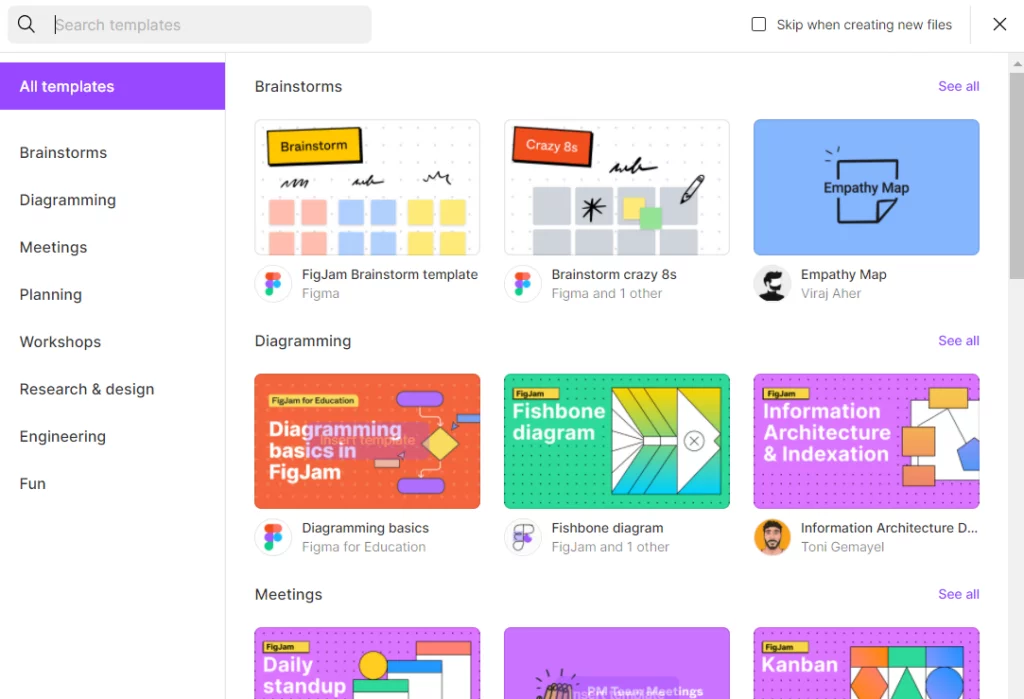 Bright chip-like stickers (in collaboration with Emoticon) and stamps make the process more vivid and diverse. There are also great tools for creating moodboards and illustrating all visual ideas. FigJam makes it possible to visually and quickly sketch a map or a framework of a new idea. One of the most interesting features for designers will be the quick import of files from Figma without third-party software or endless copy-paste iterations.
The key problem of online work is the loss of communication with colleagues. For Farrukh and Jessica, collaboration is a crucially important part of creating great projects. FigJam offers a lot of interesting variations of a joint call that turn any online work meeting into an unforgettable and fun event. For example, the multiplayer pong and ice breakers games.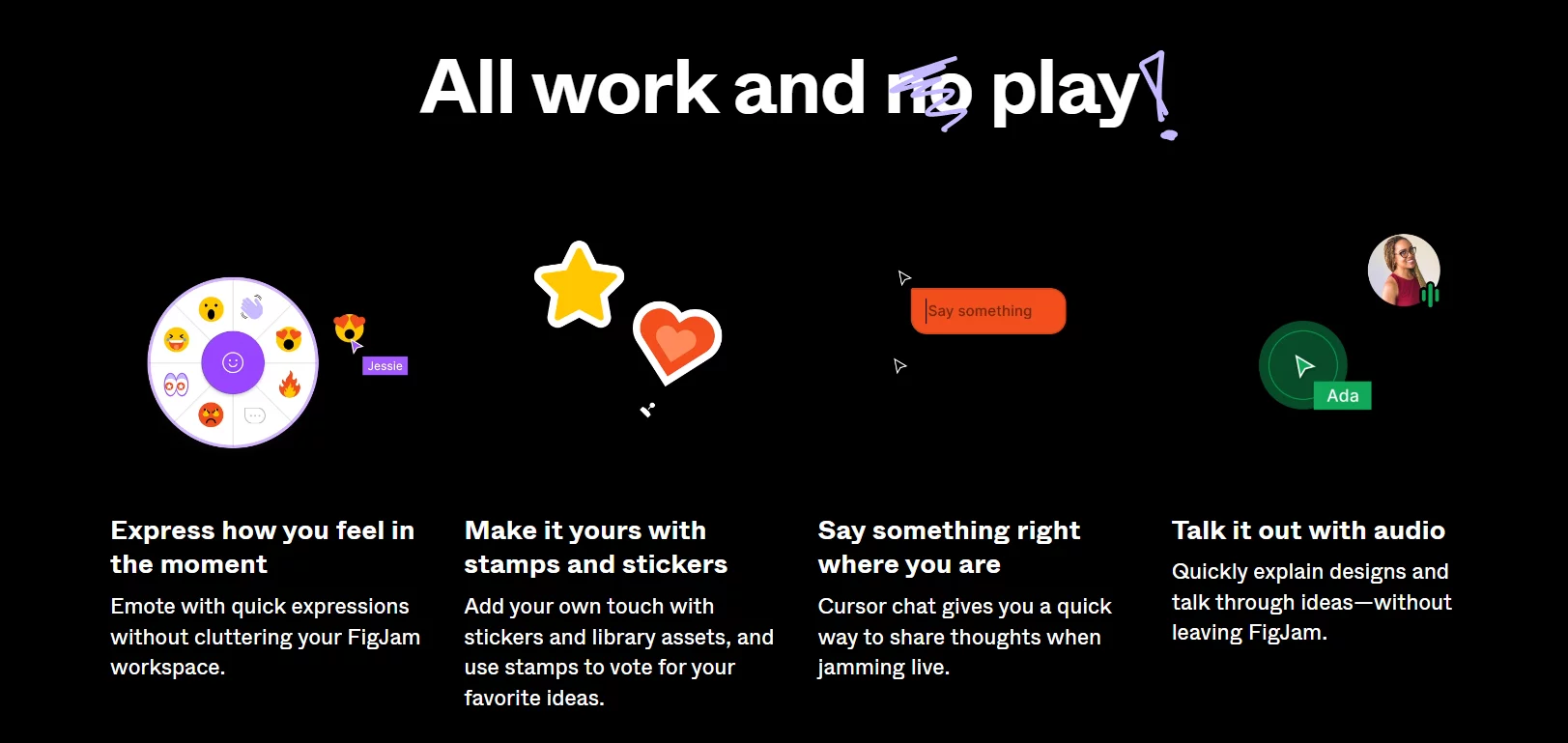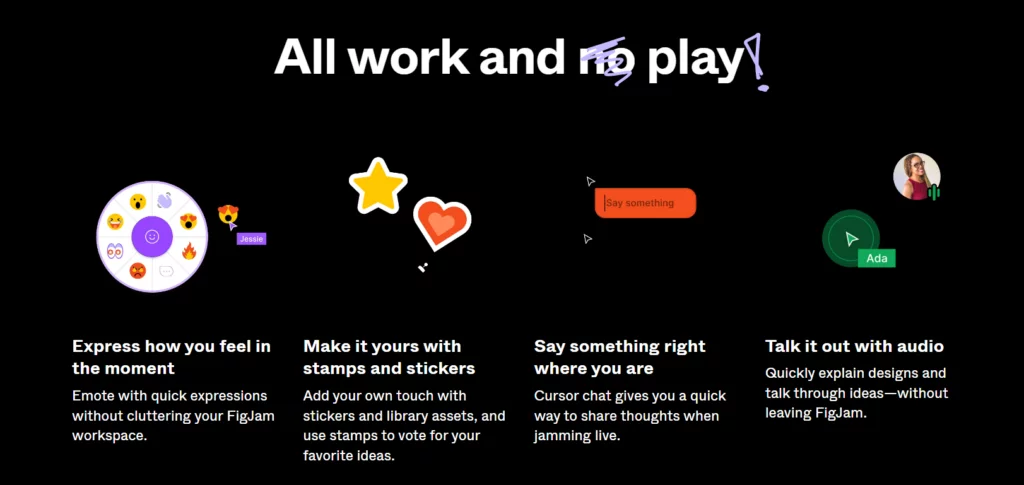 Block 2: Miro users and their reasons behind the choice
Well, let's leave the designers in their creative sandbox, and we ourselves will go down to the virtual floor below – to the project management department. Mike and Molly meet us here. Their job is to provide high-quality control and assessment, which is why structure is so important to them. In addition, they often supervise several projects at a time, so they need to remember every last detail.
To do this all, Mike and Molly love to use the Miro platform. It is great for the design of large-scale projects:
➕ it illustrates the stages of work,
➕ a lot of blocks for notes that can be divided by subject,
➕ the format of work and scale in Miro allows you to clearly see the structure of the project in order to know what details to adjust if necessary,
➕ the abundance of templates will appeal to any type of project.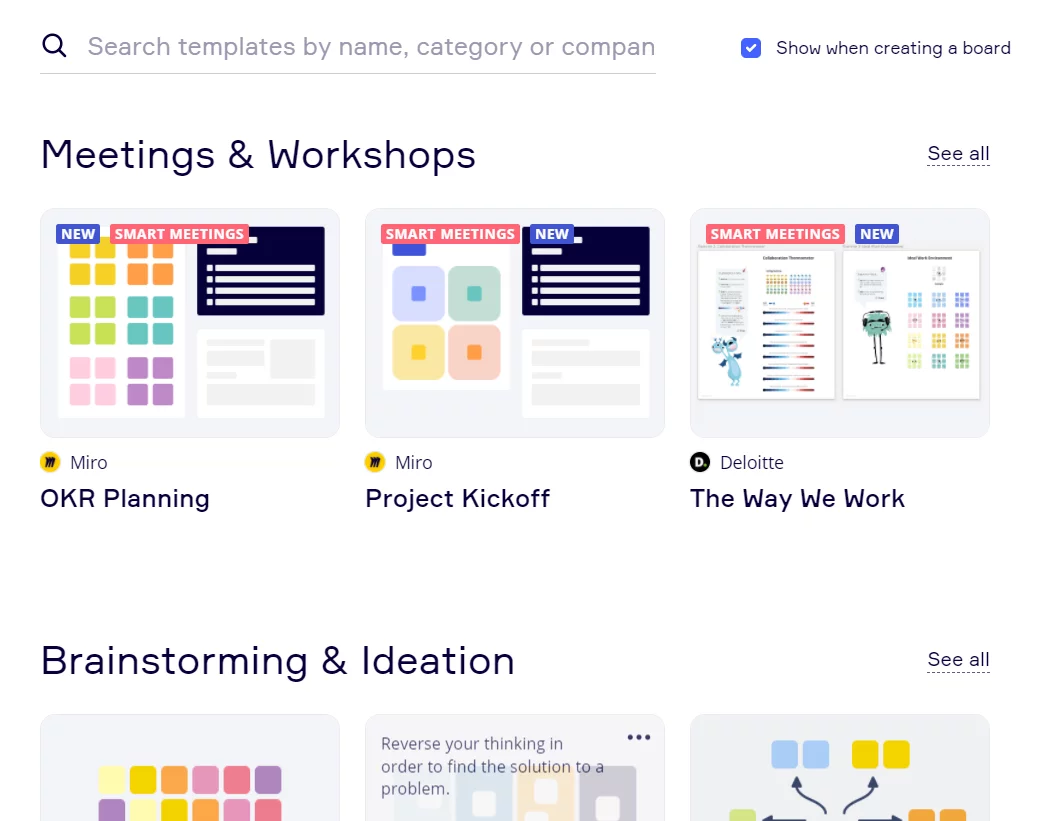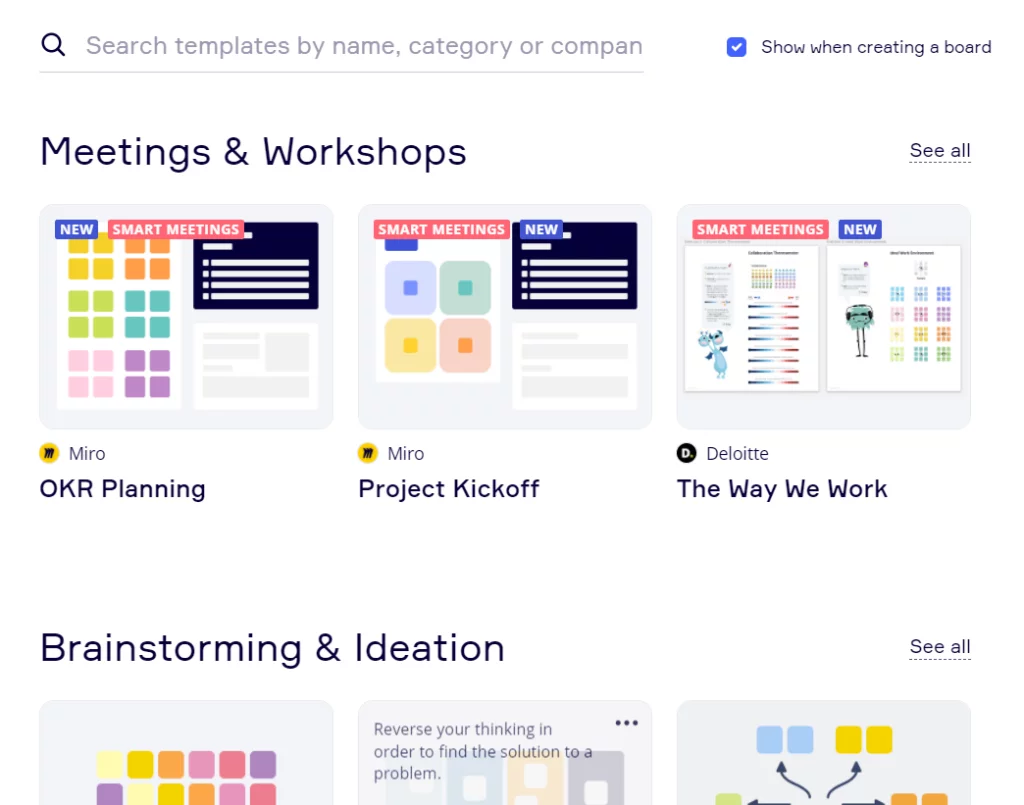 Block 3: FigJam vs. Miro – Collaboration mode
In any project, there comes a moment when the work of two departments is combined. Before performing a design-to-development handoff, Farrukh and Jessica from the design department arrange a meeting with Mike and Molly from the management team. This is necessary for high-quality tracking of the process and checking for compliance with the customer's requirements.
The first chance to collaborate: designers + FigJam+ managers
The design team suggested that the managers import the project plan into FigJam to accompany the semantic parts of the plan with the finished parts of the layout. In the whiteboard tool FigJam, this is done in one click. However, when Mike and Molly began to draw up their project plan from Miro in the FigJam interface, they simply abandoned this idea. One of the reasons was that they were used to working in Miro, and it would be very difficult for them to rebuild. Other reasons were:
➖ not enough blocks to design all the necessary details,
➖ templates were not that various,
➖ the quarterly style of formulating the stages of work was not built in and had to be done manually, which is impractical and time-consuming,
➖ there were some pointless third-party sketch plugins.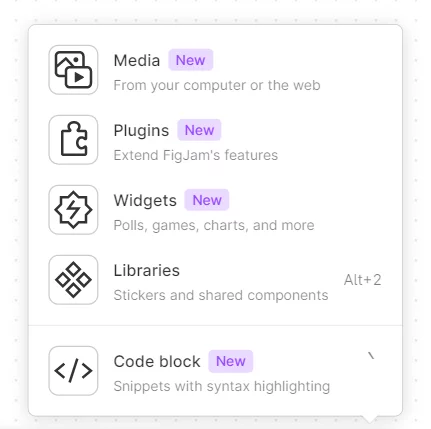 The second chance to collaborate: managers + Miro + designers
The next step was obvious – change everything from head to toe and transfer the pieces of the Figma layout from the designers to the global project plan in Miro. Farrukh and Jessica were skeptical at first but then joined the process. There are a lot of functions and tools they need in this online space. A huge number of custom templates for absolutely any kind of creative flow. Convenient mindmaps and a bunch of integrated applications for a variety of needs. When the team got to work, they faced a difficulty:
➖ Transferring the design from Figma to Miro turned out to be an extremely inconvenient and long process.
In the end, they had to take screenshots of the project just to insert them into the scheme without the possibility of any manipulation with them. That stinks!
Culmination! FigJam vs. Miro – Summary
Looking for a one-fits-all solution was a bit tiresome, and both teams agreed that they will focus on the design and delegate the design-to-site conversion to Figma2WP. But first, what did they find from their whiteboarding quest?
Miro turned out to be a platform with a wider interface and a greater variety of add-ons. It is a great option for :
Drawing up large-scale plans or schemes with the addition of various kinds of templates,
Advanced tools for the design and structuring of information in the long run,
Management purposes of any complexity.
FigJam is the perfect whiteboard tool for a design team collaboration. There is everything for a creative flow:
an intuitively simple interface where you can immediately throw ideas from the brainstorming,
an abundance of entertainment features,
not too many variations of tools to focus on the essence of the project.
The most important thing is that the process of transferring the design from the main project document in Figma to the FigJam board takes place as quickly and conveniently as possible so you will not miss anything.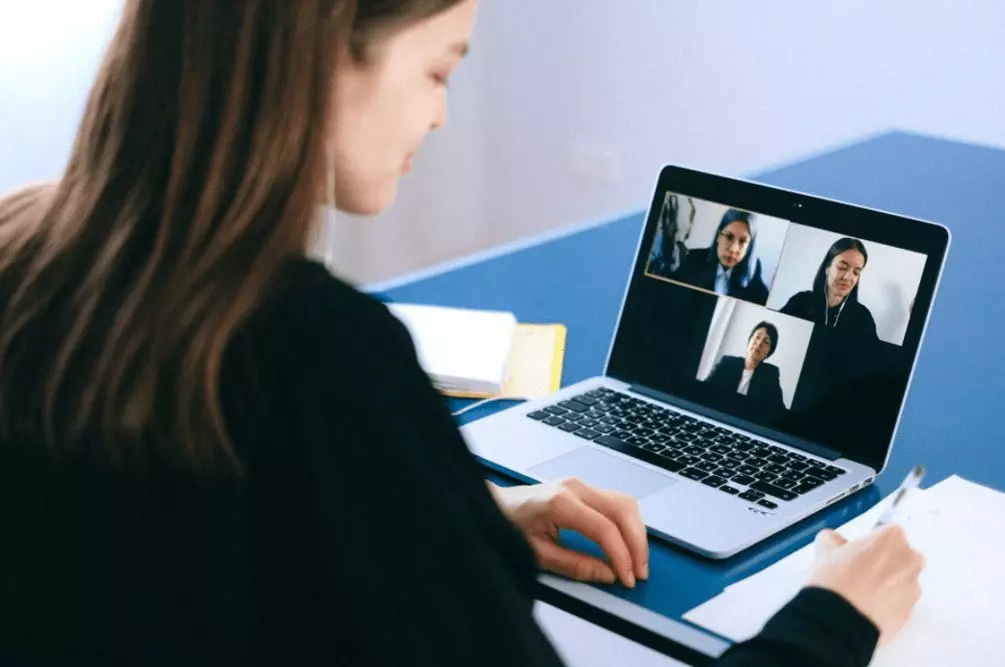 To get a more complete picture of competitiveness in the battle of Miro vs. FigJam, let's pull together a comparative table.
FigJam vs. Miro
FigJam
Miro
Price (Trial/Full/Organization)
$0/$3/$5
$0/$8/$16
Templates
Basic possibilities of layout format, standard colors, a limited number of blocks
A broader variety of design options, depending on the purpose of the study
UI structure
Chaotic blocks and meaningless plugins
Clear structure
Collaborative games and other blows and whistles
➕
➕
Figma project integration
Easy to integrate Figma design project
Extra steps to add Figma project parts
External integrations
➖
Trello
Office 365
Microsoft Azure
Slack
Confluence
Zapier
Jira
Although both programs have a list of advantages and disadvantages, each team from Solution Inc. definitely chose a winner for themselves. It's all about individual needs. The designer will see one thing to be a serious weak point of the Miro application. The manager will find the same Miro point as a strong side and interesting functional addition to their project.
FigJam or Miro? The first prize goes to…🥁🥁🥁
If you compare all the pros and cons, the winner in the FigJam vs. Miro battle will be the current market leader of the online whiteboard tool for team collaborations – Miro. It turned out to have a wider range of functions and amenities than FigJam. In Belov Digital Agency, we love Figma and use FigJam for quick sketches of thoughts at a meeting. But to structure large work projects, our managers prefer Miro. Everything has a place in the workflow.
However, you should not blame FigJam for its limited functionality in contrast with Miro. This is a completely new product that will only gain momentum in its features. Figma is on the way to creating its own ecosystem, and it is very useful and interesting.
More tools analyzed & compared:
ClickUp vs. Asana vs. Trello →
Photoshop vs. Sketch vs. Adobe XD vs. Figma →