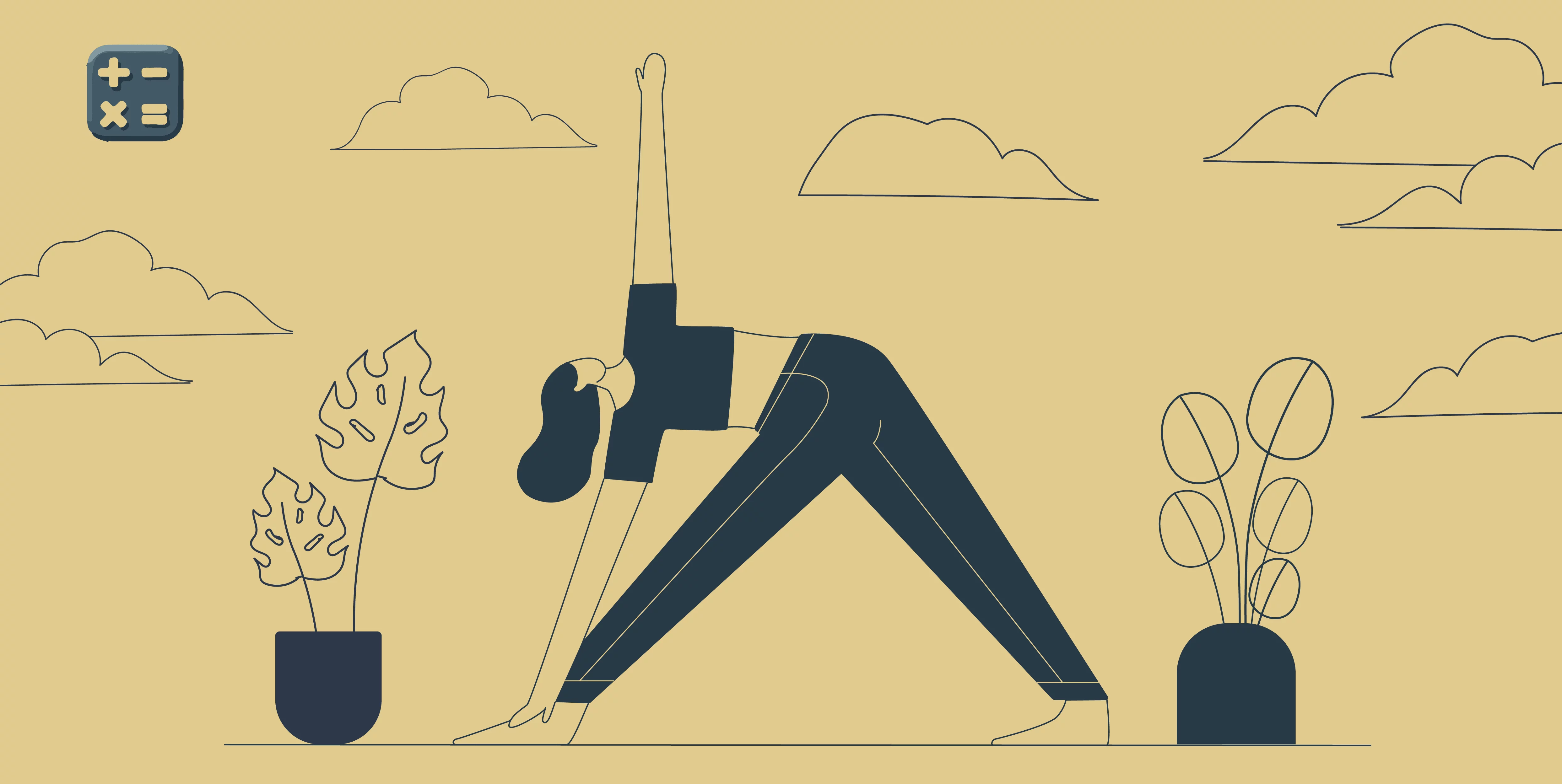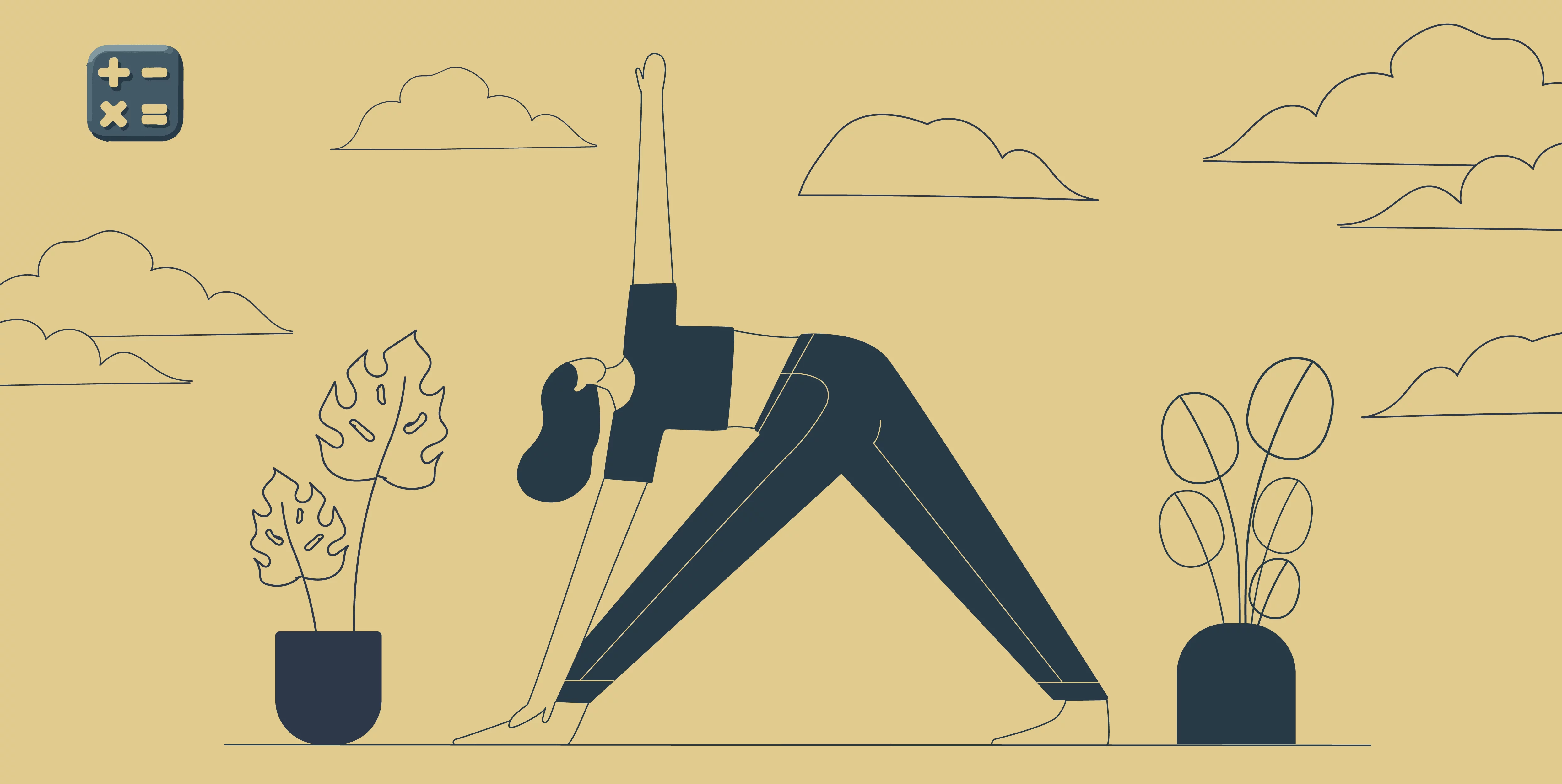 Attention people from healthy dieting, fitness and sports industries! We're happy to announce we've launched WP Calorie Calculator Pro – a WordPress plugin that calculates daily calorie intake norms and makes the results useful for both visitors and admins.
UPD: Added BMI, BMR, and macronutrient calculation – even more helpful features to keep your users busy!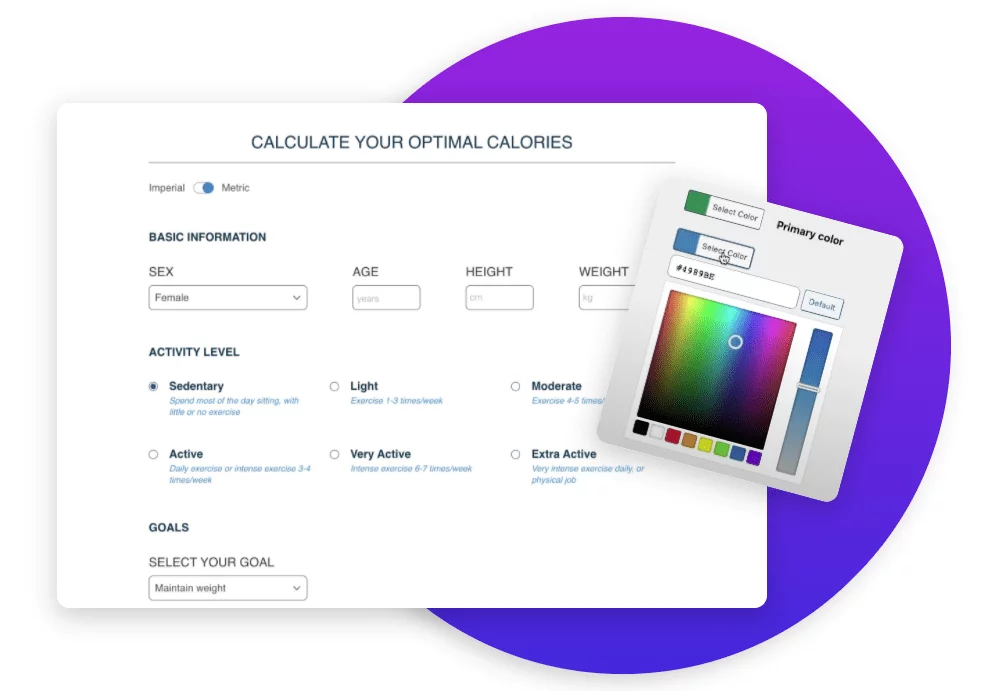 It's a neat and handy calculation device that uses the main physical parameters (weight, height, age, sex and activity level) and desired goals to determine the number of calories to be consumed daily. You can put it anywhere on your WordPress site and watch it work miracles with your users, increasing the likelihood of them performing the target action.
"Now, how'd it do that?"
By attracting and assisting people on your site and by helping you stay in touch with them. Let's go one at a time.
Calorie calculation as user interactivity feature
If you want people to follow the user flow you intended for them, you want them to feel comfortable on your site. One of the great ways to achieve that is to entertain them along the way. We say, go for interactivity!
You know how people always try to wrap up the learning process as a game? That works with every process where the potential actor needs some motivation to start doing things. Interactivity is how you make people turn from passive to active users in a fun way. We all grow tired from monotonous content quickly. Leave longreads for your blog and put more emphasis on active user participation.


Since WP Calorie Calculator takes many individual parameters of a human body into account, those who came to your site looking for solutions to healthy eating problems would love to find out their highly personalized daily norm of calorie consumption. Not only would it feed their genuine curiosity, but it could also stimulate them to go further with what your site offers.
Calculate calories, calculate benefits
Setting aside the diversity of the site content and increased users' happiness, there are multiple other beneficial outcomes of putting a calorie calculator on your site.
Immediate benefits
More time spent online
The most straightforward effect will be in the increased screentime. The more time people spend on your site, the more likely they are to make a purchase. Besides, they will be able to select just the right thing for themselves. Thus, customer satisfaction can reach even higher levels. And that leads us to another good point – personalization.
Personalized calories = personalized service
Say, you wish visitors to open your site and proceed step by step to purchasing your healthy nutrition products. Help them select! Put the calorie calculator before the desired screen – it will provide users with the information needed to select the right plan, dietary products or supplements. Based on the calorie intake calculated, people proceed to the corresponding section or to filtered search results – whichever you find best – and view the best suitable products.


Earlier this month, we've launched an update for the free edition of the WP Calorie Calculator plugin for WordPress. It performs the calculation just as fine: the Mifflin – St. Jeor formula used in it accounts for age, sex, body mass, height, activity level and the goal of dieting. The same formula is available in Pro – it's just not the only one in it.
So, in case you're debating over whether or not to go Pro, you can start with the free WP Calorie Calculator – you'll always be able to upgrade.
Here are both versions of the calculator compared:
| | | |
| --- | --- | --- |
| | WP Calorie Calculator | WP Calorie Calculator Pro |
| Formulas available | 1 | 3 |
| Instant/emailed results | + | + |
| Insert as shortcode | + | + |
| One-click update from wp-admin | + | + |
| Templates available | 1 | 4 |
| Create unlimited number of templates | – | + |
| Changeable interface colors | 2 | 16 |
| User-end formula selection | – | + |
| Mailchimp integration | – | + |
| Changes apply without shortcode replacement | – | + |
| Add as Gutenberg block | – | + |
As you see, another solid advantage of the Pro edition is its customizability. You can select one of the four templates provided or create and save yours. Make it fit the overall style of your site. More to that: you can adjust the color of every element in the block.

Win in the long run!
What can all these features mean for you strategically?
Mailchimp integration for marketing
The WP Calorie Calculator form provides you the opportunity to send results via email. Therefore, you'll be able to collect them and form your potential client database. But working with it manually is far from convenient, especially when there are all the means of automating the process.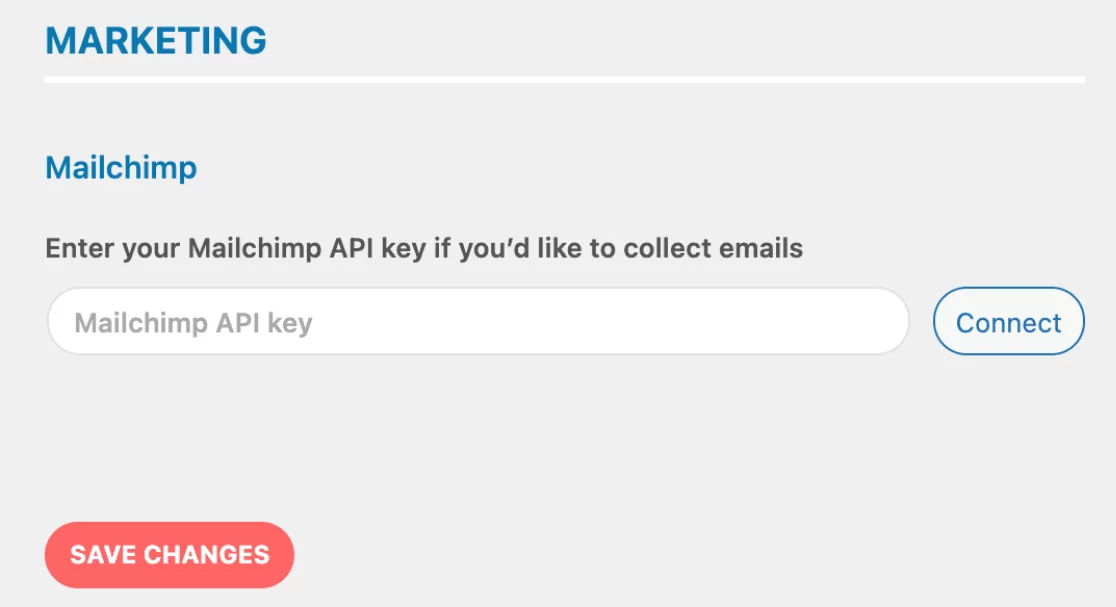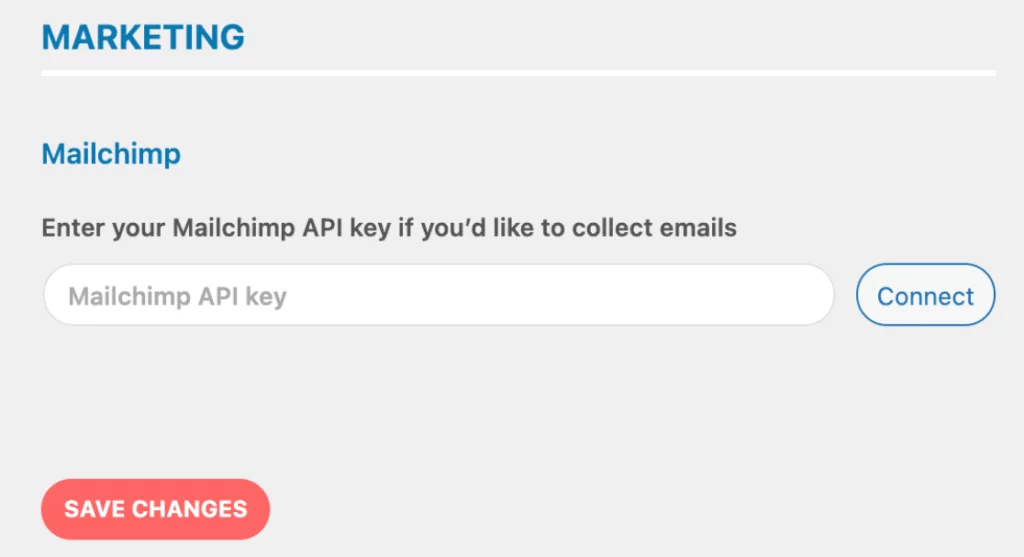 Mailchimp integration in this calorie calculator plugin does exactly that. You can configure your client email subscription based on the data collected via WP Calorie Calculator Pro. And with that, you'll reach out to your clients efficiently!
Positive image
Users feeling happier on your site is not a one-time benefit. They will associate your brand with their good impressions and happiness.
One may argue calculating calories does not always bring positivity – that can be some misleading reasoning. If the goal was to show something instantly funny, you could try memes as well. The actual good in the calorie calculator plugin is that it helps make the most suitable choice of products or services. Therefore, people will be happy to return for more.
Recognition
This is another positive effect of making your site entertaining, which the calorie calculator can do perfectly. If you stand out from the crowd of others, you'll be able to attract more customers.
Your convenience
Last but not least – because the admin side UX is important, too! The handy way of creating a client base is not your only benefit. WP Calorie Calculator Pro is updatable directly from the WordPress admin dashboard, unlike most of the premium plugins. That means you won't need to update it manually – the whole process will be as simple as a click on your Plugins page.
What also makes working with the calculator more pleasant is that it comes as a Gutenberg block. So, adding it to a page will be simple and familiar, just like with any other block.
And editing you Calorie Calculator Pro will also be nice and handy. The Settings page for the plugin provides everything you may need and, more importantly, allows applying changes without re-pasting the shortcode. All to make it user-friendlier!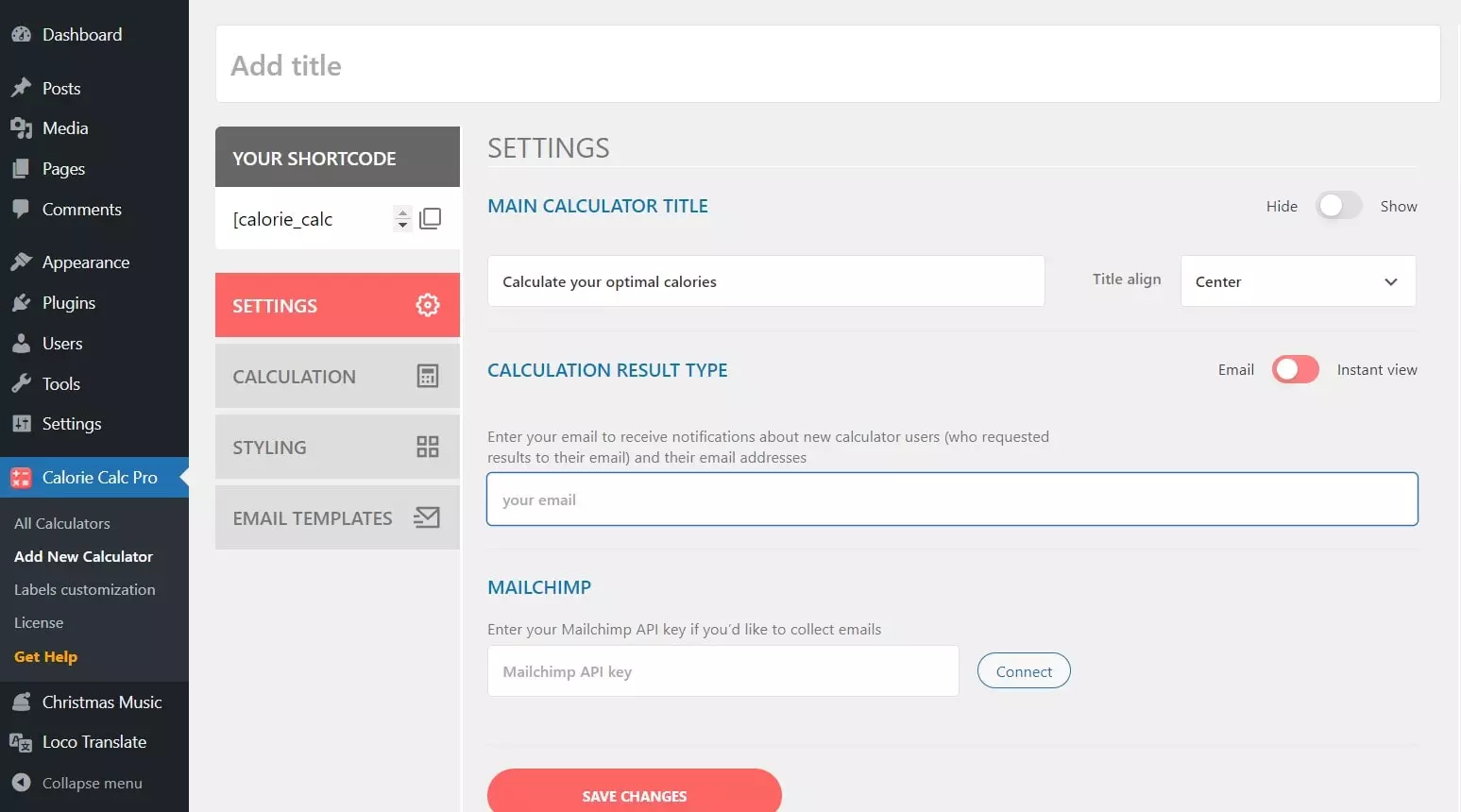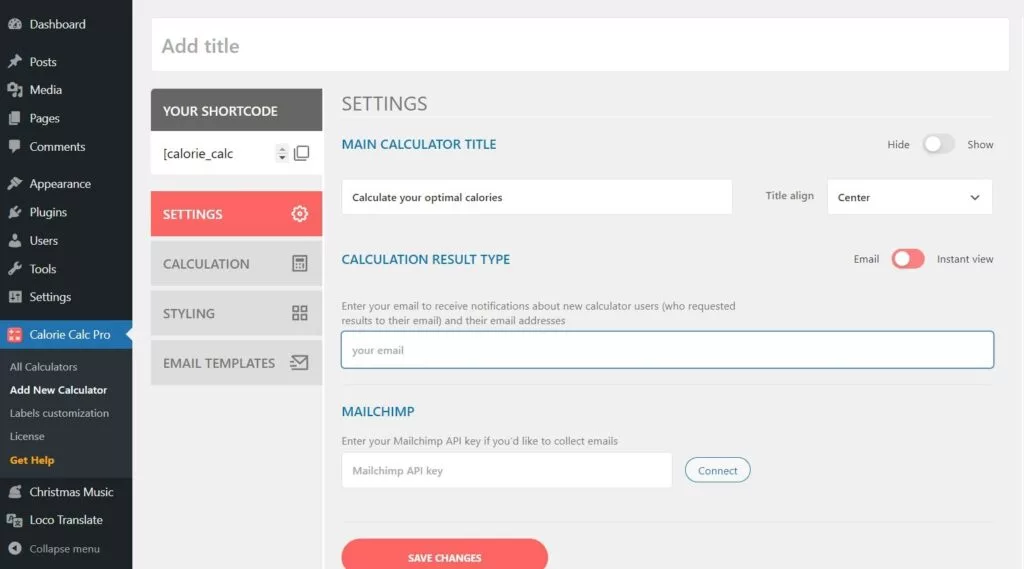 Where calories matter
If you run a business in anything related to eating healthily, sports & fitness, wellness or, essentially, in any branch of healthcare, WP Calorie Calculator Pro is your #1 plugin. Install it on your WordPress site and see how visitors turn into clients.
Try WP Calorie Calculator Pro now! Make your site a place users love, and the results won't be long in coming.
UPD: Check out the new exciting features – now calculating macronutrients and body health indices!