An Expertly-Crafted Website that Takes your Business to the Next Level
Our team of web designers, programmers, and project managers deliver web experiences focused on your business growth.
Here's what you can expect when partnering with Belov Digital Agency for your website project:
Top-tier digital design matching your unique brand and business goals

The latest web tools and design & development technologies

A neat WordPress admin area where you can easily update content

Responsive design – on all devices
Custom programming

 with thorough QA
Best Web Design and WordPress Development Practices
Leveraging the most popular website platform
There's no "one-size-fits-all" website solution.
And that's why we use WordPress!
WordPress offers thousands of tools and plugins, with the added ability to custom program anything you can imagine.
Here's what our clients are saying about WordPress:
" Our website is pretty complex and has a lot of special functionality. Thankfully WordPress is robust enough to give us what we need. "
" We feel good about being on a website platform that millions of other businesses use and trust. "
" Belov Digital made it so I can go in and update content VERY easily. I'm not very tech savvy so if I can do it, you can too! "
" We looked into a fully custom programmed solution, but WordPress ended up being just fine for our business with Belov's expertise. Plus it's way less expensive than starting from scratch. "
The "Nuts and Bolts" of Our Web Design and Development Skills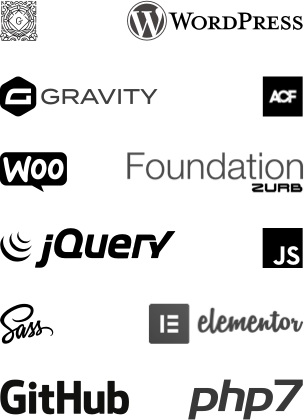 Gutenberg

WordPress

ACF Pro

WooCommerce

Elementor

Sass

PHP7

Gravity Forms

Foundation

jQuery

JavaScript

GitHub

MailChimp

SendGrid

HTML

Formidable Forms

Contact Form 7

Zapier

WP Engine

Kinsta

GoDaddy

FlyWheel

AWS

CSS

Hosting Transfer

Mobile First

Malware Cleanup

Custom Themes

Genesis

more
Making Things Simple for Our Clients
Every client is given a dedicated manager to lead that specific project. Your project manager will develop a deep understanding of your needs and goals and ensure you get the website designed and implemented on WordPress exactly as you wish.
No need to speak design or tech language: that part is on our project manager, too. They will communicate your ideas to our team of designers and programmers, losing no detail on the way.
Selecting The Right Design and Development Agency for Your Project
We get it, there are tons of digital companies out there that design and build websites. It can be challenging to see which one will suit you more. For us, the best advertising is the feedback we get.
Our clients love working with us for lots of reasons. Here are the most important:
Expertise
We've helped hundreds of businesses with their website needs. With over a decade of design, tech, and project management expertise—the high-caliber work that our clients receive allows them to make their mark online - and take their business to the next level.
Transparency
We take time to understand your needs and describe the options so that you feel confident in the process and the result. You will be given a thorough project plan, timeline, milestones, payment schedule, and intended results - and will be informed every step of the way.
Accessibility
We're a global digital company with a clientele from all over the world. That's why we're available around the clock via email and phone. Don't hesitate to reach out: your project manager will get back to you with quick responses to any questions and requests.