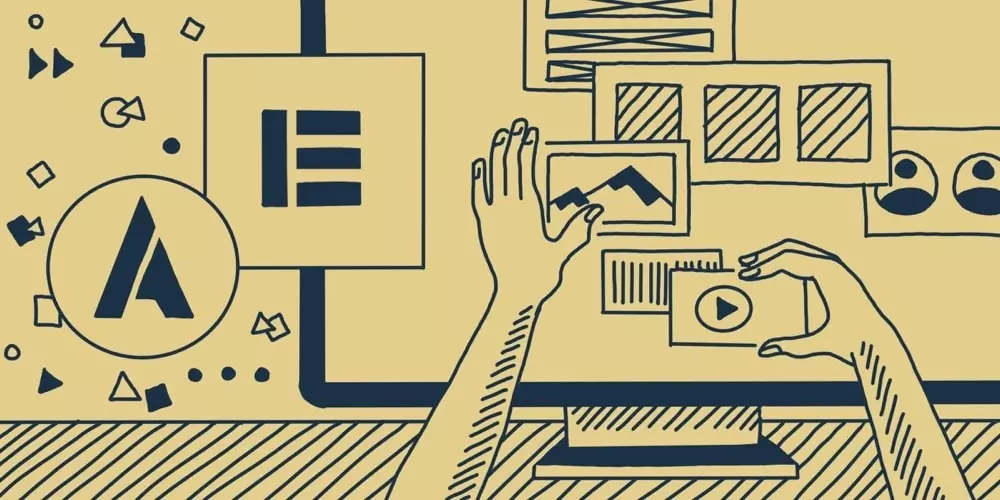 Continuing the topic of low- and no-code, we're going to review the two most popular things to install for WordPress – Astra and Elementor. Here's what we'll discuss with shortcuts to each part:
Elementor and its pros and cons
And how to figure what you need.
What are Astra and Elementor?
Both protagonists of this review of ours are extremely popular among WordPress users. If you haven't heard of them yet,
→ Elementor is a page builder for WordPress. It is technically a plugin that you can install for free and use for block page building.
→ Astra is a WordPress theme often used as a template for future customizations.
Summing up, Elementor is your means of site building, and Astra is the ground on which it will take place.
To see how well the Astra & Elementor duet will work for you, let's first check what each of them is from the WordPress development perspective (here's the TL;DR fast-forward link to the Astra & Elementor in case you're well familiar with both).
Elementor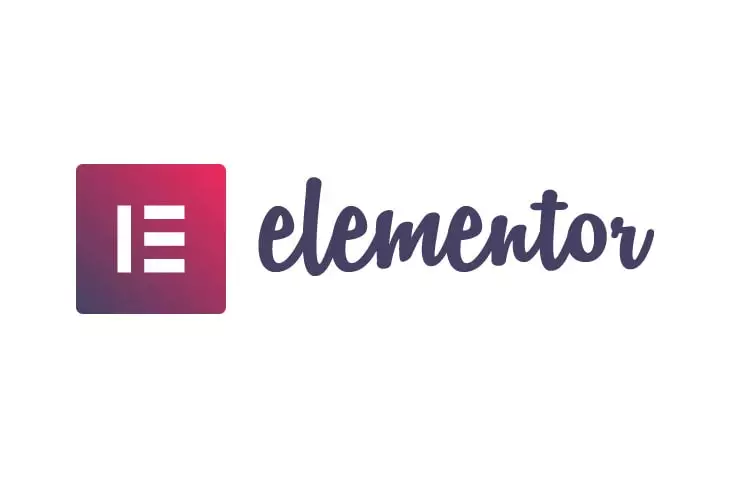 This is probably the most popular page builder for WordPress. As of 2022, Elementor's free edition alone has more than 5 million active installations. Such phenomenon didn't come by unnoticed and supposedly inspired the new WordPress's FSE concept. That's just to give a rough picture of how influential this plugin is in the community.
Why is Elementor popular?
Elementor plugin serves the main purpose of enhancing the editing experience for non-tech people. Once it came out, it changed the concept of page building completely: it made web development on WordPress available to a much broader circle of users.


If having a theme installed doesn't cause too many questions, having a plugin for creating pages seems more debatable. Can't WordPress build pages?
Of course, it can. Moreover, it is capable of quite a lot of things, and whatever it can't do originally, developers can add. But that's exactly the point – your results depend largely on the level of skill you have. In other words, if you can code, you're close to omnipotent with WordPress's built-in block editor. If you can't – well, here's where Elementor can come in handy.
It's not to say installing Elementor is a must for anyone who's not a pro in web development. You can still accomplish most of the things without it; you just may face some limitations.
Now that WordPress has announced FSE, the Elementor plugin may soon become unnecessary. However, that goes for the free version; the Elementor Pro will still offer tons of functionality beyond what comes as default in WordPress (but more on that later). Plus, full site editing is not out yet anyway, and some time may pass until it becomes usable for everyone in the WordPress community regardless of their skill.
Editing with vs. without Elementor
Perks of having Elementor
The benefits of using Elementor naturally stem from its better usability and a friendlier page editor interface.
The classic WordPress functionality allows for a range of things, but this range is limited. Unless you can code what you need manually, you can't really go beyond these limits. Elementor, in contrast to that, offers a lot more customization options. That is, you have more flexibility in what you can do if you work with Elementor.
Another significant advantage this page builder has over the default option is that it provides a WYSIWYG experience. Even with the introduction of Gutenberg back three years ago (time flies, doesn't it?), WordPress editor didn't grow into a WYSIWYG one: you still need to click Preview to see the results of your edits. Elementor allows you to see changes apply instantly.
The community has gotten used to this page builder long ago, and many plugins and themes are Elementor-adapted; so, there shouldn't be any problems from this standpoint either.
The downside
Now, we have to say all the good we mentioned doesn't come with zero drawbacks. The main issue lies in resource consumption. To begin with, the plugin itself requires around 500K just to load. And moreover, your site will be loading everything you added with Elementor.
With as much as you can build and add with it, you can easily lose track of the load it brings to your site. That's especially true since Elementor is the top choice for beginners. To offset such effects, you should undertake page speed optimization measures.
Apart from the immediate issues, you may encounter long-term difficulties with Elementor. Building your site with something other than built-in functionality is a commitment: you'll have to stick with the software you use for the lifetime of a website. That's because many things just won't work without it. Check how when you switch from Elementor to the regular WordPress editor, your page threatens you with loss of all the work you've done.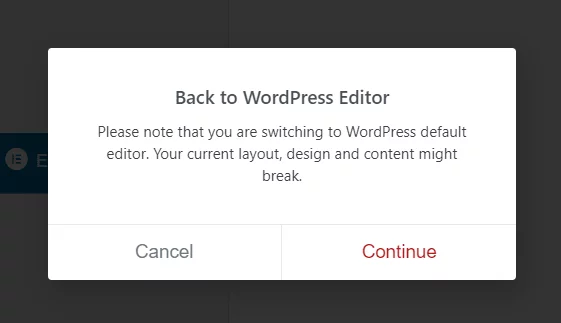 Again, you can stay with the same editor for as long as you please – it's not likely that Elementor will disappear or something. It just may result in a lack of flexibility and adaptivity in the long-term perspective. Also, if you choose the Pro package, you're essentially subscribing for paying for it for as long as you wish everything to work as it was when you started.
Elementor Free vs. Pro
Out of all the page builder plugins for WordPress, Elementor is the most generous with what comes in the free version. You can build an entire site with it; with the only exception that you can't edit headers, footers and other global elements.
Starting at $49 per year, you can buy yourself:
More templates
Global elements editing
Custom CSS
More design capabilities (like templates, various effects, etc.)
More building capabilities (from additional types of blocks to dynamic content)
Integrations like Mailchimp and WooCommerce
and many other things.
For a more detailed comparison of the free and Pro editions, check this Elementor's page with all the information about both plans neatly broken down into tables.
Astra

Used on more than a million sites, Astra is also well-known in the WordPress community. Here, you may have a question: "Why choose Astra if there are thousands of different themes for WordPress?". Let's see what kind of possibilities come with it.
Astra vs. Other WordPress themes
First of all, Astra is highly flexible and allows for so many customizations that you can be sure you'll be able to implement your ideas just the way you want. And what's even greater is that everything in Astra is neat and tidy inside and out. All documentation is clear and comprehensive, the theme and its customizer are both user- and developer-friendly. That means professionals and people with no coding knowledge can use it without significant difficulties.
Astra theme serves as a perfect blank canvas for your ideas and development, but it also offers lots of beautiful templates. To access these templates, you either need a Pro version of the theme or a plugin, which is free of charge. That's Astra Starter Sites – it provides 35 options just for the free Astra theme and many more for the Pro version. With that said, Astra is a 35-in-1, and that's the minimum!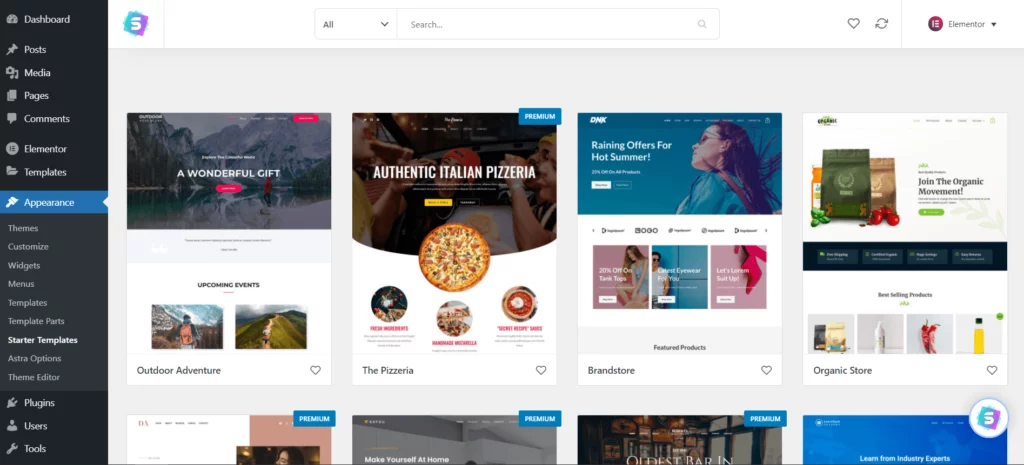 Besides, Astra is lightweight: it requires 50K of additional resources to load. They managed to achieve a load time as low as 0.5-seconds by not using jQuery. So, with Astra, you won't need to worry much about page speed and performance now or later on – you'll be building your site on a firm ground of an optimized theme.
The downside
We'll be honest, there's not a lot to criticize. The theme is marvelous, and the only debatable point is the clarity of its Customizer interface (for instance, OceanWP might be a bit more understandable for non-professional users).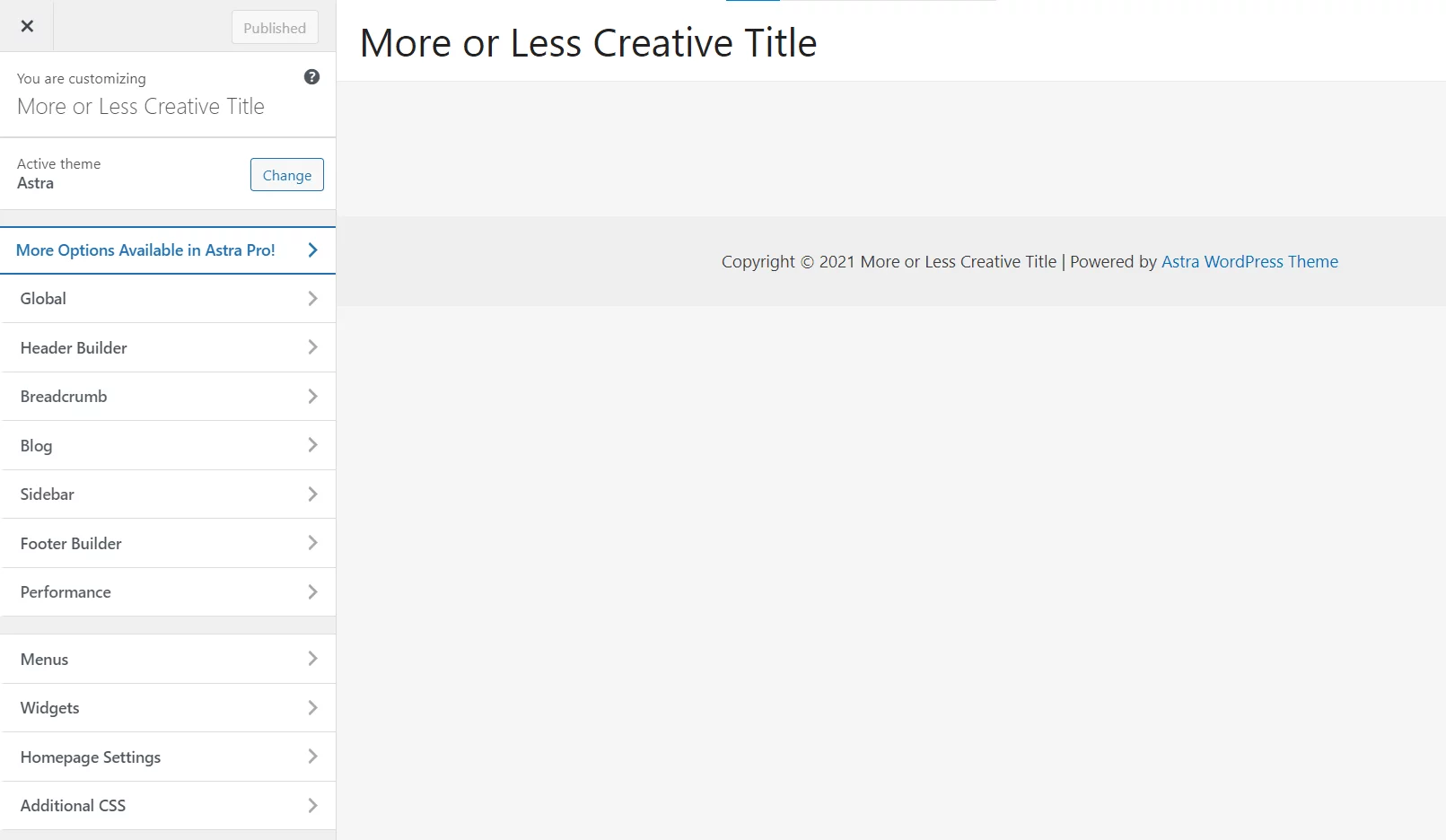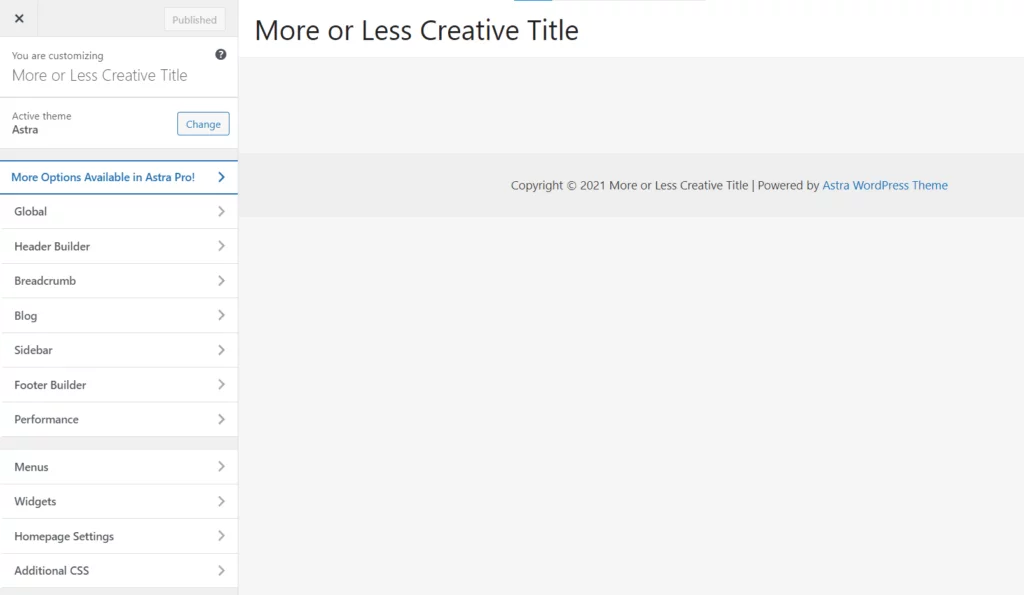 Also, unlike it is with most of the other WordPress themes, you need to install an additional plugin to have some design and layout other than just blank. On the other hand, it helps keep the theme lightweight. Whether the default blankness is a virtue or vice depends on your goals. You have a choice, though, so, not too bad anyway.
Astra Free vs. Pro
The free version is pretty generous and empowers you to add and customize all significant details. However, lots of cool options are reserved for the premium plan subscribers.
Of course, the Pro users get a lot more templates, but it's not just that. Astra Pro comes with more designing features for all the aspects of the interface, from colors to layouts. Users get to customize sidebars, add more helpful blocks and even label the site with their brand so that it's not visible that they use the Astra theme (the White Label feature).


The free version of Astra has WooCommerce integrated, which means you won't have to add WooCommerce support manually, but there's a very limited number of features available. The so-to-say serious eCommerce sites wouldn't benefit much from it, while with the Pro theme, they will enjoy the full list of privileges.
And, on top of it all, the theme becomes extensible with the Pro plan – you can use it on as many sites as you wish.
All of these features are listed on Astra's website – you can compare and see for yourself.
Astra is not that costly – the annual plan starts from $47 (that might be a special offer, though, because the regular price is $59). You can also buy it instead of subscribing – the one-time payment, in that case, will be $249, meaning that you'll save money with it in at least a 6-year run.
Astra + Elementor
The union of the two works best for the beginners of WordPress development. Intuitive functionality, an incomparably high degree of flexibility and a possibility to build a good-looking site with no coding.
With just Astra, you'll limit yourself to simple customization of the given options. Most likely, you'll need a Pro version to feel more freedom with what you do. But when you combine it with Elementor, you get granular control of your site and a handy editing interface. And having chosen Elementor Pro, you get that level of control in no-code implementation.
One of the things the basic Pro version of the Elementor doesn't buy you is extensibility. The cheapest subscription works only for one site, and the second one after ($99/year) will work on three sites. The Astra Pro plan allows you to install the theme on an unlimited number of sites.
Why Astra?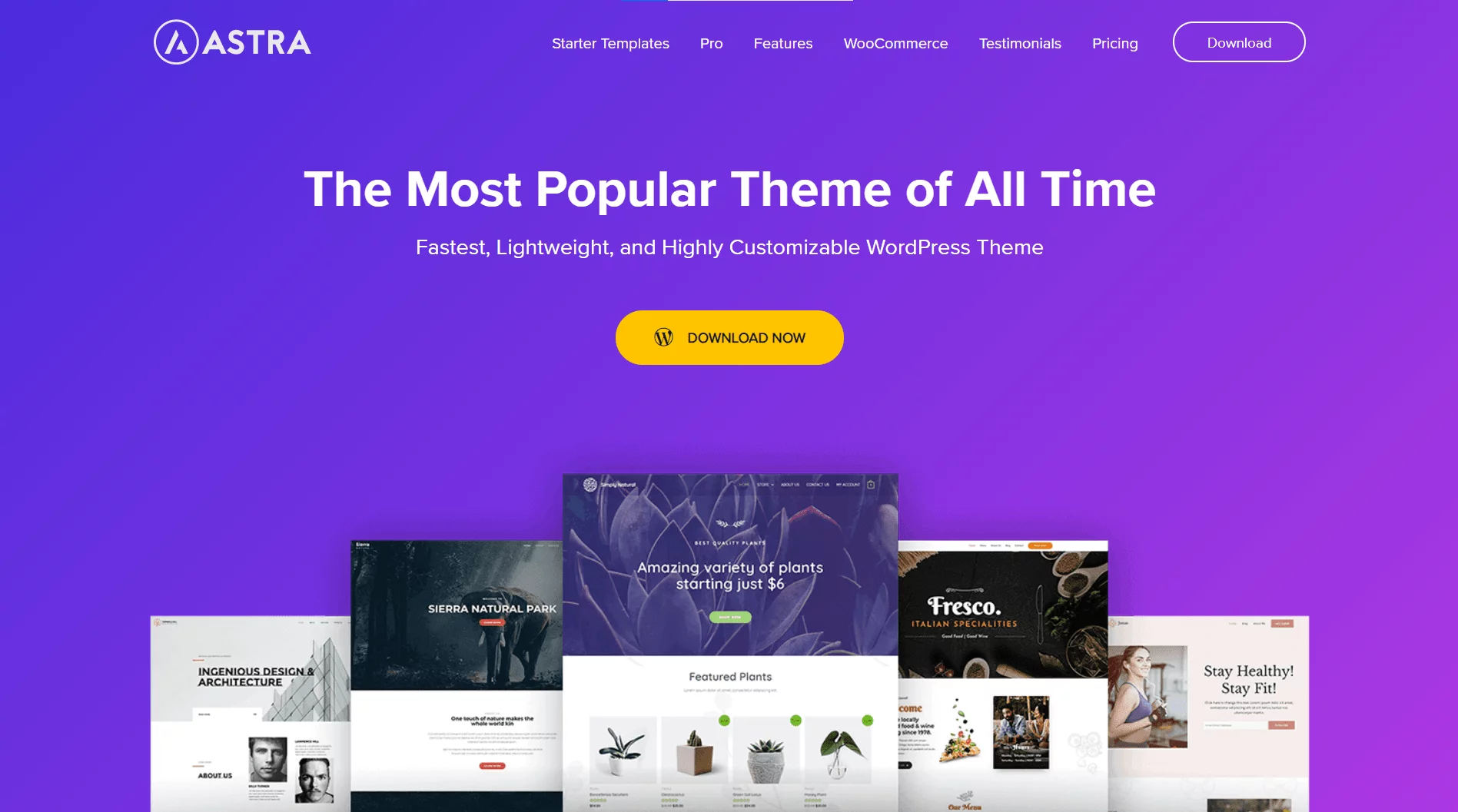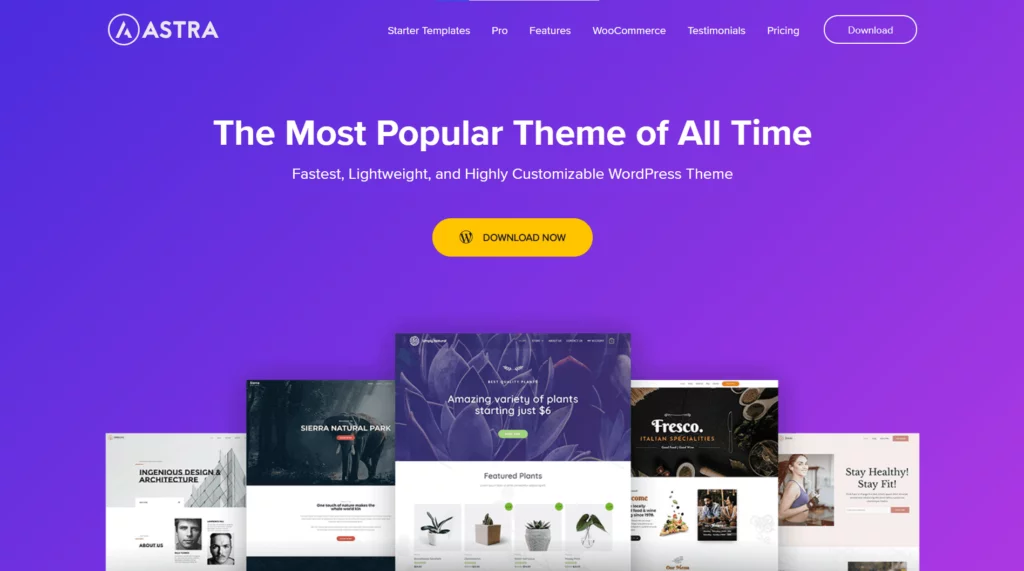 What makes Astra stand out from the rest of the themes compatible with Elementor? Its performance parameters. As we already mentioned above, Elementor slows your site down. Therefore, using it, you have to be careful with what else you load your site with. Astra, being one of the lightest themes for WordPress, will suit just right in this case.
Here are the results of case study speed tests performed by Blog aid – their summary graph, to be precise.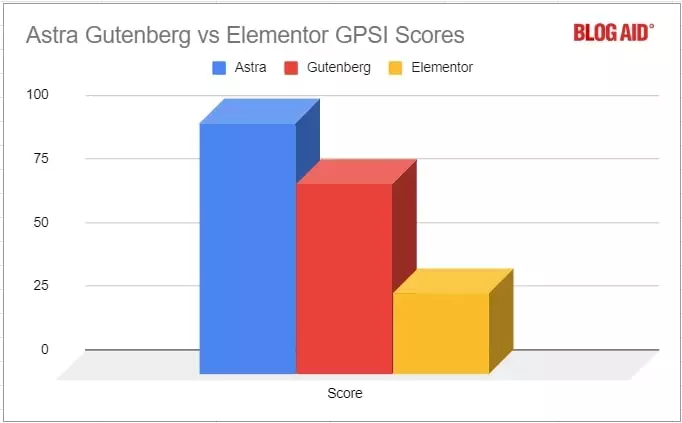 This is just the bottom line of the work done – check the article itself for a more vivid picture of why Elementor simply has to be balanced off.
Astra will also compensate for the lack of global element building functionality in the free Elementor. Astra Customizer allows you to tweak your header, footers and such quite a lot – you can even set your header to be transparent (right, even in the free version.) If you don't plan on going exceptionally hard on creating custom stuff of that kind, a free Astra should suit you perfectly.
And if the SEO qualities of Elementor can be up for a lot of debate*, Astra is completely SEO-friendly.
* Most of the rebukes for Elementor considering SEO stems from it being one of the slowest page builders. Naturally, if your site is slow, it won't be ranked as high by search engines as it would be with better speed metrics. But the Elementor's impact is not always that severe - your SEO still largely depends on you.
Working with Astra & Elementor
Designing sites
If you're not using Figma or other web design software, you might (or, rather, definitely will) face a lot of obstacles designing your site in WordPress with its built-in functionality. Designing with Elementor with Astra as a canvas is a much more pleasant experience. We'd still prefer Figma for the UX and UI design and then WordPress's Gutenberg for the rest of the work, but that will be far from no-code. However, if you do like Figma for designing more, our partners will be glad to help you convert your project into a full-fledged WordPress site or we can do that for you by ourselves.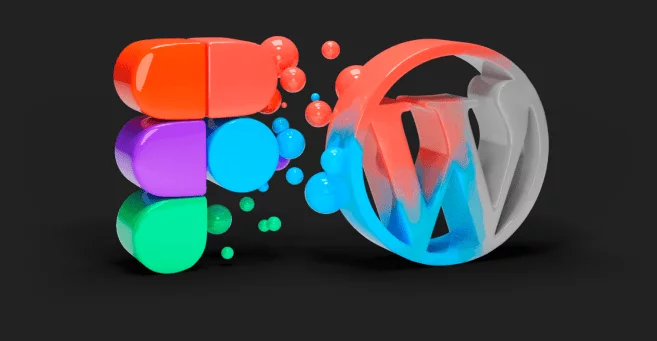 Developing sites
Elementor makes WordPress somewhat close to a no-code platform. That means, with this page builder installed, you can create modern and appealing sites with the relative easiness of constructing with Lego blocks.
With the combination of the two – even of the free versions of both – you can go as far as build your custom theme. We must note that you can do it on your own, too, but it can be quite tricky if you're a beginner.
Handing over to professionals
If the previously mentioned documentation clarity and orderliness don't seem like a big deal to you, it may and will to a professional developer. Should the situation develop so that you hire a dev team to fix or polish up your site, it wouldn't be a problem that you have Elementor and Astra. Both are perfectly developer-ready just as much as they're user-friendly.
Go Pro for both?
Having both Astra and Elementor in Pro might be overkill. Some of the Pro-exclusive features in one can be found in another (like header and footer customization, which Elementor grants you as a Pro privilege, and Astra provides free of charge).
One can even call the two interchangeable: Astra in its premium editions provides so much flexibility that having a more convenient page builder becomes unnecessary.
In fact, the free versions of these two complement each other so well that you don't need to go Pro for any. The lightweight and performant Astra balances somewhat heavy Elementor off; the lack of theme editing functionality in Elementor is no problem with Astra's Customizer; and, finally, the Elementor's drag-and-drop and WYSIWYG editor makes the experience seamless.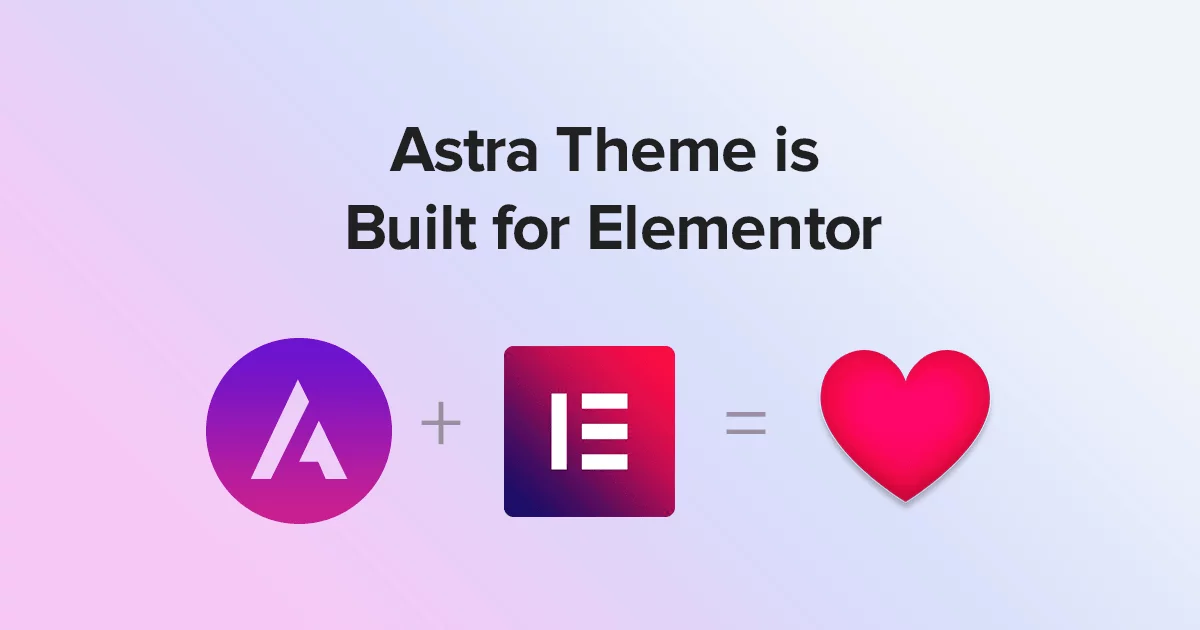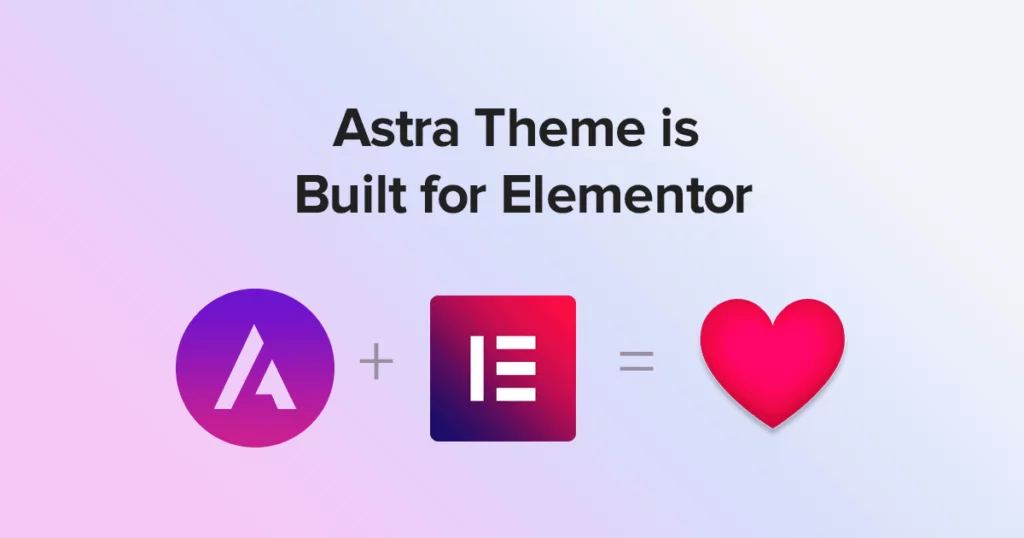 We say: when in doubt, start with free – for both Astra and Elementor. Small businesses, WordPress beginners, limited budgets and anyone uncertain about the value-for-money aspect of the Pro editions can try the free ones first. It may turn out that you won't face any significant brick walls in the capabilities at all, or they will be ignorable. And then, when and if you realize you need to go Pro, you'll have no problem doing so.
Astra & Elementor: Are they right for me?
If you're debating over whether or not you should use Astra or Elementor (or both at the same time), analyze your needs and priorities. This will help you decide on your theme and page builder as well as on the free or premium versions of those. Ask yourself:
– Do you plan to design in a separate software?
If you do, then you may not experience building with Elementor as so much of a necessity. You'll already have the convenience of your favorite UX/UI design platform and the visualization of the interface. However, if there are a lot of "yes"s for the following questions, you might want to decide on Elementor anyway.
– Would you be ok with the long-term commitment for a third-party page builder?
Transferring your data from Elementor to Gutenberg or other page builders can be a pain in the neck. If you build your site with Elementor now, you'll need to have it installed for the lifetime of the site. It's not that much of a problem, just a bit of a limitation of your freedom.
– Is page loading time going to be much of an issue?
As you remember from what we said about Elementor, page loading is something you should work on with special diligence if you're using Elementor. If you plan to have a site comparatively rich with heavy content, you may consider refraining from Elementor as an additional load. Alternatively, select Astra as the lightest popular WordPress theme and take a lot of preventive and reactive page speed optimization measures.
– How much does unique design matter?
This is where you select your theme and decide if you want to go Pro. Astra is highly popular; so, the free templates will hardly make you unique. Creating your personalized theme on its blank canvas will, on the other hand, but that's a longer way.
– Based on the previous one: do you mind others seeing you're not the copyright owner?
Astra Pro with the Astra Pro Addon plugin will give you the White Label – the opportunity to legally call your site yours, i.e., to show your brand name instead of Astra's copyright in the footer.

– Will you go with the given or customize a lot?
The more you're willing to change in the default looks and functionality, the more likely it is that Pro should be your choice. Similar to the question about a unique design, either you settle for less in opportunities and creativity, or you pay for an upscale option.
– How many sites do you plan to have?
This is more of a question from the free/Pro dilemma. It's handier to have all your sites built with one page builder. And if you select a Pro version of it, it will be available on all the sites (with Elementor, the number of sites depends on the type of the Pro plan). The same goes for the theme.
You can run all sites on free themes and build them with the free builder of any kind. But the deal is a bargain if we talk several sites.
– Could paid subscriptions be an overload on your budget?
And here it is, last but not least. Money talks, and we have to account for the budget in all our planning. Here's the pricing for each, to help you decide:




Pro add-ons can feel like a costly budget line if you're at the very start of your business. Gladly enough, you won't feel that much of an urge to pay for the Pro plans because Astra and Elementor are marvelous even in free editions.
With all that answered, check with the descriptions of both Astra and Elementor and make the decision that suits you the best.
Bottom line
You win the most from using Astra and Elementor together if you're looking for an all-encompassing site editing experience that would involve no coding. It will impose some restrictions on you – like, you'll be bound to this particular editor and theme, which are not yours copyright-wise – but it seems like a reasonable trade-off if you prefer not to develop manually.
The Pro versions provide extended design capabilities and work for several sites. However, if you use Astra and Elementor together, you'll have ample capabilities that fill the blank spaces of each other, even having both in free.
You'll be able to build a site with your own theme – and to do it with a handy drag-and-drop editor, in which everything is a block. And you'll have the system performant enough not to worry about page speed and other metrics more than usual.