Websites templates for NFT projects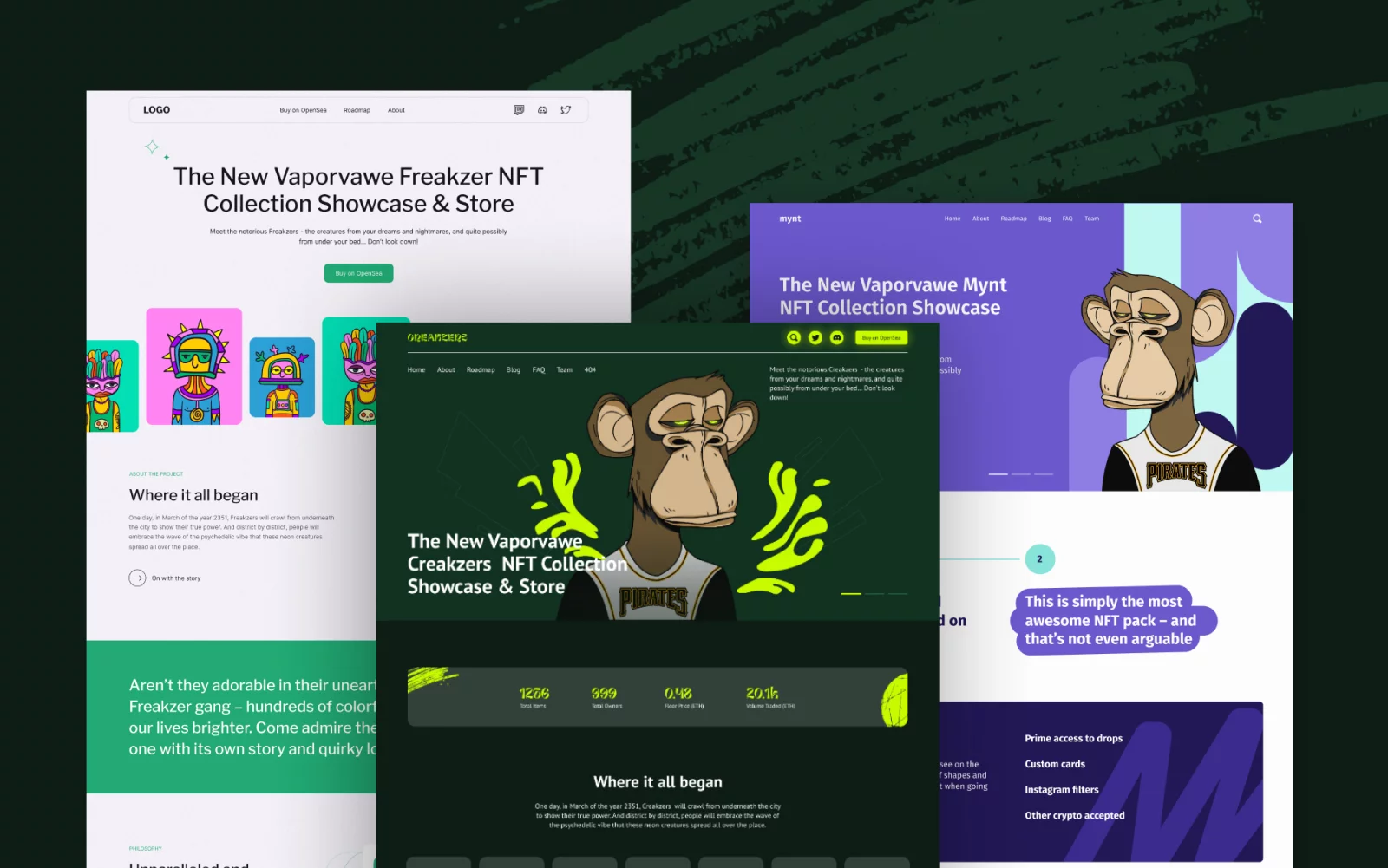 Services & Technologies
Cross-browser compatibility
Light/Dark theme
W3C-validated
Bootstrap 5
SCSS
About the Project
We started to create website templates for projects in NFT, cryptocurrency, collectibles, crypto art, tokens, NFT assets, bitcoin & other crypto promo pages, and crypto assets, as well as for websites for digital teams, blockchain experts, NFT platform marketing websites, ​​digital art portfolios and more. Users can utilize it for any digital project they launch.
Competence
Universal website templates
Industry
NFT and blockchain industries
Our goal
We had to create demo branding and design templates with this demo data. Our users should be able to choose the theme version between light and dark. Developers had a task to create bright animated promo pages that match provided design pixel-perfectly.
For Themeforest, we were able to create all those nice themes with popular pages sets (Home, About, Blog, Blog Post, Roadmap, FAQ, Team, 404, Text Page) and multiple content blocks to display any kind of information user needs – from an NFT launch and sale goals to portfolio showcase and client reviews.
Solution
The website designs had to meet the picky requirements of potential users. In addition, templates should trigger a wow effect.
The NFT website templates must offer a various number of animated elements and different scroll types. Text blocks need to be thought-through in details so that users can access all options to visualize the text information.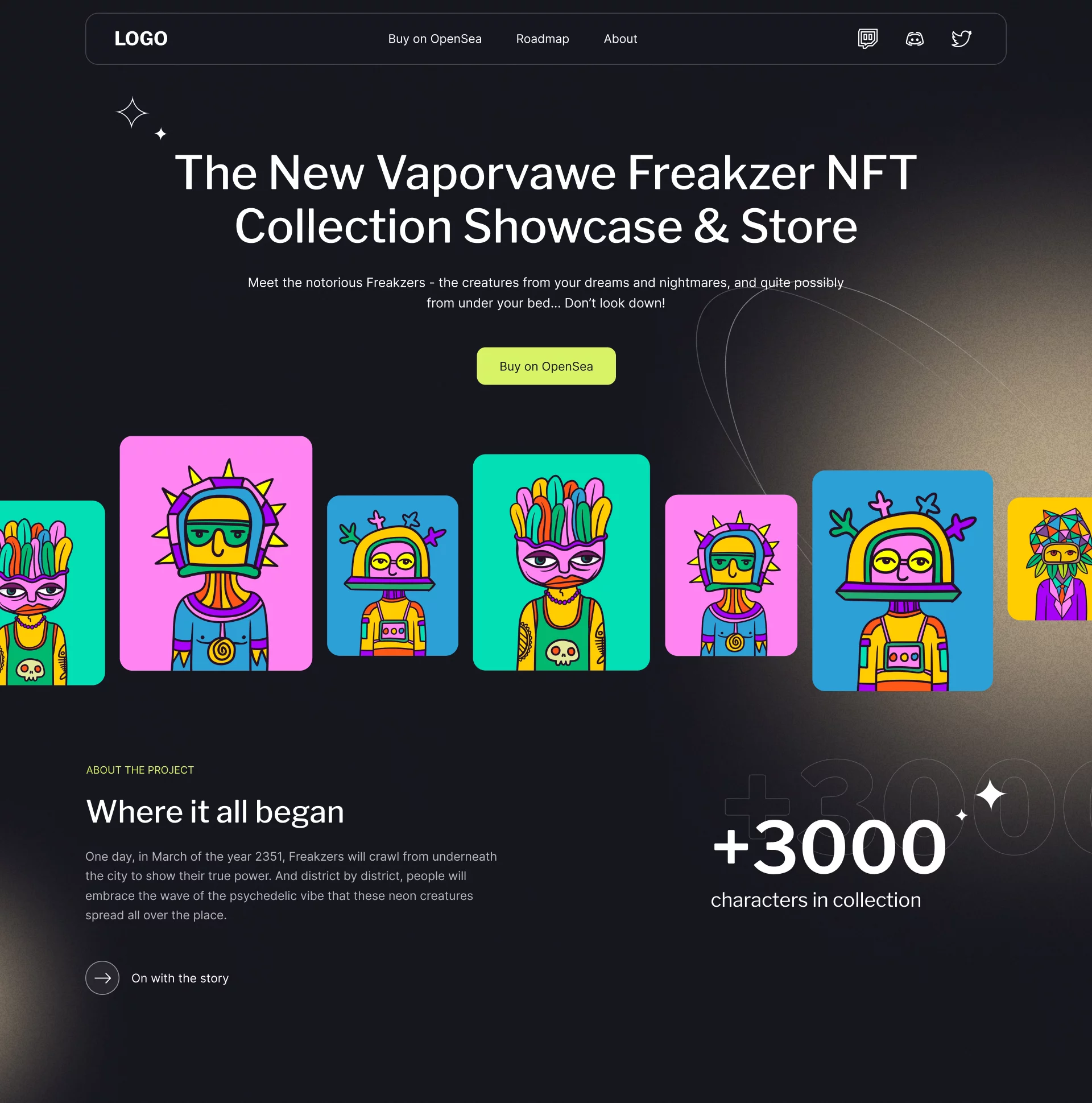 Theme 1. NFTizers
If you choose this template, your website will have a soft animation upon scrolling. Thus, users will have smooth and uninterrupted experience and will not be too distracted from your art works.
This grid allows you to add any number of extra blocks – it will keep the neat 12-column layout. To make it easier for you to maintain the website's look, all grids are designed to keep the shape regardless of the number of elements you add.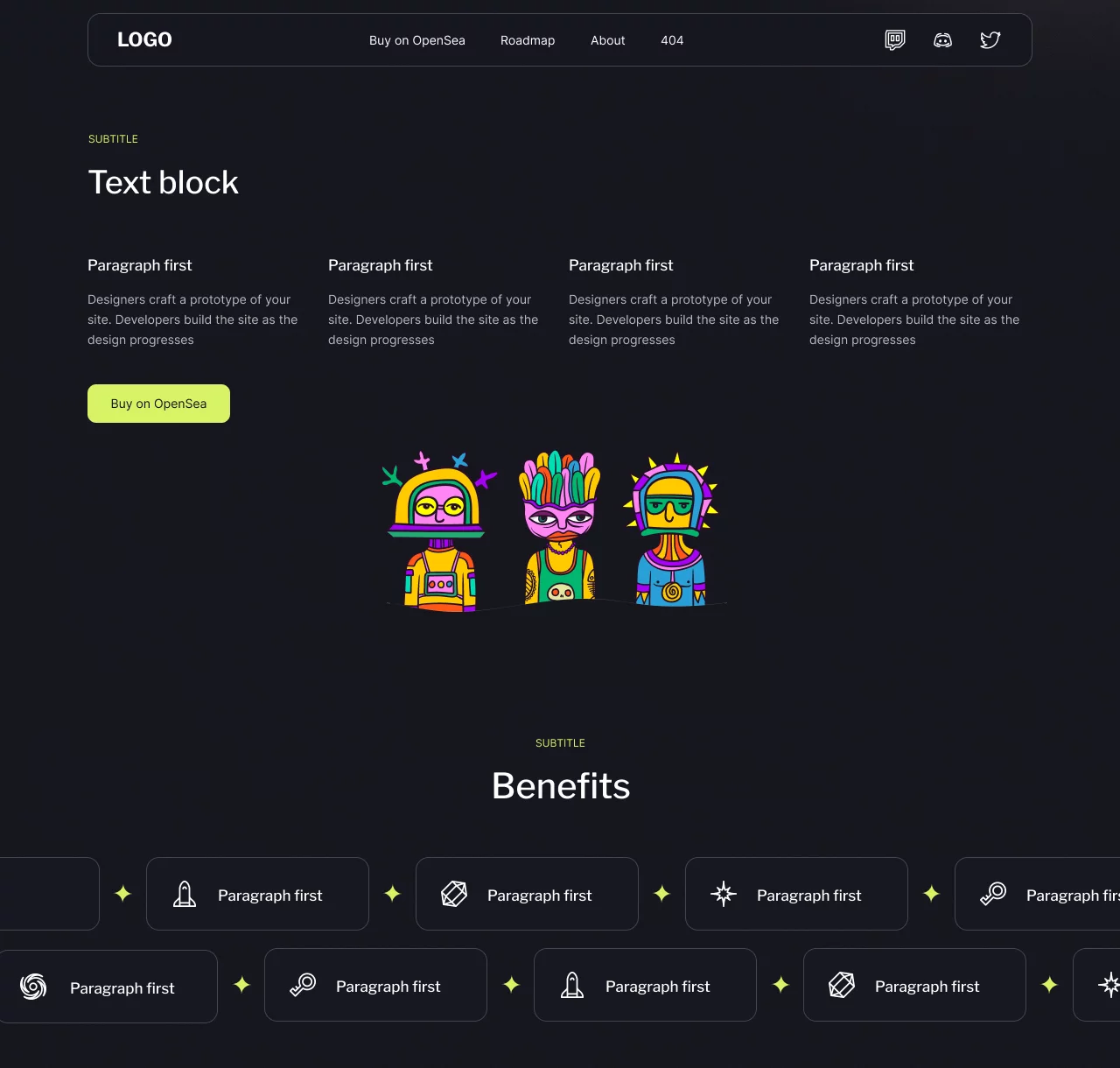 NFTizers is suitable for bright creative projects. This conservative style is aimed to bring attention to the NFT collection.
NFTizers template comes with a dark & light theme: select the one that will truly make your NFTs famous. And you can always change the colors and adjust the blocks up to your liking – everything is highly flexible.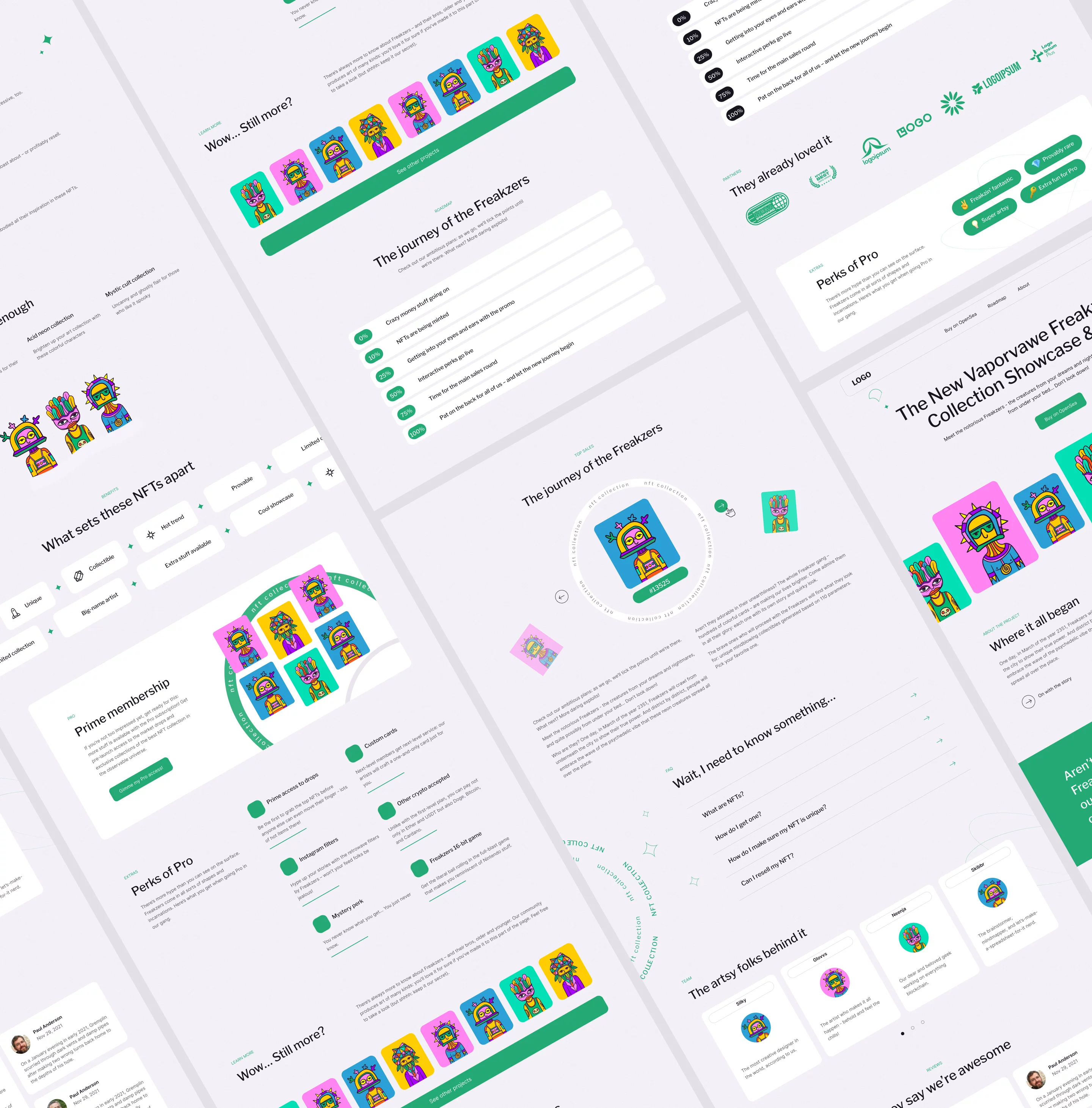 If your customers struggle to find some information, you can always save it in the FAQ section. It works as a regular accordion block that opens up with a slider effect.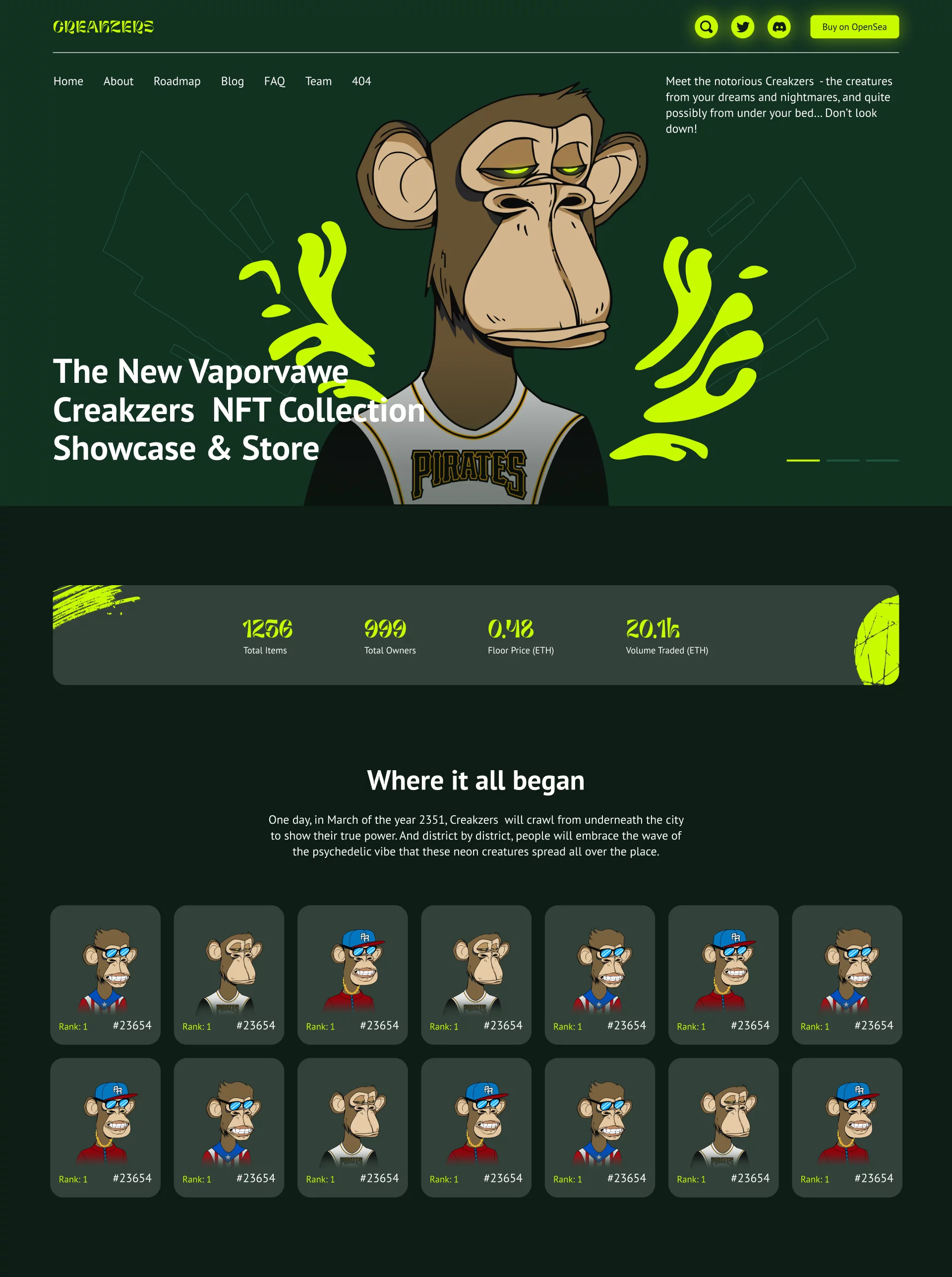 Theme 2. Creakzers
The Creakzers website template is designed and developed specifically for NFT/crypto projects.
To boost interaction, background images move on hover – the one in hero section follows your cursor.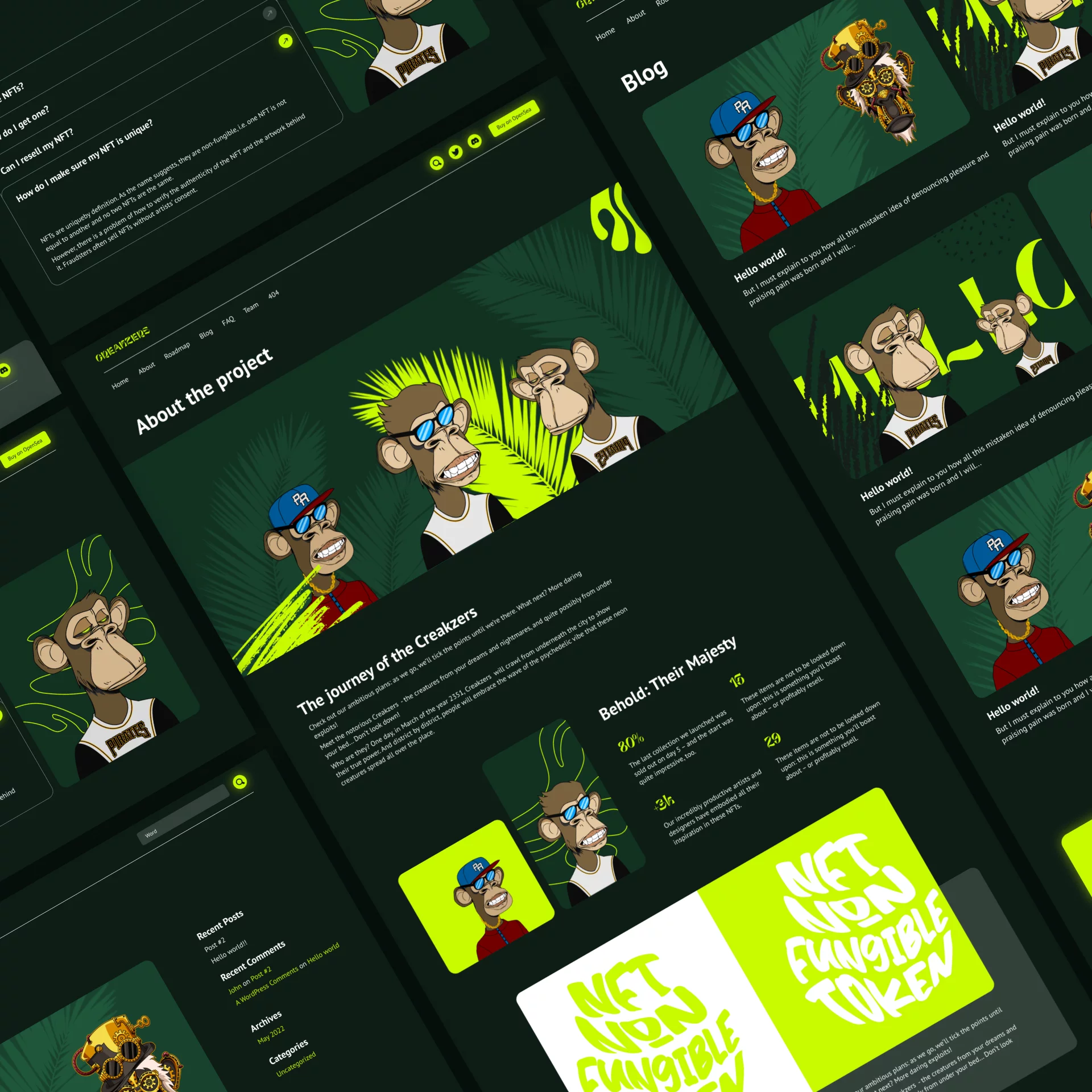 The 10 pages templates have all the blocks you need for roadmaps, calls to action, advantages description, and many other tools for everything your business may need. The design is not only pretty, but it also is well-built accessibility-wise: contrasts, font sizes, legibility, and other aspects will help your visitors with special needs find their way across the website.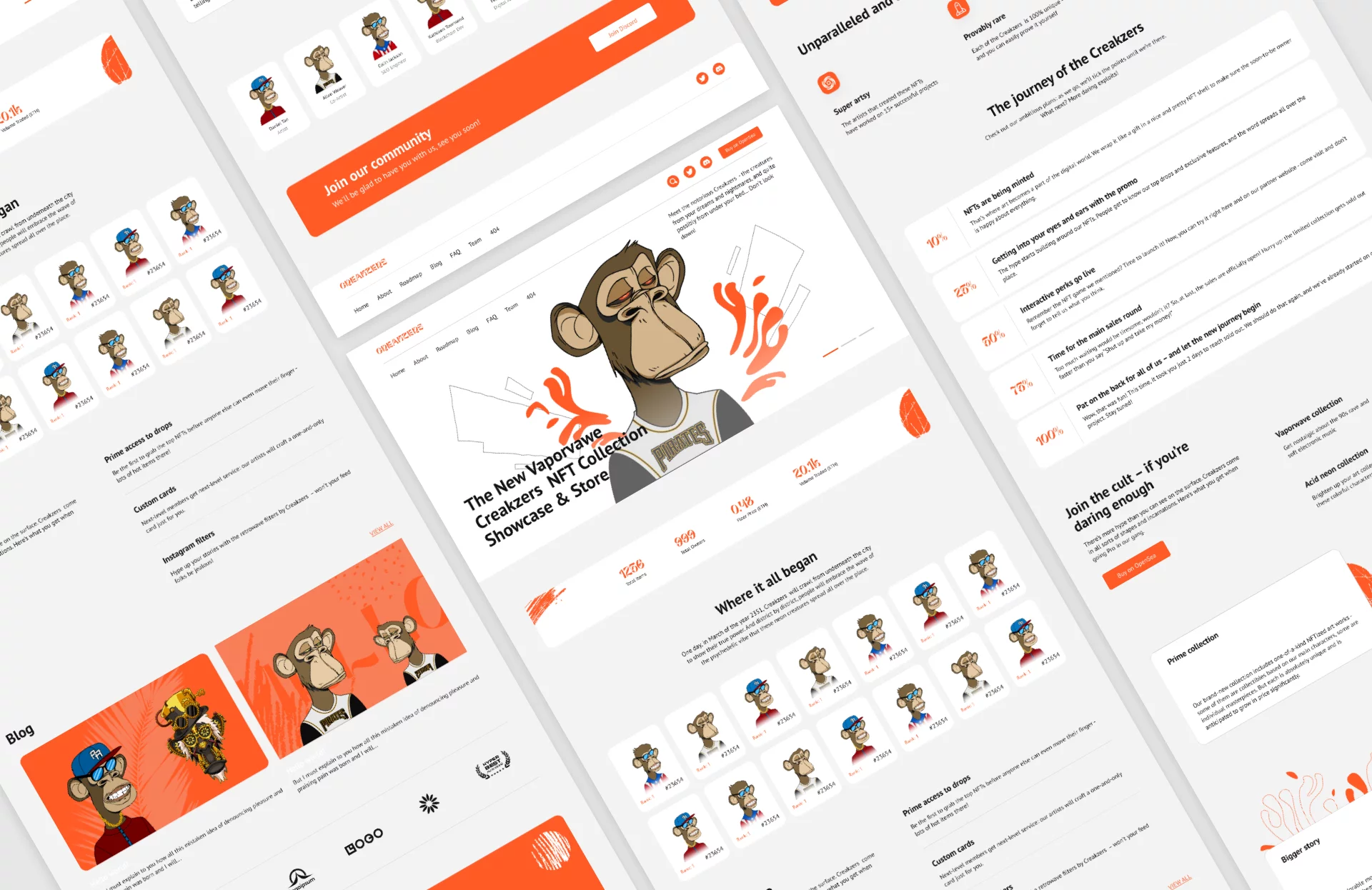 All clickable elements change their look noticeably in different states (focus, active, etc.), and there is an assisting up button in the lower right corner.
The designers developed two color versions for each website. You can easily choose your version. Mobile adaptive ones were also developed for all pages. Your NFT collection will look great on any device
Theme 3. Freakzers
This NFT website template involves various animated elements and different scroll types. When you scroll down content blocks appear as a soft slider animation, some of the blocks use horizontal scroll, and image cards along with buttons move on hover to enhance user's interaction.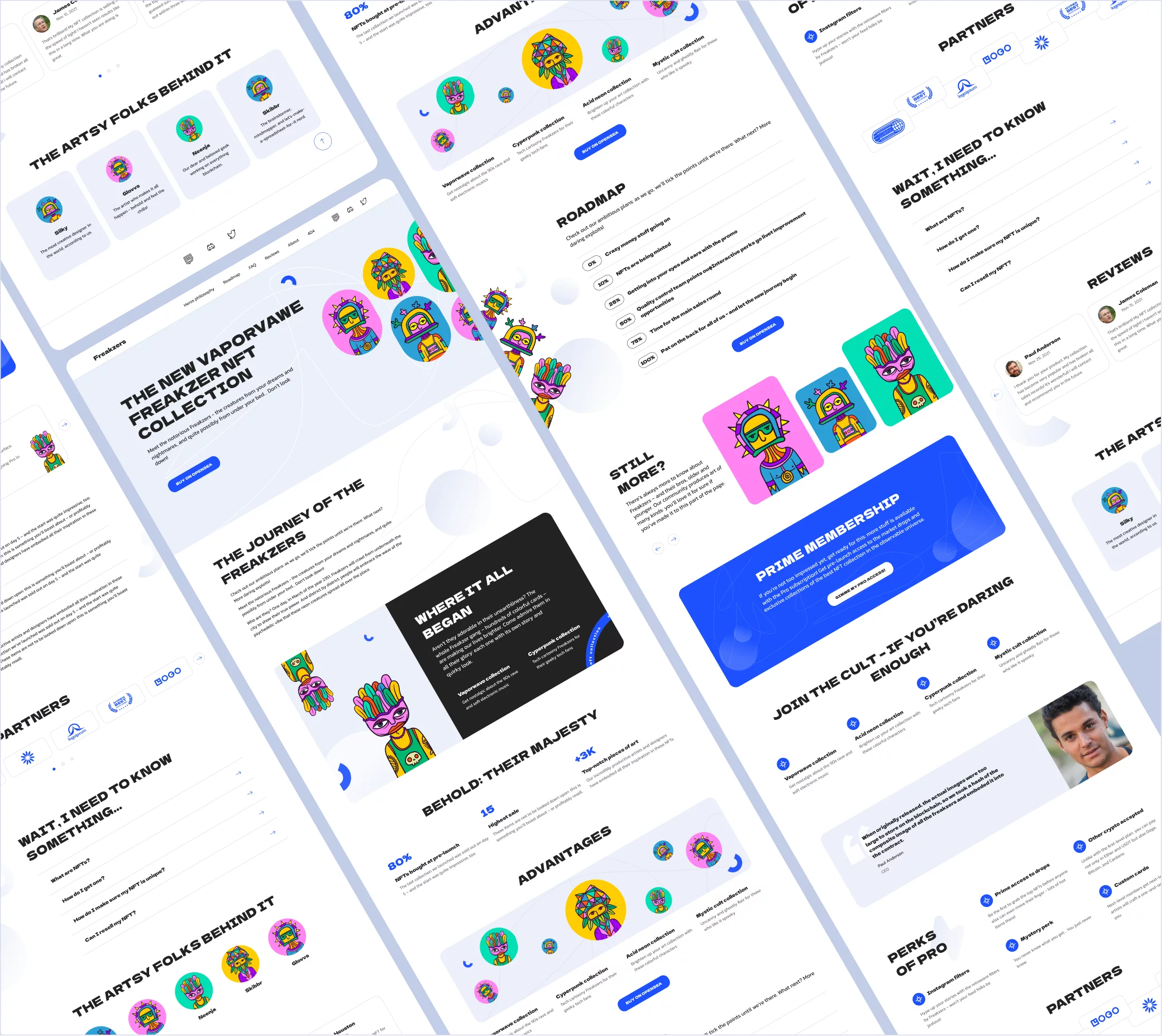 You can find buttons with different state changing effects: they scroll or show toggle animation when you hover over them. The same feature is applied to image blocks: hovering over them, you trigger numerous effects that are eye catching but do not distract a customer from your art and the key message.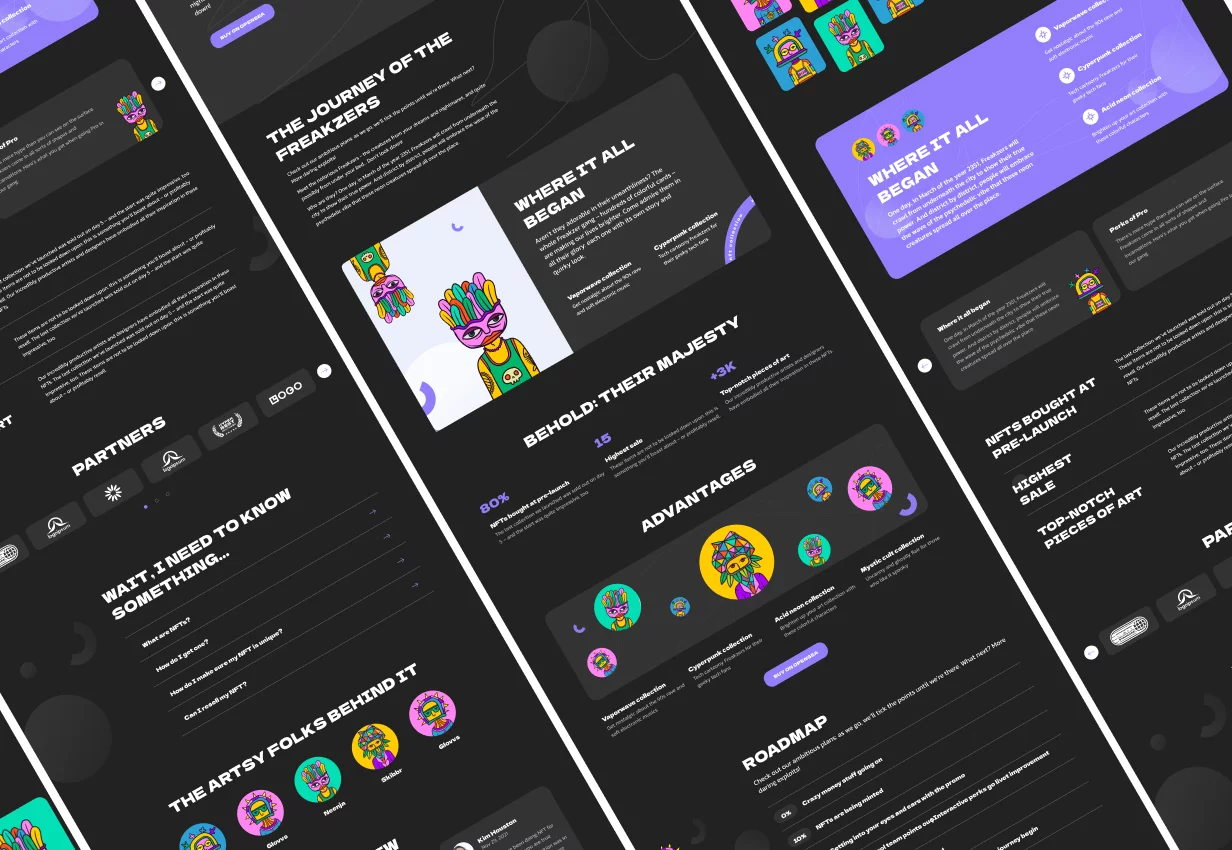 Edit the roadmap, add more stages or remove some of them, change the percentage on the left – everything is super flexible.
Freakzers template can be a great start for your NFT marketing website – push your NFT project in the digital community!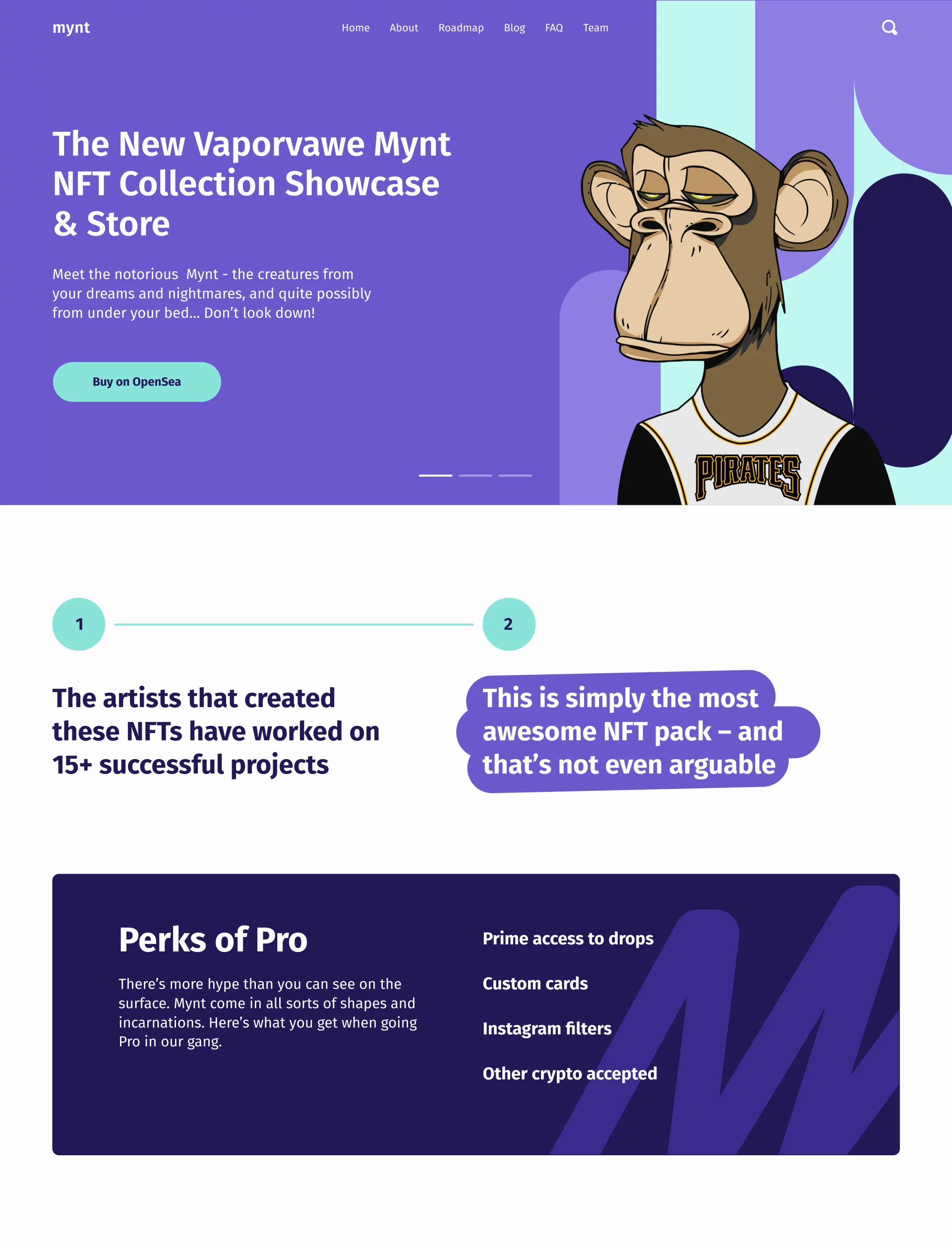 Theme 4. Mynt
Mint combines a user-friendly interface, designed with a customer requirement in mind, along with a great design. There are 9-page templates (Home, About, Blog, Blog Post, Roadmap, FAQ, Team, 404, Text Page).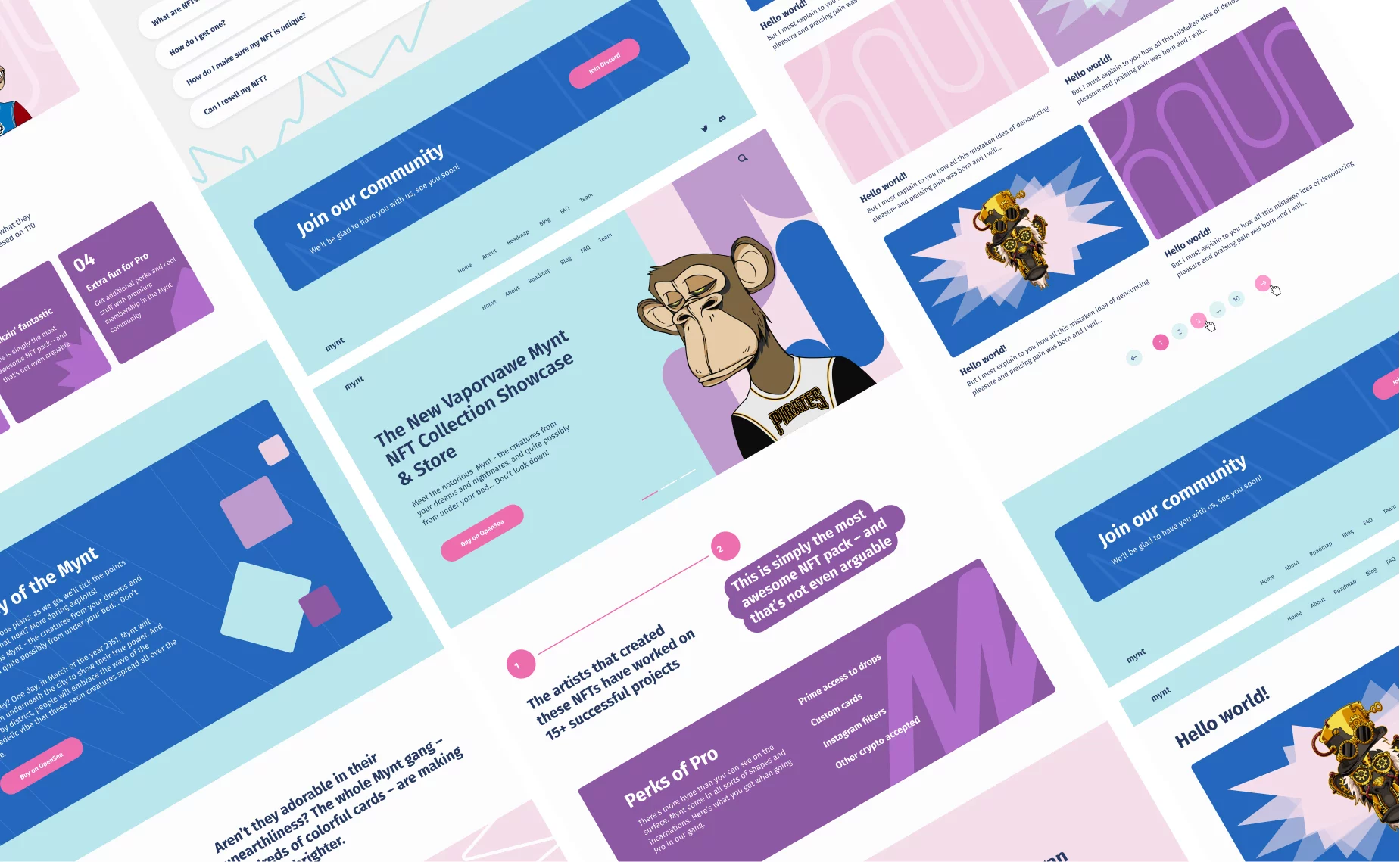 Take a look at some of the most popular text blocks: that is something sweet for your soon-to-appear blog or news feed!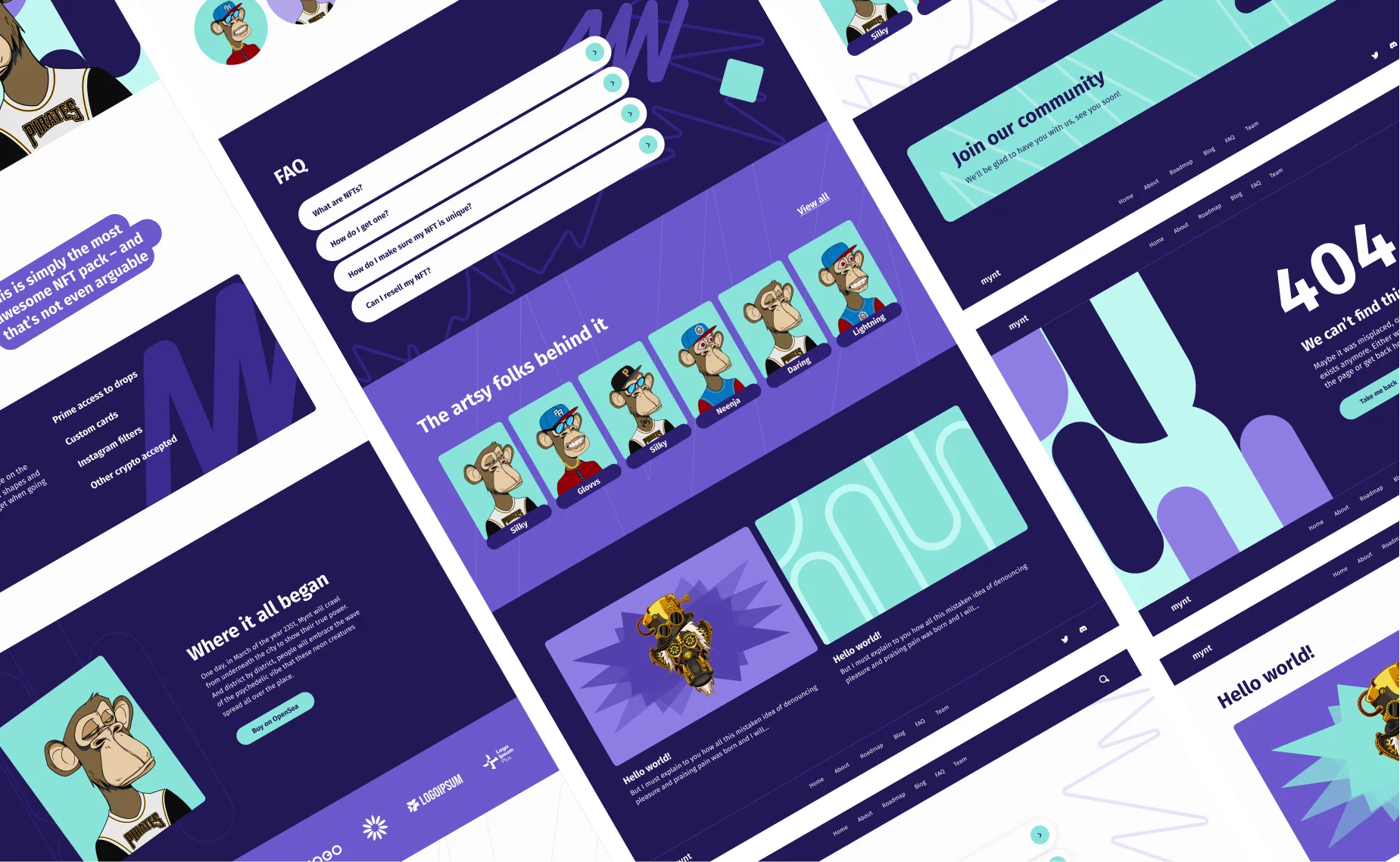 There are 2 color schemes to choose from. Choose the most suitable one for your project
The Mynt template uses card-form blocks, which is a perfect type for a NFT website.
Result
To enhance the sales of collections, we created these 4 templates for the NFT portfolio with fast page loading speeds, unique designs, and animation.
We took into account user experience and developed user-friendly interfaces. And creative animations highlight only the necessary tools.
More Case Studies
Explore our other projects
Transform Your Vision
Request your website now
Over 900 companies trust us with their online presence
Belov Digital are true professionals and worked diligently within the timeframe we had to diagnose the problems I was having with my website. Super responsive and attentive. My new go-to for anything web-dev agency. Thank you!
Belov Agency has been great again. Another successful year.
This has been the best experience I've had with any WordPress Developer or Development Team. I will keep coming back to Alex Belov and team to help me with the projects I need help with.