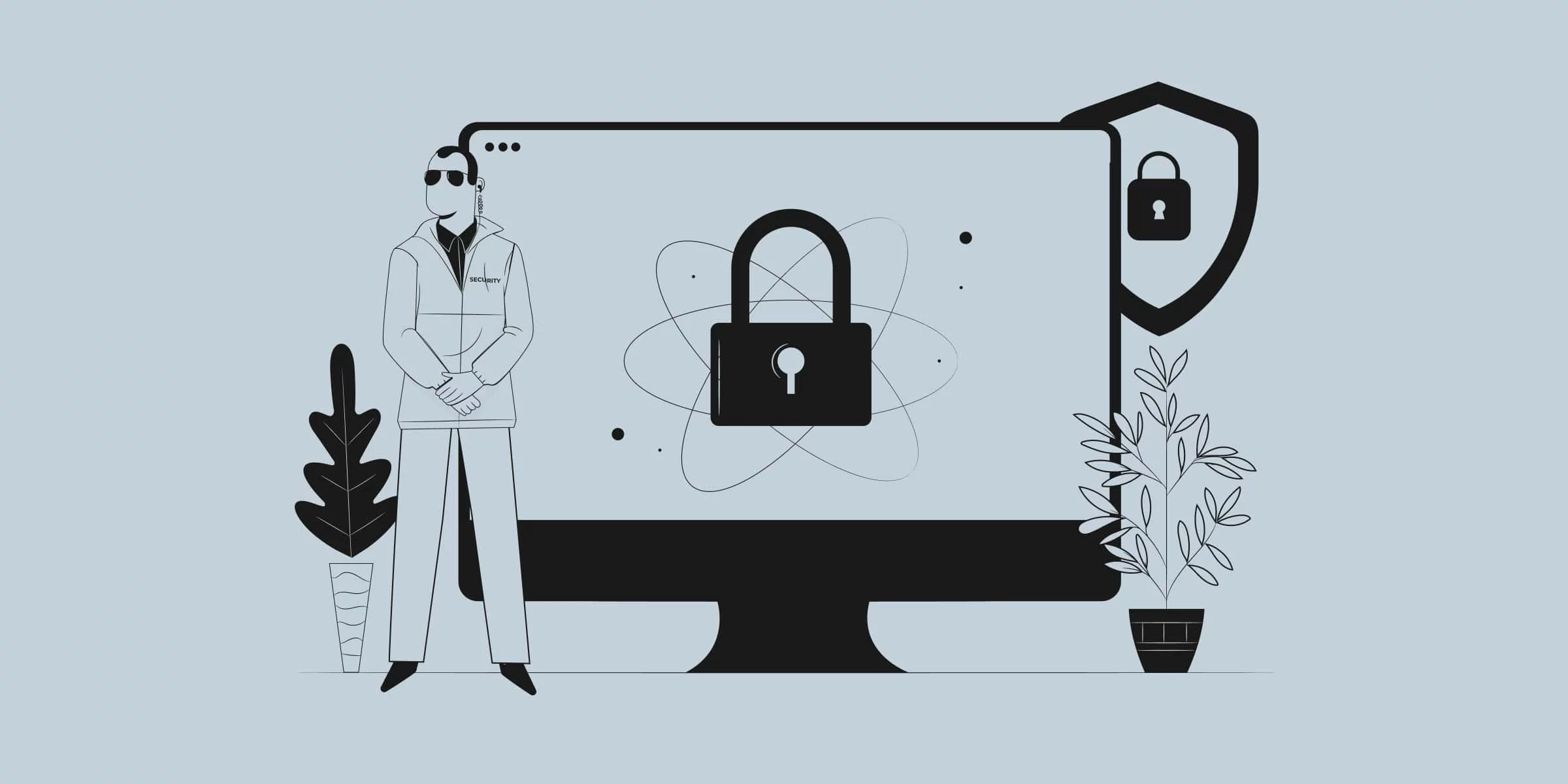 We brought some good news for digital teams: there's a great app that can help you request and send passwords securely – for free!
You might have already heard about KeysForWeb from us. This app makes it safe and handy to send passwords between business partners, team members, and just those who need to provide someone with access to their account.
If you've ever:
Run a website and seen it break or go down for reasons unknown
Lost admin control over your account
Had to contact support team of any service for technical issues
Or, if you've ever been:
That support fella who needs to get a password from the client (and begged "please do NOT send it in WhatsApp gosh please")
In a digital team where you sometimes share access
A web developer who needs access to the client's website admin account
Then, you've probably had to request a username and a password or send it to someone. And it doesn't always go smooth – and even more rarely is it secure enough. Well, we're happy to tell you about the app that makes this process bulletproof-secure and as convenient as your favorite messenger. KeysForWeb – your new best friend for sending sensitive data – available for free!
How KeysForWeb works
It's simpler than you may imagine – the app even has lots of ready-to-use templates for the most popular CMSs and various platforms. Three simple steps:
Select → Send → Collect
And you have it all: safe, handy, and typo-proof.
1. Create a request

You click + Keys Request and select the template for your case. If neither of them fits, you can create your own – the Request Builder is there – conveniently at hand. Drag the fields you need and label them to your counterpart's convenience, and that's it – you have your custom password request form.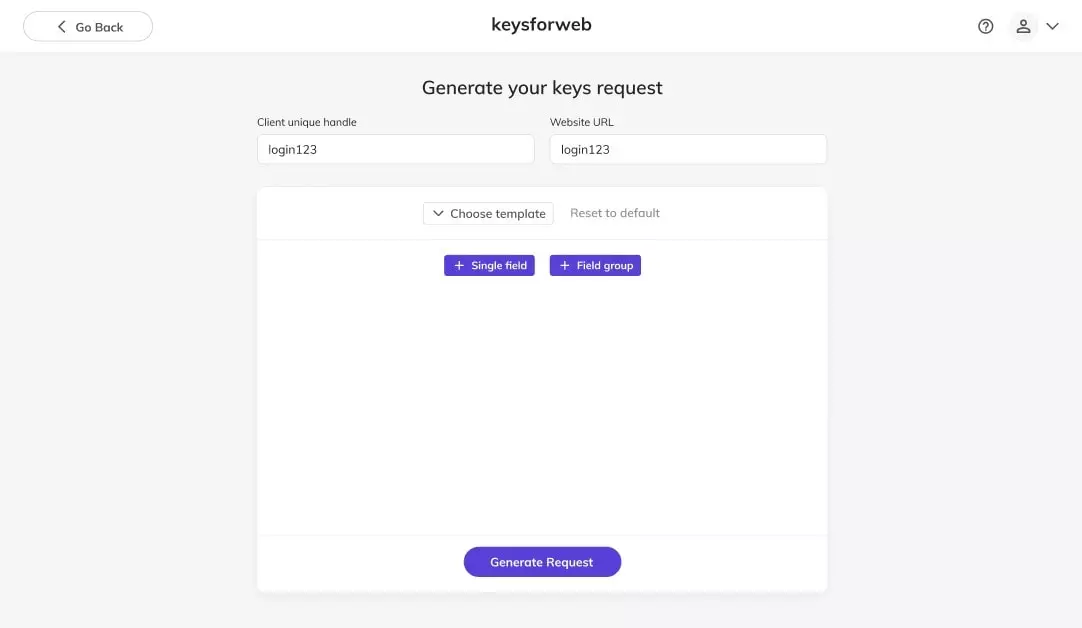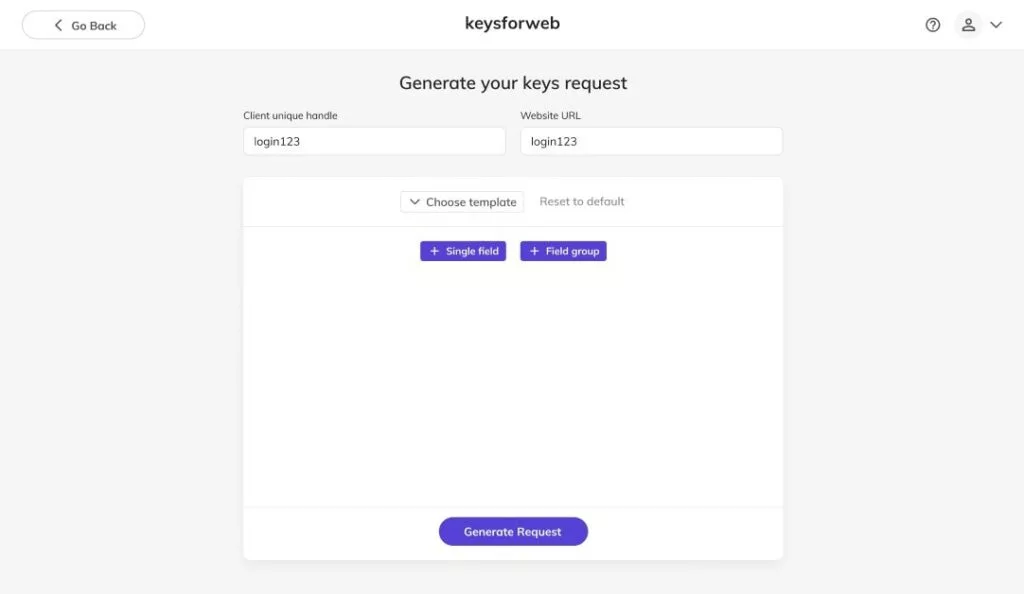 2. Send the form
Once that's done, you can send your freshly created request right from the app. Provide the email of the owner of the credentials and click Generate Request – and the link is on the way to that person. They'll follow it and see the secure form you've just created.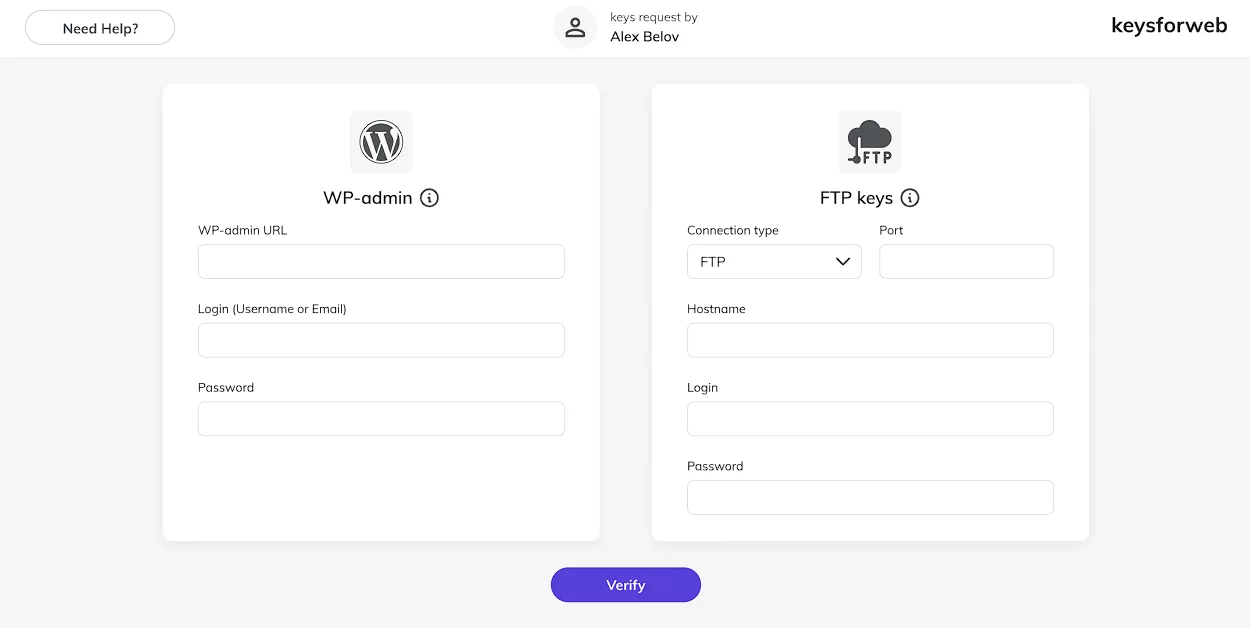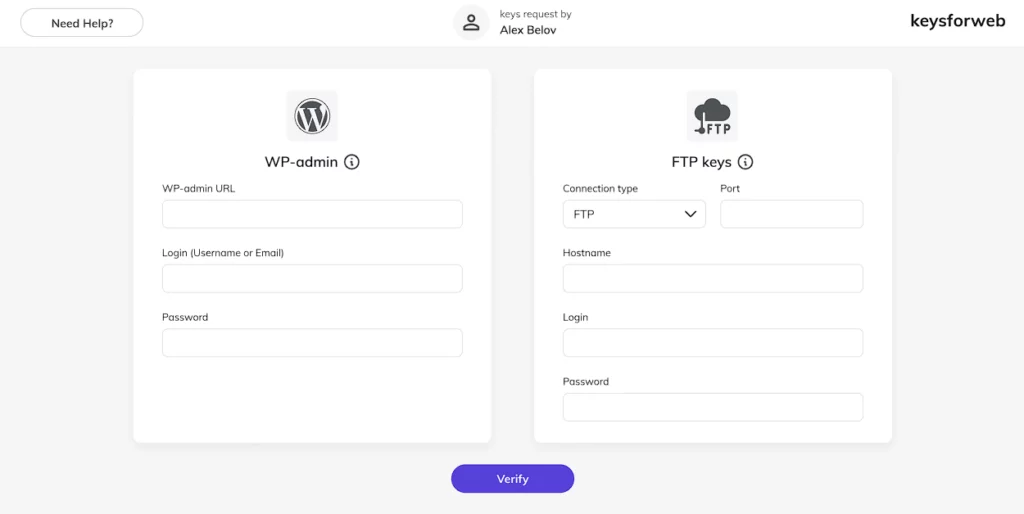 3. Wait and collect the keys
No need to give any extra instructions or keep updating the page – everything is under control. Both you and your counterpart will receive a notification: for them, it'll be an email with the lint, for you – an email and a push notification in the app that appears when the keys are there. Be quick: you have 24 hours before they get erased!
KeysForWeb – The key to password security
High-level protection
Passwords travel via E2E-encrypted channels and are deleted 24 hours after transfer automatically. Plus, you can delete everything even earlier – simply click Delete in your account, and all data are gone as if never there to begin with.
Automated data deletion
All the data going through KeysForWeb are only passers-by for us: we don't store them for longer than needed to copy them. And, of course, the users are in charge of whether or not they want to wait the whole 24 hours until data obsoletion – people can always choose to delete them earlier.
Absolute convenience
KeysForWeb is super-easy to use. You just send a pre-built request or build your custom one and send it in a click. Your counterpart will receive an email with a single-use link, which will take them to a secure form.
Typo-proof forms
For the pre-built templates, KeysForWeb implements protection against errors. Before sending the form, our validity bot checks if those keys actually open the account in question. That way, the sender knows they provided the right information, and no time gets lost in checks, attempts, and waiting.
Team subscription
If your team often deals with passwords back-and-forth – whether with clients or between the members – we provide a subscription for teams with up to 50 seats. It can be a great corporate account for a digital agency. And the process still stays completely secure: the keys are available only to that who requested them unless that person decides to share them.
Want to try KeysForWeb?
Don't hesitate: sign up and see for yourself – it's the best way to improve security in password management. And since now KeysForWeb is free, it's the best time to start using it. See you on KeysForWeb.com!