WordPress has been around for more than 15 years and, in that time, has become the most popular Content Management System (CMS) on earth. Why? Because it's simple, free, secure, and infinitely versatile. Having an effective website is vital for anyone who wants to take their business to the next level these days. And, what's also crucial is a reliable WordPress hosting provider.
Because of its immense popularity with developers, virtually every hosting company now offers WordPress hosting packages. These packages make the process of building a website using WordPress incredibly easy since the technical framework and support are already in place. All the developer needs to do is sign up for a hosting plan, select a WordPress template and get to work.
But the quality and cost of WordPress hosting can vary significantly from company to company. So we decided to compare WordPress hosting plans from 5 popular hosting companies to see if we could determine which is best. We will start with a quick overview of each of our 5 hosting companies – Kinsta, WP Engine, Cloudways, Flywheel, and SiteGround – and then take a deep dive into each one.
Table of Contents
I. An Overview of the Top 5 WordPress Hosting Providers:
II. Comparison of Prices and Basic Features for Different Hosting Plans
III. In-Depth Reviews of our Top 5 WordPress Hosting Providers
---
1. Kinsta Web Hosting

Kinsta hasn't been around as long as some other large hosting companies, but their reputation for providing quality and value makes them a no-brainer for this list. The bright side of them being fairly new to the hosting business is that their service isn't encumbered by legacy products and practices. Instead, they offer only the latest and best hosting options.
Of course, when we say the latest and best, we mean WordPress, and it needs to be said upfront that Kinsta offers only managed WordPress hosting. They're not all over the place with their hosting packages – they do WordPress hosting. That's it. Therefore, everyone on their staff is a WordPress expert. This type of focus also enables them to offer a level of customer service that is second to none in the hosting business.
The basic package that Kinsta offers costs a little more than those of its competitors. But once you get into the more involved hosting options, their prices actually drop when compared to the competition. If you are looking for a hosting company that knows WordPress inside and out, it's tough to beat Kinsta.
2. WP Engine Web Hosting
As the name implies, WP Engine is all about WordPress. Like Kinsta, they only offer managed WordPress hosting packages, and they do it as well as anyone. Everything they offer – from the servers to the support staff – is focused on making your WordPress experience simple, affordable, and productive.
It's hard to find anyone who has a bad thing to say about WP Engine. Their hosting packages are competitively priced, setup is fast and easy, and their customer support is some of the best in the business. Their Optimized WordPress Hosting plans hit all the right beats (including free SSL certificates), their security protocols are top-notch, they offer free migration of your current site, and their servers boast uptime of over 99.9%.
When you get into the mid-level and advanced hosting plans, WP Engine can get a bit pricey. But the quality of the product, the outstanding customer service, and the robust technical support mean that it is money well spent. Whether you are a professional developer or are building out your own website, WP Engine will be there for you every step of the way.
3. Cloudways Web Hosting


Cloudways is not your average WordPress hosting company. The hosting services they offer are cloud-based. Instead of apportioning X amount of space on a given server in a single location, multiple copies of your website exist simultaneously on multiple servers. That way, if one server goes down, visitors will automatically be redirected to another copy of your site.
The Cloudways method essentially does away with downtime. Your content is typically served faster using the cloud-based system, too, since Cloudways can detect where a visitor is located and serve a copy of your site that is on the server closest to them. When coupled with their vast CDN network, this results in some of the fastest loading times offered by any WordPress hosting company.
The cloud-based system also enables Cloudways to reduce their overhead and pass their savings on to the customers, who tend to get the most disc space and bandwidth for the lowest price. Though there are distinct advantages to cloud-based hosting, it's not all puppy dogs and sunshine, and we'll get into the downside when we take our in-depth look at Cloudways below.
4. Flywheel WP Hosting
If the idea of cloud-based WP hosting doesn't appeal to you, consider Flywheel. They are an affordable, reliable, dedicated WordPress hosting provider with a solid reputation and great customer service. Flywheel has been around since 2012 and has gained a loyal following among developers who enjoy how easy they are to work with and the fact that they offer custom hosting plans for large companies.
Flywheel understands that when it comes to websites – especially e-commerce websites – security is everything. So, they put a premium on making sure their servers are as impenetrable as possible. On your end, that manifests itself in things like an insistence on strong passwords and a limited number of login attempts before you'll be prompted to contact customer service.
Flywheel, with its prices, disc space, and bandwidth allocations, is right in line with other big WordPress hosting companies. One way they do stand out is in allowing up to 30 sites with their advanced hosting plans, while most of their competitors allow 5 or 10. Flywheel customer service is also top-notch.
5. SiteGround Web Hosting

SiteGround offers both non-WordPress and WordPress hosting plans at reasonable prices. They have a solid reputation for reliability, security, and customer service, and they are by all accounts a piece of cake to work with. Their optimized WordPress hosting packages are very affordable, competitive, and they don't pressure you to promote their business as some companies do.
SiteGround has recently begun offering cloud hosting packages that take their array of hosting plans to a new level. These are fully managed plans, meaning they take care of all updates for you, monitor your site round the clock for trouble, and more. These plans are also scalable. For example, you can sign up for their auto-scale option that provides additional bandwidth automatically in the event of a spike in traffic. It's just one of the reasons new customers are flocking to take advantage of SiteGround Cloud Hosting.
In addition, and unlike some of their competitors, SiteGround allows you to choose which of their data centers will host your website. That means you can have your site hosted as close as possible to your target audience, which will help speed up the all-important loading time of your pages. They also offer free CDN services by way of their partnership with industry leader Cloudflare.
WordPress Hosting Plans: Pricing and Basic Features Comparison
Let's take a quick look at what the different companies charge for various levels of hosting and what you get for that money.
Entry-Level Hosting Plans
| | | | | | |
| --- | --- | --- | --- | --- | --- |
| Name | Kinsta | WP Engine | Cloudways | Flywheel | SiteGround Cloud |
| Monthly Price | $30 | $25 | $10 | $25 | $80 |
| # of Sites | 1 | 1 | 1 | 1 | Unlimited |
| Disk Space | 10GB | 10GB | 25GB | 10GB | 40GB |
| Bandwidth | Unlimited | 50GB | 1TB | 50GB | 5TB |
| Free Site Migration? | Yes | Yes | Yes | Yes | Yes |
| Free SSL Certificate? | Yes | Yes | Yes | Yes | Yes |
Mid-Level Hosting Plans
| | | | | | |
| --- | --- | --- | --- | --- | --- |
| Name | Kinsta | WP Engine | Cloudways | Flywheel | SiteGround |
| Monthly Price | $60 | $95 | $42 | $96 | $120 |
| # of Sites | 2 | 10 | 5 | 10 | Unlimited |
| Disk Space | 20GB | 20GB | 80GB | 20GB | 60GB |
| Bandwidth | Unlimited | 200GB | 4TB | 200GB | 5TB |
| Free Site Migration? | Yes | Yes | Yes | Yes | Yes |
| Free SSL Certificate? | Yes | Yes | Yes | Yes | Yes |
Advanced Hosting Plans
| | | | | | |
| --- | --- | --- | --- | --- | --- |
| Name | Kinsta | WP Engine | Cloudways | Flywheel | SiteGround |
| Monthly Price | $100 and up | $240 | $80 | $242 | $160 |
| # of Sites | 3 – 80 | 30 | 10 | 30 | Unlimited |
| Disk Space | 15 – 120GB | 50GB | 160GB | 50GB | 80GB |
| Bandwidth | Unlimited | 500GB | 5TB | 500GB | 5TB |
| Free Site Migration? | Yes | Yes | Yes | Yes | Yes |
| Free SSL Certificate? | Yes | Yes | Yes | Yes | Yes |
In-Depth Reviews of our 5 WordPress Hosting Providers
1. Kinsta
Kinsta has been around since 2013. They are privately owned, have headquarters in Los Angeles and host thousands of WordPress-based websites. They are not the biggest WordPress hosting company out there, but they have enjoyed steady if unspectacular growth since their inception while carving out a reputation for reliability.
Kinsta WordPress Hosting Plans
Kinsta offers a variety of dedicated WordPress hosting plans ranging from very simple and affordable plans for individuals and small companies, to a series of ever more expensive and involved hosting plans for medium and large-scale enterprises. The graphic below provides a quick overview of their 3 basic plans; the Starter, the Pro, and the Business 1.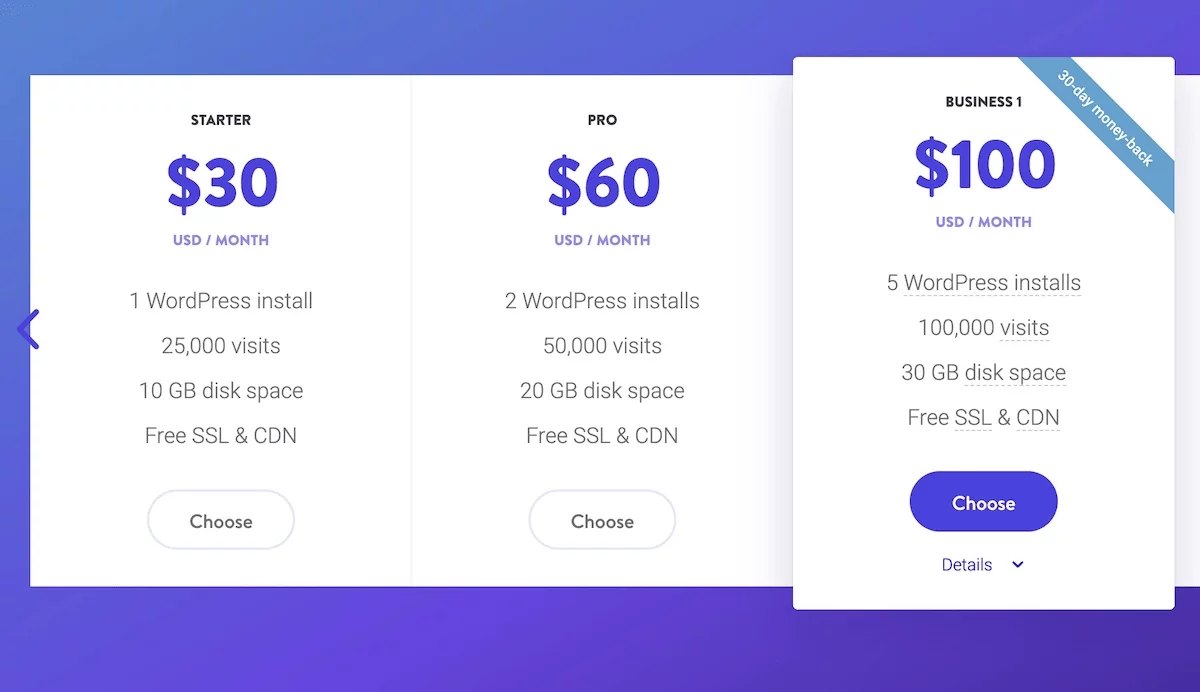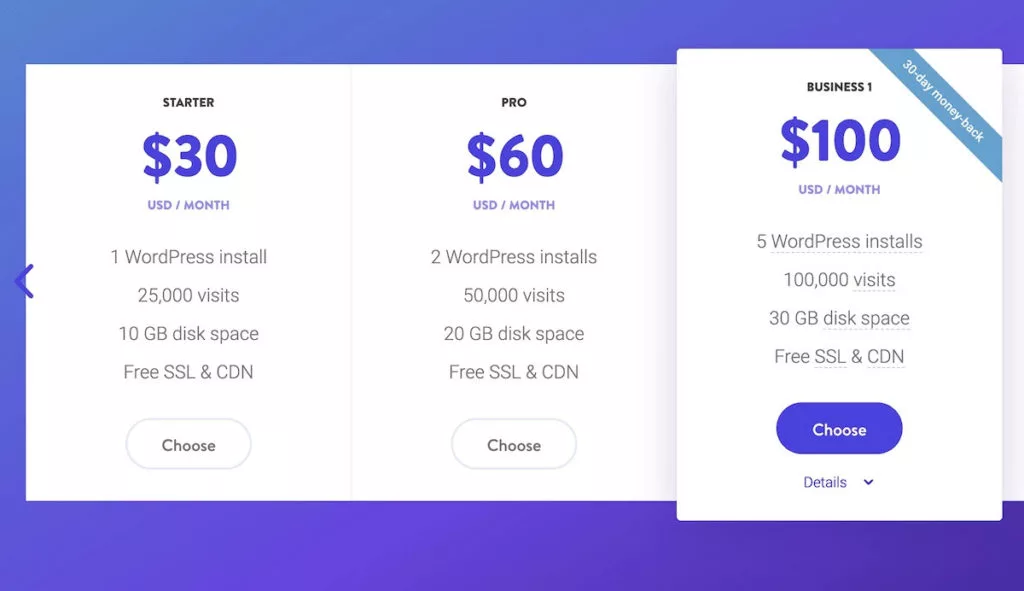 Until recently, Kinsta was exclusively marketed to medium-size enterprises and larger ones. Their Starter plan is actually a fairly recent addition to their lineup and a welcome one at that. It means that even individuals and small companies can now take advantage of the high quality of their products and excellent customer service.
Business plans are where they still butter their bread, though, and they offer 8 of them ranging from $100 per month, as you see in the graphic, all the way up to $1,500 per month for their top-of-the-line Enterprise 4 plan. For large companies that anticipate heavy volumes of traffic, the Kinsta Enterprise packages are well worth considering.
All Kinsta WordPress hosting plans are fully managed, which means the company performs automatic backups of your site several times a day and regularly updates the backend technology to keep up with rapid changes in the digital world and stay ahead of security threats.
You get free SSL certificates, staging to test your site before it goes live, and site cloning. Each of your sites is also privy to Kinsta's robust Content Distribution Network (CDN) that ensures fast loading for visitors no matter where in the world they may be.
Kinsta Uptime, Security and Speed
Kinsta boasts an uptime of more than 99.9%. Downtime is, in fact, such a rarity with Kinsta as to be virtually irrelevant. They perform more than 100 uptime checks per hour every day of the year. So in the unlikely event of a disruption, their crack team is on it in a hurry.
Up until recently, Kinsta focused solely on hosting sites for medium and large size businesses. Those companies put a premium on security, so Kinsta has made security a priority from day one. Those who sign up for their new Starter WordPress hosting plan will benefit mightily from the company's security expertise, as well as from DDoS protection and free SSL certificates. Simply put, you are not likely to find a safer place to park your website, regardless of its size or complexity.
As for speed, Kinsta lets you select from any one of their numerous data centers. That way, you can have your site hosted close to your primary audience, which increases end-user speed. They also have a vast CDN that boosts the speed of your site for end-users, regardless of where they are in the world.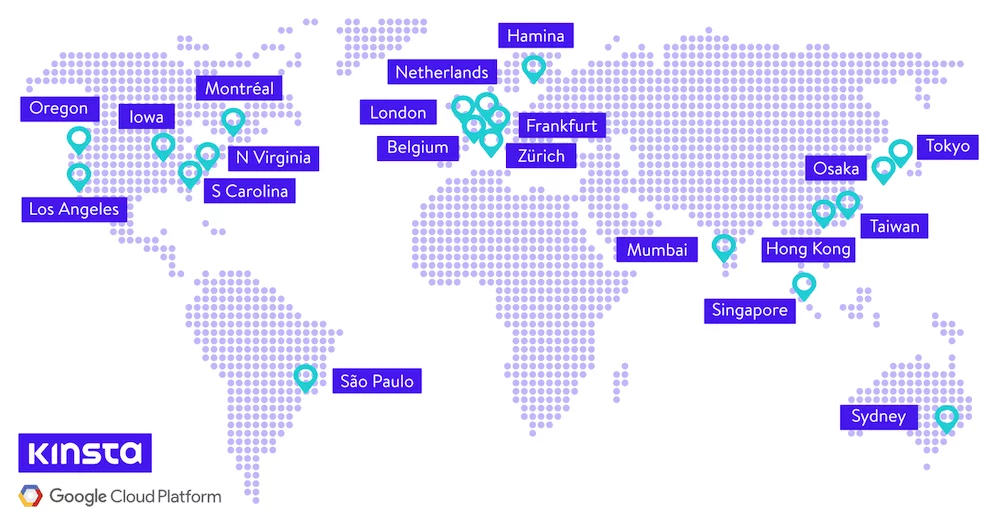 Enable CDN in Kinsta
Kinsta CDN servers are strategically positioned at various spots around the globe. When someone accesses your site, an algorithm determines their precise location and alerts the nearest CDN server to deliver all your site's static content (the content that doesn't change from day to day like CSS, images, and such) to that person. This reduces the load time of your page, thereby enhancing the user experience.
CDN is vital to companies in search of a competitive edge. But in order to take advantage of the speed boost provided by Kinsta's Content Delivery Network, you will need to make sure you enable it before you launch your site. The process is remarkably easy and does not require any specific information such as nameservers.
To enable the Kinsta CDN:
Log in to your site using

yoursite.com/wp-admin/

.
Click on the Kinsta CDN tab. This will bring up information about the Kinsta CDN.
Click on the Enable Kinsta CDN button.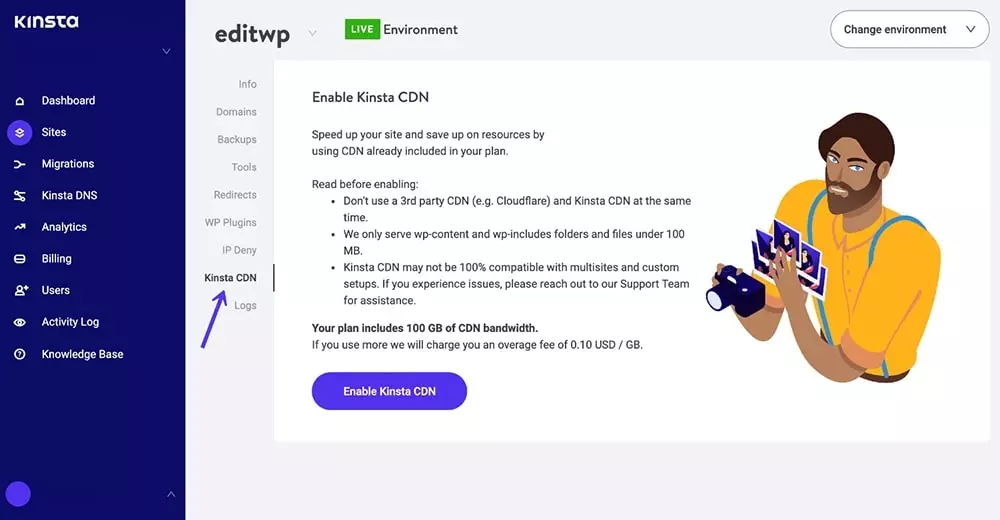 Once you click the Enable button, it will take only a few minutes for copies of your static assets to be distributed throughout the global network. And that's it! There is nothing more to do. You have now taken a big step in optimizing your site for users the world over.
Kinsta Support
Kinsta customer support is solid, if unremarkable. They usually respond to email queries in a timely fashion, and their 24/7 chat is staffed by reasonably competent individuals who are routinely polite and patient. When all is said and done, if you encounter a problem with Kinsta, there's a better than even chance it will be resolved in relatively short order.
Kinsta: Bottom Line
Kinsta provides reliable, affordable WordPress web hosting for all kinds of private and commercial customers. Their service is dependably fast, and their reputation for top-shelf security is well-deserved. If they have a weak spot, it's that their customer service is a bit underwhelming. Not bad. Just nothing exceptional.
2. WP Engine
With a name like WP Engine, there is little doubt about where this company's focus is. They are committed to providing first-class WordPress hosting service for individuals and businesses, and from all accounts, they do an outstanding job of it. Their prices are competitive, their feature set is comparable to the best other companies have to offer, and their security record is unblemished. Whether you are just starting out or have an established business, WP Engine has something to offer you by way of WordPress hosting.
WP Engine WordPress Hosting Plans
WP Engine offers 4 different WordPress hosting plans for everyone from individuals to large companies. Recently, they decided to toss in 2 months free on all their hosting plans to anyone willing to prepay for a year. So they're an even better value than they already were. Also, if you choose the Startup plan that allows you to build out 1 website, they make it easy for you to add a second site for a flat $20. The following graphic provides a quick overview of their WordPress hosting plans.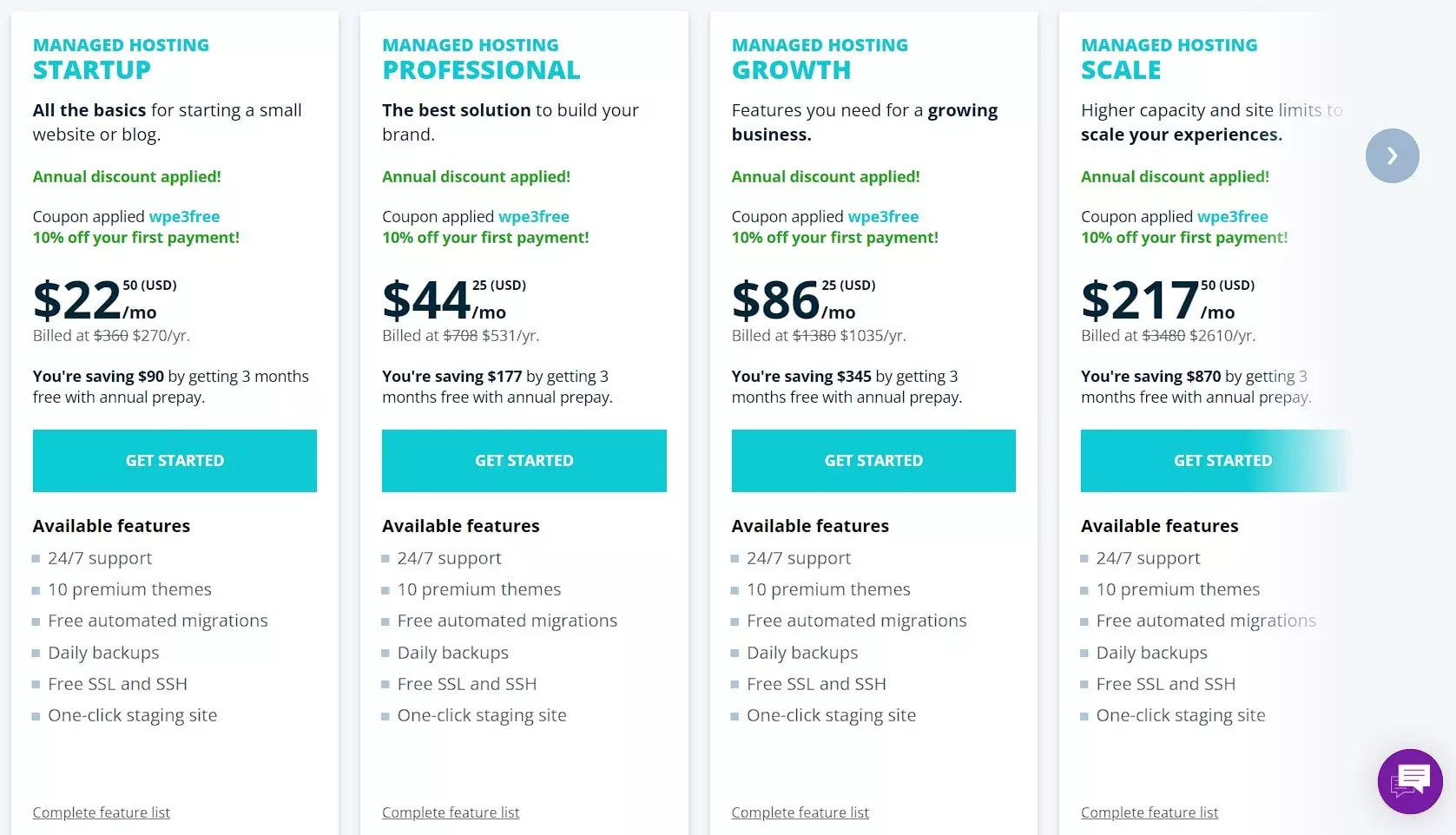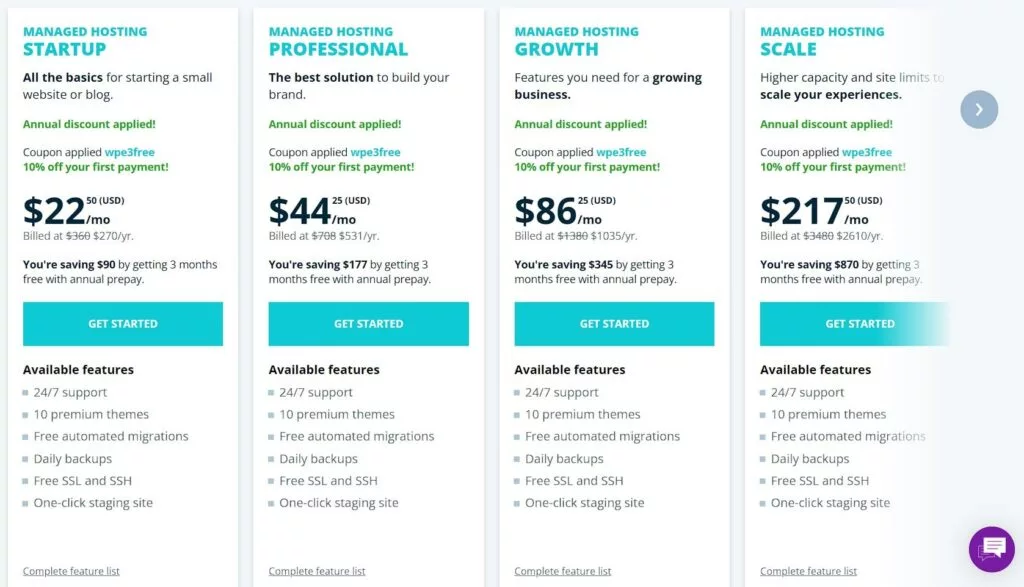 WP Engine offers an array of valuable features you won't get from some other hosting plans. "Content Performance" is a specific type of analytics that enables you to easily analyze which content is attracting visitors and which content is dead in the water. "GeoTarget" allows you to create geographically specific content and have it served automatically to visitors from different parts of the country or world.
WP Engine will also conduct a "launch readiness" assessment for you to determine if your site is ready to go live or if it needs some fine-tuning. With all the factors that come into play when developing a website, this can be a very handy tool that will help you avoid mistakes and oversights. The combination of affordability and its robust feature set makes WP Engine such an attractive choice for WordPress hosting.
WP Engine Uptime, Security and Speed
WP Engine guarantees 100% uptime. While that sounds great, it doesn't actually mean your site will never be down. It means that on those rare occasions when downtime does occur (probably in line with industry standards, which means something like 0.1% of the time), the company will compensate you. In this case, they will give you a 5% break on your next monthly bill.
WP Engine also performs automatic updates every day. This information is kept for two months, so if at any time you need to restore your site to a previous version, you're covered. At least for the previous two months.
These are not ordinary backups, however. WP Engine backup information is stored in a different physical location. So even if the data center that was hosting your site is destroyed by a flood or tornado, a complete backup will be available at another data center that can be quickly taken live. It's these kinds of thoughtful touches that make WP Engine worth the price.
As for security, the folks at WP Engine pride themselves on staying several steps ahead of potential problems. They provide free SSL certificates, conduct continuous checks for malware, provide DDoS protection for your site and keep a lengthy and ever-growing list of problematic IP addresses that they block. These sites are known as sources of spam or cover for hackers.
The experts at WP Engine are also continually assessing the WordPress source code for vulnerabilities, evaluating the safety of countless plugins, and working with industry experts to anticipate the nature of evolving threats.
WP Engine does not drop the ball when it comes to speed either. They use high-speed servers optimized for WordPress, and utilize an extensive CDN network to distribute and serve static content locally in order to speed up how fast your web pages load on the visitor's device. Just remember that you will need to enable that CDN to take advantage of it.
Enabling CDN on WP Engine
Because it can take a few minutes for assets to be distributed worldwide throughout the CDN network, there may be some (very) short-lived disruptions in the display of your site during the 10 minutes or so after CDN is enabled. Therefore, it's advisable to either enable CDN before your site goes live or during a known slow time.
That said, enabling CDN on WP Engine is super simple. Just log into the WP Engine User Portal and then click Sites from the navigation column on the left. You'll see a list of production environments. Click CDN. When the CDN information comes up (see the below graphic), check the Enable CDN box. Then click Save, and you're done. That's it.

WP Engine Support
The business of WP Engine is to provide a reliable, secure WordPress hosting environment for their customers. That is their only business. As such, they employ only WordPress experts to man their customer service center, and it's very rare indeed that someone will stump one of their customer service reps. Support is available round the clock 365 days a year, including live chat, phone, and email.
For those of you who prefer figuring things out for yourself, you will find that WP Engine maintains a comprehensive online library and associated knowledge base dealing with every conceivable aspect of the WordPress content management system. The folks at WP Engine have put in a lot of work making sure all that content is well-organized and easily accessible.
WP Engine: Bottom Line
WP Engine is a top-notch WordPress hosting company that provides feature-rich hosting packages to individuals and businesses at affordable prices. They give equal time and consideration to all their hosting plans, provide routinely outstanding customer service, and include an array of thoughtful features that indicate they are on top of all aspects of the WordPress experience.
3. Cloudways
To a certain extent, all web hosting companies offer cloud hosting. After all, the server where the data that makes up your website resides is not in your home or office. It's out there in the world somewhere. But there is that simplistic notion of cloud hosting, and then there is Cloudways cloud hosting.
With Cloudways, your website exists simultaneously on numerous servers in different locations. Should a problem arise with one of those servers, another one automatically picks up the slack and your site doesn't skip a beat. If you think that means downtime is a thing of the past, you're right. So, just what does that kind of 100% uptime cost? Let's take a look.
Cloudways WordPress Hosting Plans
Cloudways' brand of cloud-based WordPress hosting not only eliminates downtime but also enables the company to keep their costs low. They then pass the savings on to you. The whole thing is a bit counterintuitive since most people would think that 100% uptime must mean a higher cost. But just the opposite is true in this case, as the following graphic illustrates.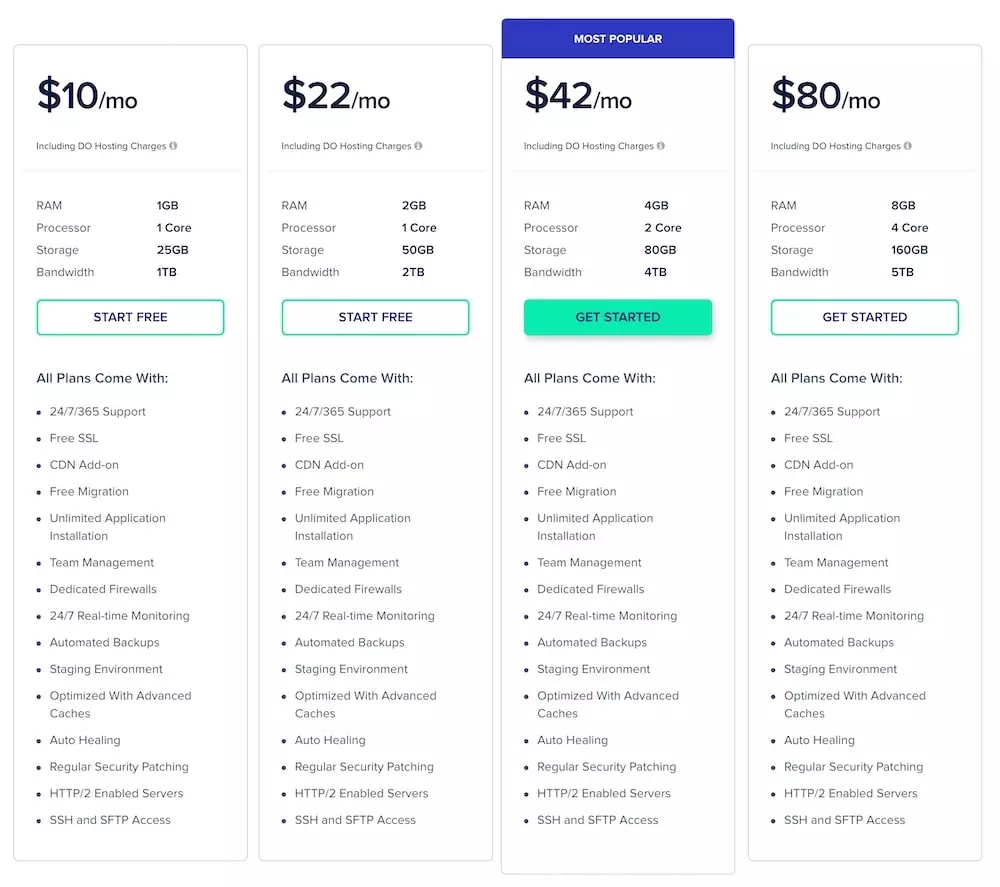 As you can see, it is no myth that Cloudways offers both 100% uptime and some of the most reasonable hosting prices you'll find anywhere. Their entry-level hosting plan costs a mere $10 per month. For that, you get 25GB of storage and an impressive 1TB of bandwidth (significantly more than you get in most basic hosting packages). You also get free migration, 24/7 support, and a free SSL certificate, just to name a few things.
For only $12 more per month, you get 50GB of storage and 2TB of bandwidth. And for $42 a month, that is doubled to 4TB. Their top-of-the-line hosting plan costs a very reasonable $80 per month and provides 160GB of storage and 5TB of bandwidth. If you need more than that, customer service can arrange it for you. All plans offer the same robust feature set, although you will need to pay an extra $1 per month if you want to use the company's CDN network.
Cloudways Free Trial
It needs to be mentioned that Cloudways also offers you a 3-day free trial. To take advantage of this, click on the "Start Free" button at the top right of the Cloudways homepage. You will then be prompted to supply your name and a valid email address and answer a couple of simple questions about who you are in relation to the site you want to create.
Once that is done, you're taken to a page where you're allowed to decide what level of hosting you want and which cloud-based service you want to host your site. You can also pick where your primary server is located (see the screen below). In addition, you can choose to install WordPress or some other CMS automatically. Once you've made all those decisions, click the green Launch Now button, and you're ready to go.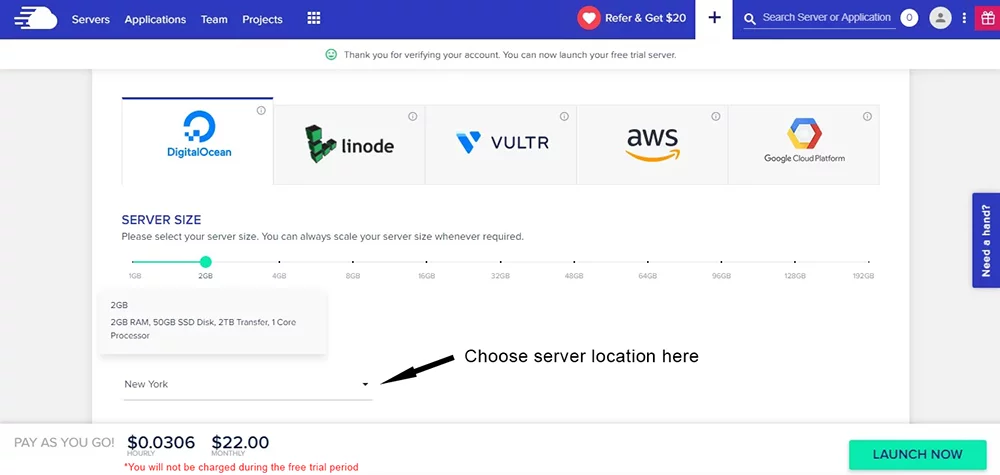 The free trial option is a great way to determine if Cloudways is the hosting service for you.
Cloudways Support
While Cloudways provides some pretty impressive value for the money, the cost of all those savings is bound to reveal itself at some point. One of the places you may see a few cracks is in customer service, which we found wanting in a few instances. As such, you may want to enlist the help of outside experts to help with troubleshooting and maintenance of your site once it goes live.
Cloudways Uptime, Security and Speed
As we mentioned earlier, one of the strongest selling points for Cloudways is the fact that you should experience 0 downtime due to their distributed cloud-based hosting system. If one server is taken out by a natural or human-made disaster, your site is automatically served from a different location, ensuring an uninterrupted user experience.
Keep in mind that the industry standard for uptime is 99.9%, and that is typically fine for most site owners. But if, for whatever reason, being up for that last 0.1% is important to you, then Cloudways is the way to go.
Cloudways also does an excellent job securing your site from weasels intent on doing you harm. Their list of standard security features is impressive and includes:
rate-limiting for SSH and SFTP logins
protection from DoS attacks
isolation of apps to prevent problems from snowballing
free SSL certificates
GDPR compliance for European customers
suspicious login device control
end-to-end encryption
and more.
Finally, Cloudways typically serves your content lightning-fast. They use a multi-pronged strategy to do that.
You can choose an optimal location for your primary server.
The ThunderStack program minimizes drain on server resources.
They offer a global CDN network that serves your static resources locally to cut down on loading time.
Unlike some hosting companies, Cloudways charges for CDN, although the rate is a very minimal $1 per 25GB per application.
Enabling Cloudways CDN
Once you have set up your Cloudways account, go to your main account page and click Applications to select your server. Next, under Application Management, locate CloudwaysCDN as in the graphic below. Click on it. In the center of the page, enter your website URL and then click the Create button.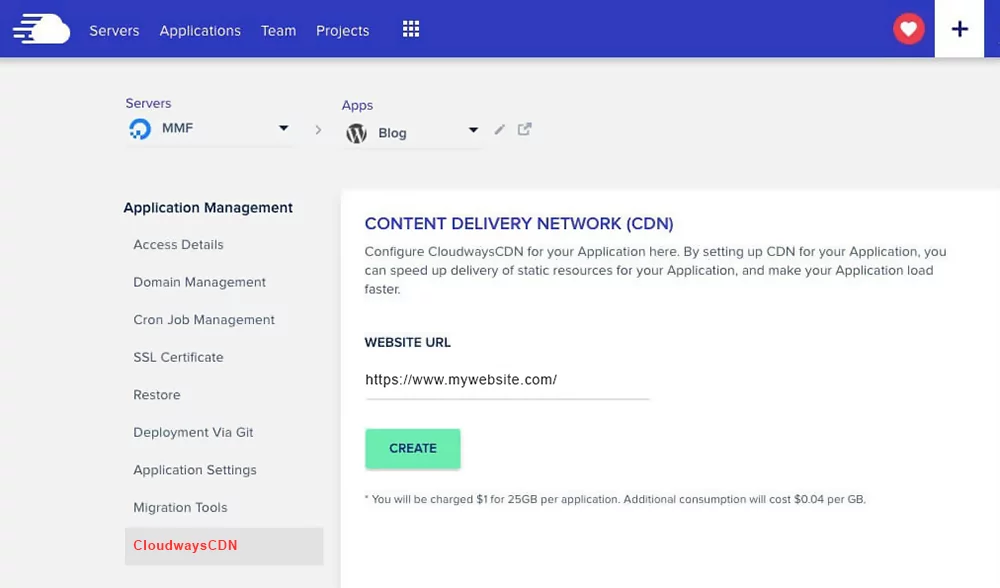 After clicking Create, a CDN URL will appear with two buttons below it. One button will give you the option of purging old static content from the CDN system that is no longer relevant. But if you are just setting up your website for the first time, you can ignore this button.Below that, there will be another button that says Apply. Click that button to apply the Cloudways CDN to your website and ensure the fastest possible loading time for your pages.
Cloudways: Bottom Line
There is no debate that Cloudways provides affordable, reliable WordPress hosting. They offer some of the most attractive pricing of any major hosting company, gobs of storage space and bandwidth, and your site will never experience downtime. Their security protocols are also first-rate and allow you a 3-day free trial of their service.
On the downside:
customer service fluctuates from good to okay
there is no cPanel with Cloudways, so you will need to learn their proprietary interface
cloud-based hosting is more technically oriented than regular dedicated WordPress hosting.
That being said, only you can decide if the savings and 100% uptime outweigh the potential downsides.
4. Flywheel
Like WP Engine, Flywheel is a company dedicated to the fine art of hosting only WordPress websites. Their entire infrastructure from servers on down is designed for that purpose. Everyone on the Flywheel staff is there because they know WordPress like the back of their hand, and that includes their friendly and helpful support staff.
The advantages of choosing a company that does nothing but WordPress are obvious. But choosing one such company over another can be difficult and often comes down to a matter of personal preference. Let's take a look at Flywheel and see why so many thousands of companies have chosen it as their dedicated WordPress hosting company.
Flywheel WordPress Hosting Plans
Most hosting companies offer some variation of Basic, Intermediate and Advanced hosting plans. With their Starter, Freelance and Agency plans, Flywheel is no exception. But Flywheel goes the extra mile by also offering a specialized plan at the low end of the hosting spectrum they call the Tiny plan. The Tiny plan is aimed at individuals and small businesses whose needs are really more promotional than anything else.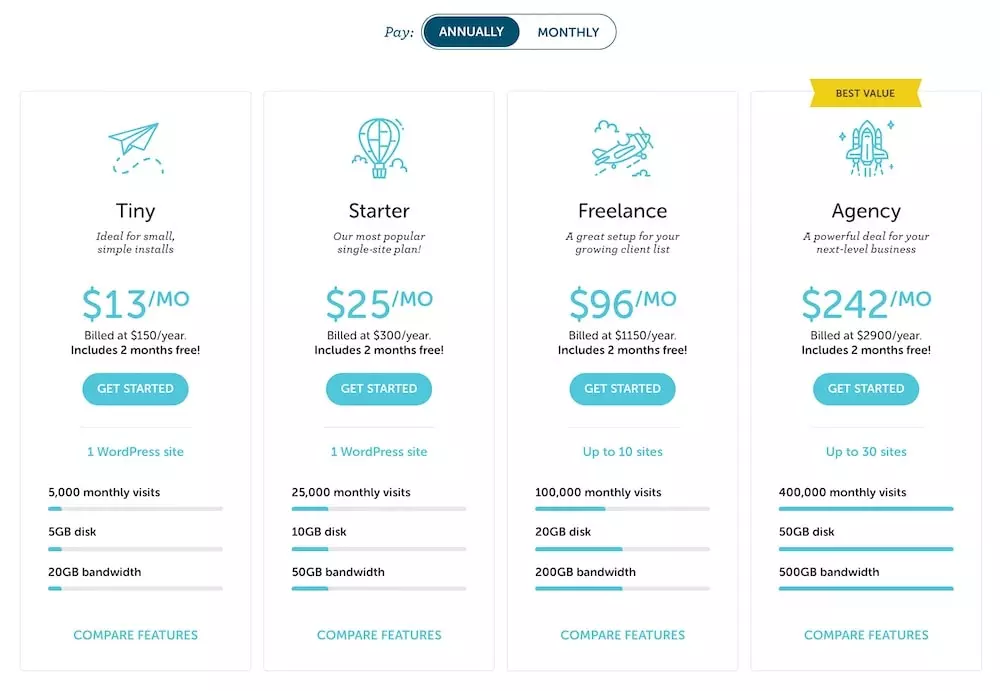 All Flywheel WordPress hosting plans come with a free SSL certificate, free CDN integration, nearly 3 dozen free, ready-to-go WordPress themes, staging, nightly backups, free migration of your existing site and 24/7 live chat support. It's an impressive feature list that automatically puts Flywheel in the conversation for the best WordPress hosting company.
Their Freelance and Agency plans go even further by providing a real-time migration dashboard, 24-hour phone support and a dedicated account manager for up to 30 websites. That dedicated account manager makes dealing with customer service a much simpler and typically much more effective experience.
For those who don't see what they want among the established Flywheel hosting plans, there is always the option to create a custom plan that will address their specific needs. To get the ball rolling, click the Get Started button under Custom on the Flywheel plan page.
Flywheel Uptime, Security and Speed
Flywheel uptime slots right in with industry standards at 99.9%. Their servers are state of the art, their data centers modern and secure, and they perform nightly backups of your site so that, in the unlikely event something happens, you can restore your site to exactly how it was 24 hours earlier with just a click of a button.
Flywheel takes security issues seriously and does a good job protecting your WordPress site from the actions of hackers and others intent on causing damage. They provide data encryption across the entire platform, an SSH gateway that provides an easy, secure method of interacting with your site's content, two-factor authentication, DDoS protection and more.
If you have doubts regarding the effectiveness of the company's security protocols, they have a case study performed by a third party available for download that verifies their security claims.
Where Flywheel really excels is in the speed of their service. Regardless of the time of day or year or events that are taking place, each and every visitor will experience a website that loads quickly and executes commands on the spot, limited only by the quality of the visitor's internet connection. This is true whether you chose the Tiny hosting plan or the Agency plan.
If you really want to ramp up the loading speed for visitors the world over, Flywheel gives you the option of enabling their CDN network. CDN distributes the static components of your site to an array of servers strategically placed throughout the world. When someone accesses your site, the nearest server to them serves your static content, speeding up page loading times.
Enable CDN for Flywheel
Flywheel has recently introduced a cloud-based hosting platform. If you have a new account with the company and opted for cloud-based hosting, CDN is activated by default. However, most Flywheel customers will need to manually activate this feature to enjoy the speed boost it provides. Thankfully, that process is remarkably easy. Be aware, however, that you will incur charges for this feature above and beyond your monthly hosting charges.To enable CDN for your Flywheel account, simply log in and then select the Advanced tab from the dashboard homepage. Next, under Site Options, find CDN. The switch is set to off by default. Hover over it. A popup will appear (see graphic). Click Get CDN in that popup. That will cause the switch to change to on and will redirect you to a page where you can review the charges you are about to incur.

On the Billing Summary page, make sure everything looks right. If you anticipate heavy traffic over the next year make sure you tick the box giving Flywheel permission to charge you for traffic in excess of 100GB. Once everything looks right, click Complete Payment.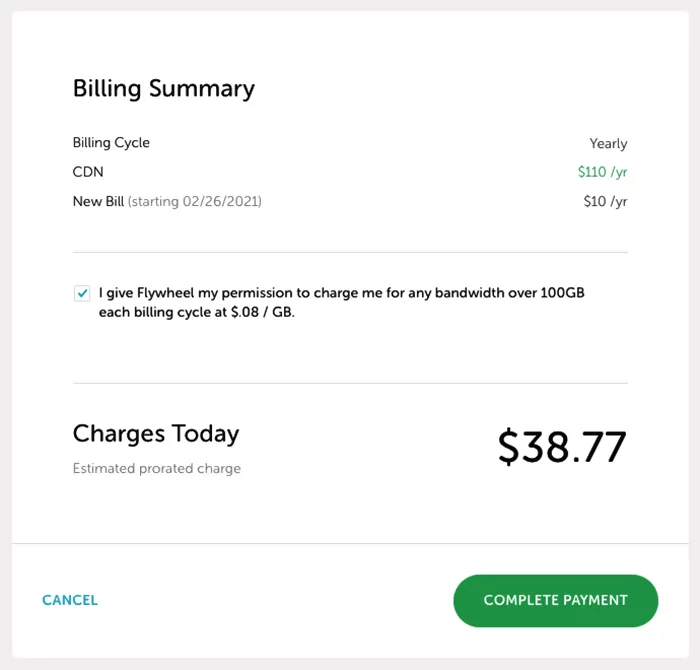 That's it! Once you have enabled CDN, your site is faster and user-friendlier than ever.
Flywheel Support
As we mentioned at the outset, Flywheel provides WordPress hosting only. Therefore, every member of their team is a WordPress expert, and that is particularly true of their support staff. Flywheel puts a premium on making sure their 24/7/365 chat support is world-class, and by all accounts, they succeed.
They also do a good job of responding to support tickets and emails (from paying customers) in a timely fashion. And they offer round-the-clock phone support for subscribers to their high-end hosting plans. If you are more of a do-it-yourselfer, they have a large and well-organized knowledge base you can mine, including a selection of WordPress-related e-books.
Flywheel: Bottom Line
While Flywheel does not break any new ground, the WordPress hosting services they provide are reliable, affordable, secure and easy to use. You won't need the technical expertise like with Cloudways or such. And, since Flywheel is a dedicated WordPress hosting company, every time you interact with someone from Flywheel, you are talking to a person who knows WordPress inside and out.
Flywheel isn't perfect. For instance, you have to pay to enable CDN, and there is no guarantee for uptime. But for the most part, your Flywheel experience is likely to be trouble-free and productive.
5. SiteGround
The last, but certainly not least, of our WordPress hosting companies is SiteGround. SiteGround is an all-purpose hosting company that provides hosting services for whatever type of website you have and whatever CMS (if any) you're using. But they still do a great job with their WordPress hosting. So, let's start by taking a look at their best WordPress hosting options.
SiteGround Hosting Plans
While SiteGround still offers legacy hosting services, they have recently shifted much of their focus to their new cloud-based service. SiteGround Cloud Hosting is more expensive than their other services, but you also get more by way of flexibility, performance, and reliability. These plans will no doubt appeal to medium and large-size businesses rather than individuals. With recent events shifting more and more business focus online, their timing in bringing this service to market now couldn't be better.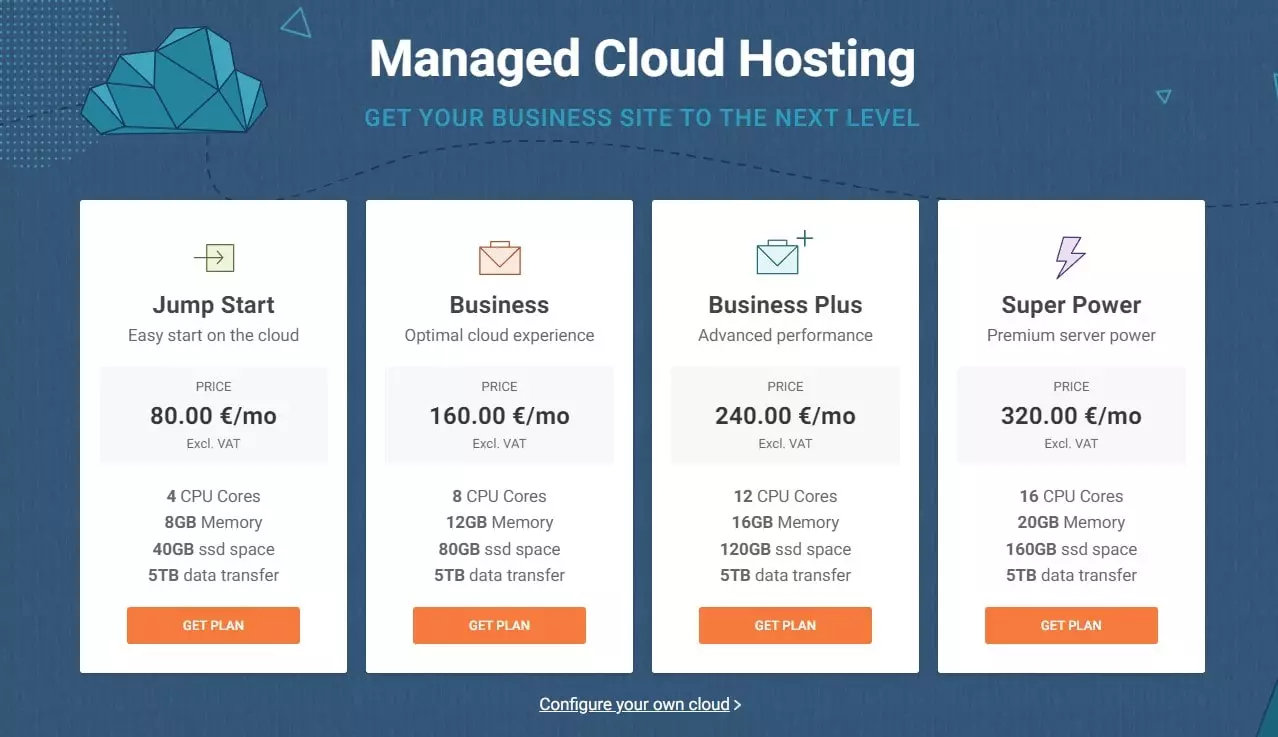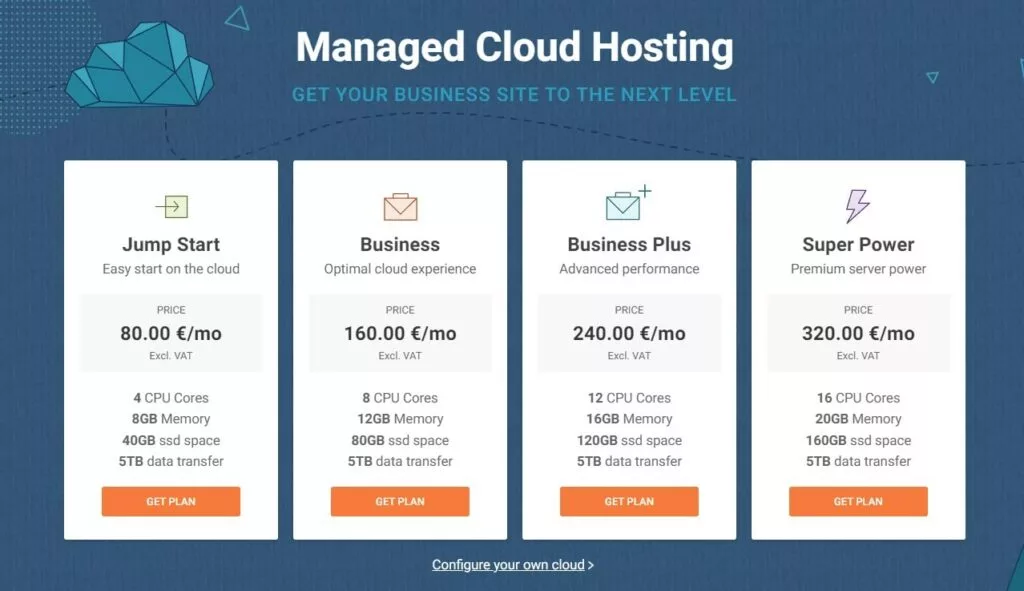 Just about everything associated with the new SiteGround Cloud Hosting is oriented toward reliability and speed. That includes the state-of-the-art servers, the number of CPU cores at your disposal and the cloud construct itself, which ensures your site is never down. Should the server acting as your primary site location go down or be destroyed or disabled, traffic is immediately diverted to another server that picks up the slack, losing no time.
SiteGround cloud servers also use nextGen solid-state drives or SSD. SSDs take the place of mechanical hard drives that have been standard up to now. SSD memory chips are roughly equivalent to RAM, although read access and throughputs with this type of flash-based memory are significantly faster than RAM as we have come to know it.
The bottom line is that no matter whether you choose an Entry, Business, Business Plus or Super Power SiteGround Cloud Hosting Plan, your site is going to be faster than it would ever be with traditional shared hosting models. And in an age where everyone is online nearly all the time, the speed of your website matters if you are to maintain a competitive edge.
SiteGround Uptime, Security and Speed
SiteGround's standard-managed hosting was always right in line with industry standards with 99.9% uptime. Now, with Cloud Hosting, they do themselves one better by eliminating downtime altogether. That's right: when you choose a Cloud Hosting plan from SiteGround, your site will experience no downtime. That's because of the nature of cloud hosting, where copies of your site exist on multiple servers at the same time. Should one go down, another picks up the slack.
Security-wise, SiteGround employs a variety of tactics to ensure your site with its contents and visitors is always safe. Those include maintaining an up-to-date list of troublesome websites and blocking access from those sites, the use of the latest version of PHP, sitewide encryption, 24/7 monitoring, DDoS protection, and two-factor authentication.
Besides, each Cloud Hosting plan includes a dedicated IP. Why is that important? Because, with many standard-managed hosting plans, websites share an IP address. If one of those sharing the IP address misbehaves and winds up being blocked, everyone from that address suffers the same fate. That won't happen when you have your own dedicated IP address.
SiteGround also allows you to select which of their data centers will host your website. Even with Cloud Hosting, this is important for optimizing performance for the end-user: the closer the website is to the user, the faster the pages will load. So, if your primary audience is in the US, select Chicago. Should it be in continental Europe, select Amsterdam. Likewise, if it is in Asia, select the company's Singapore data center to host your website.
In addition, SiteGround partners with Cloudflare to provide you with free CDN services that will increase the loading speed of your website to an even greater degree for the end-user, wherever they are on earth. It's remarkable that SiteGround is able to provide their CDN free of charge when some more expensive WordPress hosting companies charge you a pretty penny for the service.
Enabling Cloudflare CDN for SiteGround
As mentioned, SiteGround has a partnership with Cloudflare and provides the Cloudflare CDN network benefits free of charge. Enabling CDN means that your static content is distributed to numerous servers worldwide. When someone visits your site, their location is determined, and they get static content from the nearest CDN server, thereby reducing load times for your pages.
To enable CDN for your SiteGround website, log in and click on Speed, then Cloudflare as you see in the following graphic.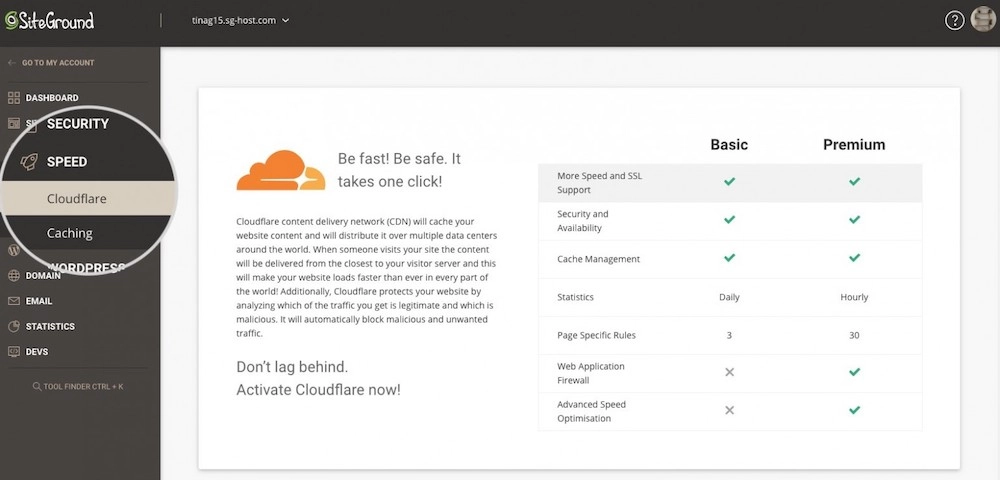 Once you click on the Cloudflare link, the options you see below will appear, and you can begin the setup process by clicking the – you guessed it – Set Up button.

You will then be prompted to set up a Cloudflare account by entering your email and a password. Once that is done, the Cloudflare info will appear in your dashboard, as seen below.

All you need to do now is click Activate Free, and you're good to go. Your web pages will now load faster no matter where the visitor is located or what type of platform they are using to access your site.
SiteGround Support
If there is an area where an all-purpose web hosting company like SiteGround stumbles just a bit, it's in customer service. Trying to be too many things to too many people is bound to lead to confusion between some of those people and the support staff. While it's not bad enough to be a deal-breaker, their lack of specialist focus sometimes means miscommunication with support.
On the upside, however, SiteGround offers numerous ways to get in touch and does a commendable job not keeping you waiting. Live chat, support tickets, email and phone support are all on the table. Though, phone support is only for high-end hosting plans. The provider also offers support in English, Spanish and Italian, which is something of a rarity in the web hosting business.
SiteGround: Bottom Line
SiteGround has earned a reputation for providing outstanding web hosting for all types of websites. With Cloud Hosting, they expand on this legacy and, in the process, join a few other companies leading the way into the future of web hosting. With free CDN, free daily backups, free SSL certificates, a multitude of collaboration tools and a dedicated IP, SiteGround Cloud Hosting is a common-sense choice for business owners looking to create an effective internet presence.
So what's the potential downside? Well, as we mentioned, SiteGround handles all types of hosting. That means their focus is somewhat diluted, which is never a great thing. This is sometimes expressed during customer service interactions where the service rep will seem a bit lost if you are less than crystal clear about your issue, problem or concern. Also, the knowledge base seems hastily assembled.
For the most part, however, SiteGround Cloud Hosting is an exceptional value that any budget-conscious developer or business owner should have on their radar.
Conclusion
So there you have it, our top 5 picks for best WordPress hosting providers. Trying to determine which is #1, however, did not yield a clear-cut winner. Each one provides outstanding uptime, top-notch security and features such as CDN that enable you to optimize your site for speed.
Some offer a better price but are not as strong with customer service. Others offer tons of storage and bandwidth but require you to have a greater level of technical proficiency. And still, others provide top-notch service across the board but charge you for things like CDN or phone support.
If we were forced to choose one as the best, we might select Kinsta. They keep the focus on WordPress, their support experts are both knowledgeable and able to communicate effectively, their pricing is competitive, and they guarantee 100% uptime.