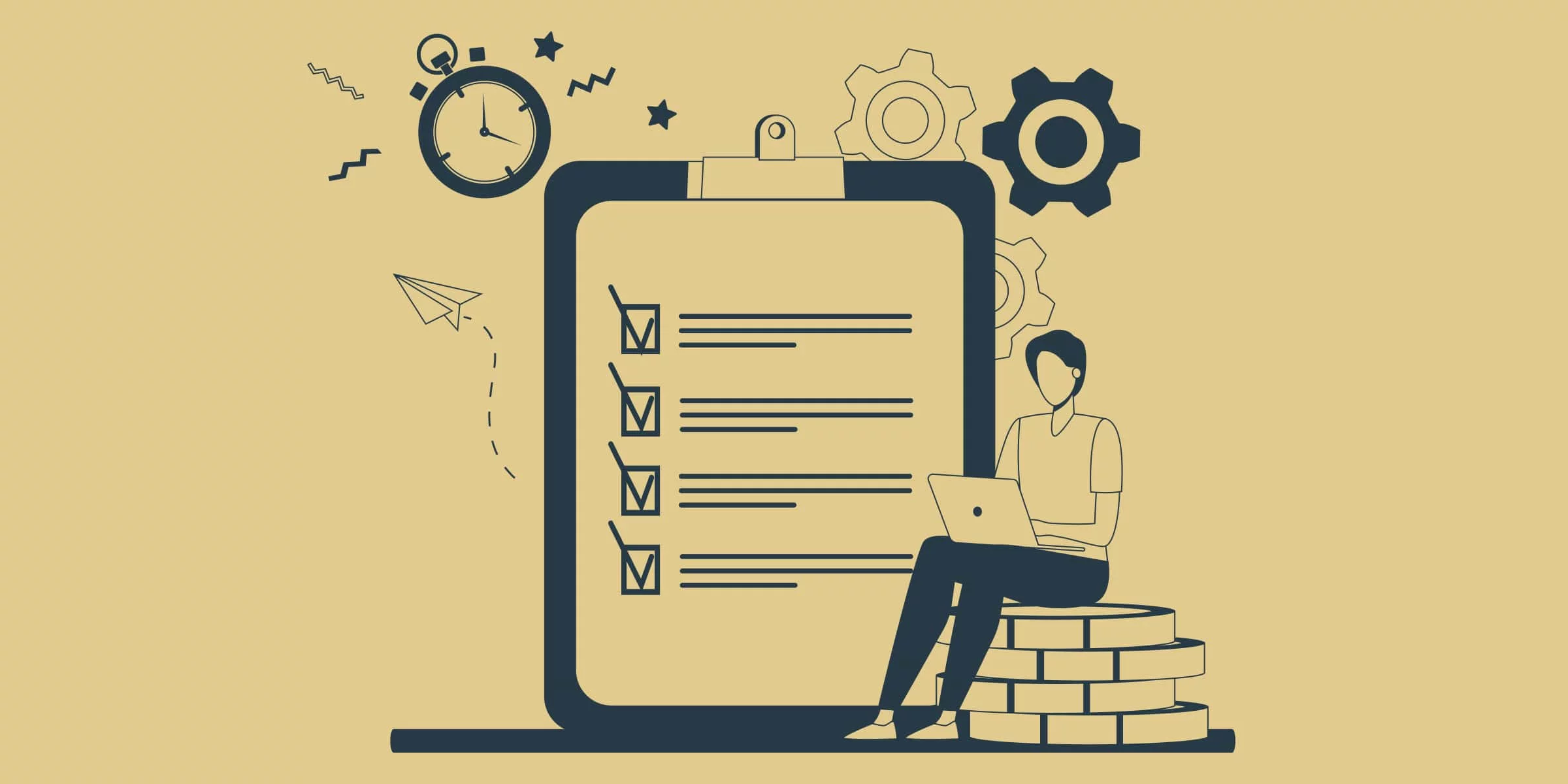 Those who are directly connected with web development know that creating a website is just the beginning. After launching a web product, there are several stages of maintenance. Yes, yes, after the ship departs for a long voyage, you will still have to work as a cabin boy on deck. And since maintenance involves quite a lot of things, we've put together three maintenance checklists for weekly, monthly, and yearly chores.
At first glance, this may seem like a waste of time, but in this post, we will talk about why website maintenance is a very important stage of any website's existence.
What is WordPress website maintenance?
No website can work by itself, whether it's a WordPress or a no-code-based one. To maintain its vital activity, the hands of a professional and a certain list of actions are needed. In simple words, the maintenance of the WordPress website is a set of tasks aimed at ensuring security, website backups, the relevance of updates, and many other things. Provide maintenance = assure the client that the site will live happily ever after, meeting constantly changing standards. Website maintenance services play an influential role in attracting and retaining customers as well as increasing customer loyalty.
Why do we need regular maintenance for WordPress?
There are many reasons why WordPress maintenance is significant. From the optimization perspective, we can distinguish three points.
Improving SEO
In addition to the target audience, it is important for a site to please search algorithms. Google likes well-optimized websites that provide the most up-to-date information. But if there is a bad redirection on the website, the brand's ranking in search engines can decrease. The website may even be de-indexed if Google scans it and finds errors.
Confidence in security
A site that hasn't been updated for a long time may attract hackers. And for any company, there is nothing more significant than the security of a website, especially of confidential information that is stored on it. If you do not notice the security problem in time, it can lead to loss of business. Web maintenance includes regular software updates and security fixes. It is better to take preventive measures in time than to regret it later.
Increasing customer satisfaction
The comfort of site visitors is the priority of any brand, and a pleasant impression of the company is an excellent call to action. If the download speed is slow and there are broken links everywhere, users will be annoyed. But if a website is professionally maintained with responsive web design and relevant content, any client will surely want to return there.
If we are talking about the relationship between a web developer and a website customer, then maintenance also has a number of advantages, such as:
minimizes the number of calls to the support service
the opportunity to build long-term business relationships
a source of additional income
WordPress Maintenance Checklists
The BDA team has come a long way and gained experience in site maintenance, and, in this post, we have collected the most essential and practically useful actions for high-quality maintenance of the WordPress site.
On average, if the site can be called busy with a lot of traffic, then you should go through a maintenance checklist at least every three months. For small websites with low traffic and content, it is sufficient to perform these maintenance tasks once every six months. However, we adhere to the principle: the more often you check – the calmer you sleep. That is why we decided to divide the checklists into three categories for your convenience: weekly, monthly, yearly.
For greater efficiency, we recommend writing out the points of the necessary checklist in the diary or notes app and crossing out the completed tasks so as not to miss anything.
Weekly WordPress Maintenance Checklist
🔲 Visiting the website
Don't laugh. In fact, even the visit to your site's front-end and clicking around to a few key pages can contribute to the early detection of problems. This is the easiest way to make sure everything is still working as you expect it to.
🔲 Time for backup
This is extremely important for ensuring the protection of site data. The optimal frequency of backups of your site depends on how often you edit it or replenish its content.
Don't forget – always backup your WordPress site before an update. Why this is so essential and what other features the backup process has, read in our post.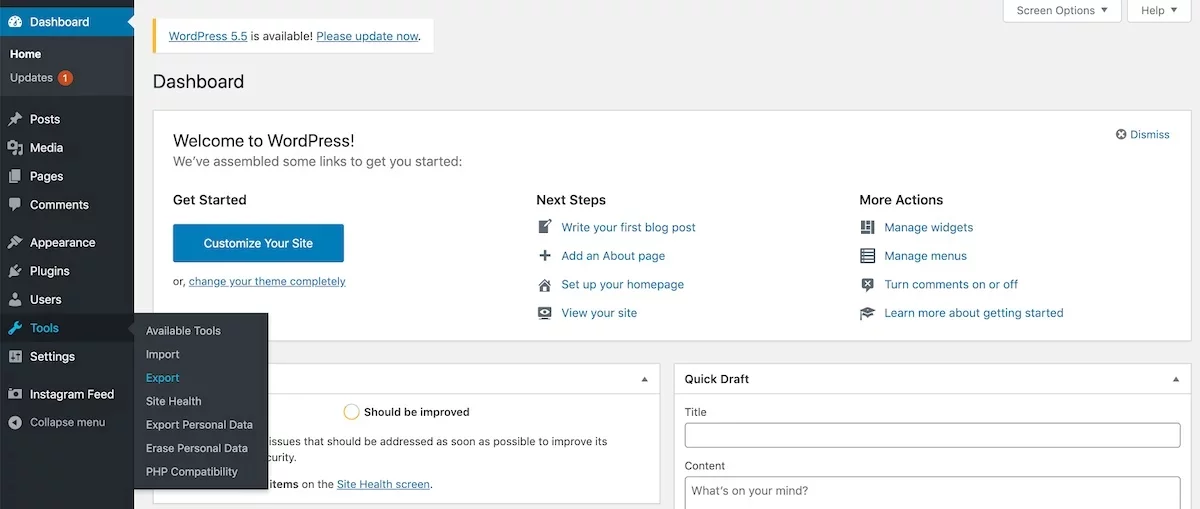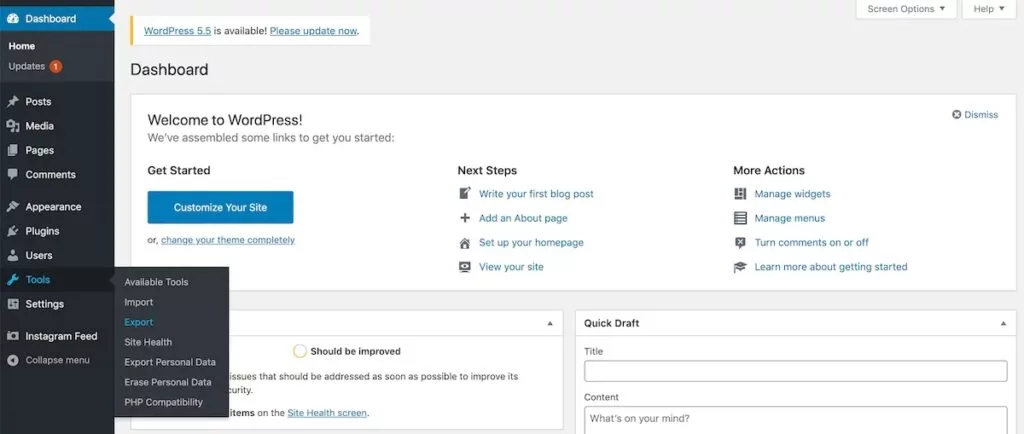 🔲 Apply Updates
The world of WordPress does not stand still and constantly releases new updates. To keep up with the times and ensure maximum performance of your site, it is essential to apply updates in a timely manner. Three sections are subject to updates: Core, Plugins, and Theme. In addition, you need to prepare for updates – you can learn about its subtleties in our special post.
🔲 Checking comments
This is a point for sites where users' comments are allowed. This section is the brand image, so it is extremely important to remove any kind of inappropriate or spam comments before everyone reads them.

🔲 Key Features Test
If your site has fundamental features on which the functioning of the company depends, they need to be checked weekly. For example, if we are talking about an e-commerce site, then you need to check the serviceability of the order form, payment form, and other related functions. If you do not identify the problem in such an important section of the site in time, then the whole sales process may stop, and you will not even know about it.
🔲 Browse the reports
This task will help to make sure that SEO and mobile optimization work without interruptions. One of the key points of verification should be Google Search Console checking. This service receives alerts if Google encounters any issues. For that reason, it's essential to frequently check in to see if it has flagged anything.
Monthly WordPress Maintenance Checklist
🔲 Traffic analysis
Web analytics is a key tool of your brand's marketing strategy. Regular statistics checking will help you to see the entire picture and catch trends. Pay particular attention to traffic analysis from the SEO point of view. Regular keyword monitoring is a way to track your site's rankings in Google.
By the way, Google Analytics is an excellent representative of the web analytics tool.
🔲 Review WordPress Security
Any website can become a tasty morsel for hackers. The most dangerous case is when you find out about the attack too late. That is why it is better to take a number of preventive measures and constantly check the site for potential or active security threats.
Check the access and error logs monthly to see if there is any unusual activity on your site. To optimize the security verification process, you can also use WordPress plugins with automatic site security mechanisms scanning.

🔲 Checking broken links
Good links are a key factor in comfortable user interaction with your site. In the case of external sources, many sites eventually stop working or move to other addresses, so the link to them becomes irrelevant. The internal link may also break due to problems with the image format or errors in the link itself.
Anyway, it's better to ask for help from the plugin to check broken links. This way, you will be sure that your audience will find everything you have shared.
🔲 Find and Fix 404 Errors
404 errors usually occur due to incorrect input of the link address. An abundance of inaccessible pages can create an aura of an unreliable source for your company, so it's better to avoid them.
To find the pages that visitors tried to access, which resulted in 404 errors, you can search for "Not found" in Google Analytics.
🔲 Image Optimization
Another thing that has a huge impact on brand perception as a whole is the quality of visual accompaniment of information on the site or posts in your blog. Some images that are too large can significantly reduce the loading speed of the site pages because their loading is a more complex and lengthy process than for text.
The analysis of the media library will allow you to pay attention to weaknesses and optimize some images that are too big for the Internet.
🔲 Test the performance of the website
Changes of any kind can greatly affect site performance. It is better to regularly check this aspect in order to constantly improve the user experience from using the site. In addition, a fast website increases your ranking in the webspace.
Try our Website Performance Analytics tool powered by Google PageSpeed. Check the main page and the key pages of the site first.

🔲 Optimization of the WordPress database
This task is a kind of cleaning. When your database becomes clogged and starts accumulating unnecessary files, this leads to errors and an increase in the number of backups. Regular optimization will solve the problem and get rid of all the garbage.
Additionally, you can get acquainted with the concept of database optimization.
Yearly WordPress Maintenance Checklist
🔲 Conducting an SEO and content audit
Using a combination of Google Search Console and Google Analytics data, you can analyze the strengths and weaknesses of the content on the site to work on it.
SEO analysis helps you find the keywords to search for. You can sort them to show you the keywords by which your site can rise in ranking.
🔲 Changing the password
Change all passwords regularly and check their reliability. This applies to any account, but when it comes to the website of a large company with a lot of private information, the rates double.
This includes passwords for your WordPress admin panel, FTP or SSH accounts, as well as the password of your WordPress database.
There are many applications for managing, generating, or storing passwords – choose something suitable for yourself and provide reliable protection for your site.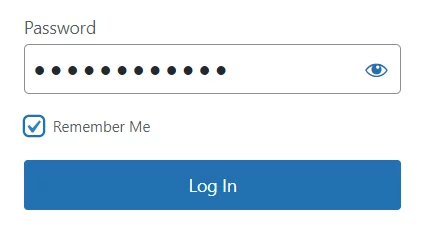 🔲 Checking the hosting compliance
Your company is constantly growing and expanding, and surely, at some point, the current hosting will become too small for you. Switching to a more advanced version or to a completely new hosting may cost you a pretty penny, but this will obviously have a positive impact on the performance of the site.
An annual check will help to ensure that your host still meets your needs when it comes to performance, reliability, and features.
WordPress website maintenance seems confusing?
We understand how difficult the maintenance process of a WordPress website can seem, especially in the long run. Do not be afraid of difficulties, and start from studying additional materials. We have left several useful links for you right in this post. Or just go to the maintenance section of our blog and choose a particular topic of your interest.
In addition, there is always an easier and more pleasant way – to entrust all the difficult work to a team of professionals. Specialists in web development and subsequent maintenance in BDA are always ready to help you at any stage of work. Over ten years of experience, we have reached more than 2000 satisfied clients and put some of the world's biggest companies in our portfolio. You can rely on us!
Final thoughts
We tried to make WordPress Maintenance Checklist as multipurpose and useful as possible, but do not forget that there is no perfect medicine for everyone. You will have to go through trial and error to achieve the ideal frequency of the checklist tasks.
Turn a regular maintenance checkup into an interesting game or a bomb clearance quest on a secret mission. Then there will be a rivalry in your team who will be the first to tick off all the task boxes 🙂
We wish your sites fewer errors and bugs, but more traffic and faster speed of all pages. All the best, Team BDA.