Streamlining media equipment booking in Australia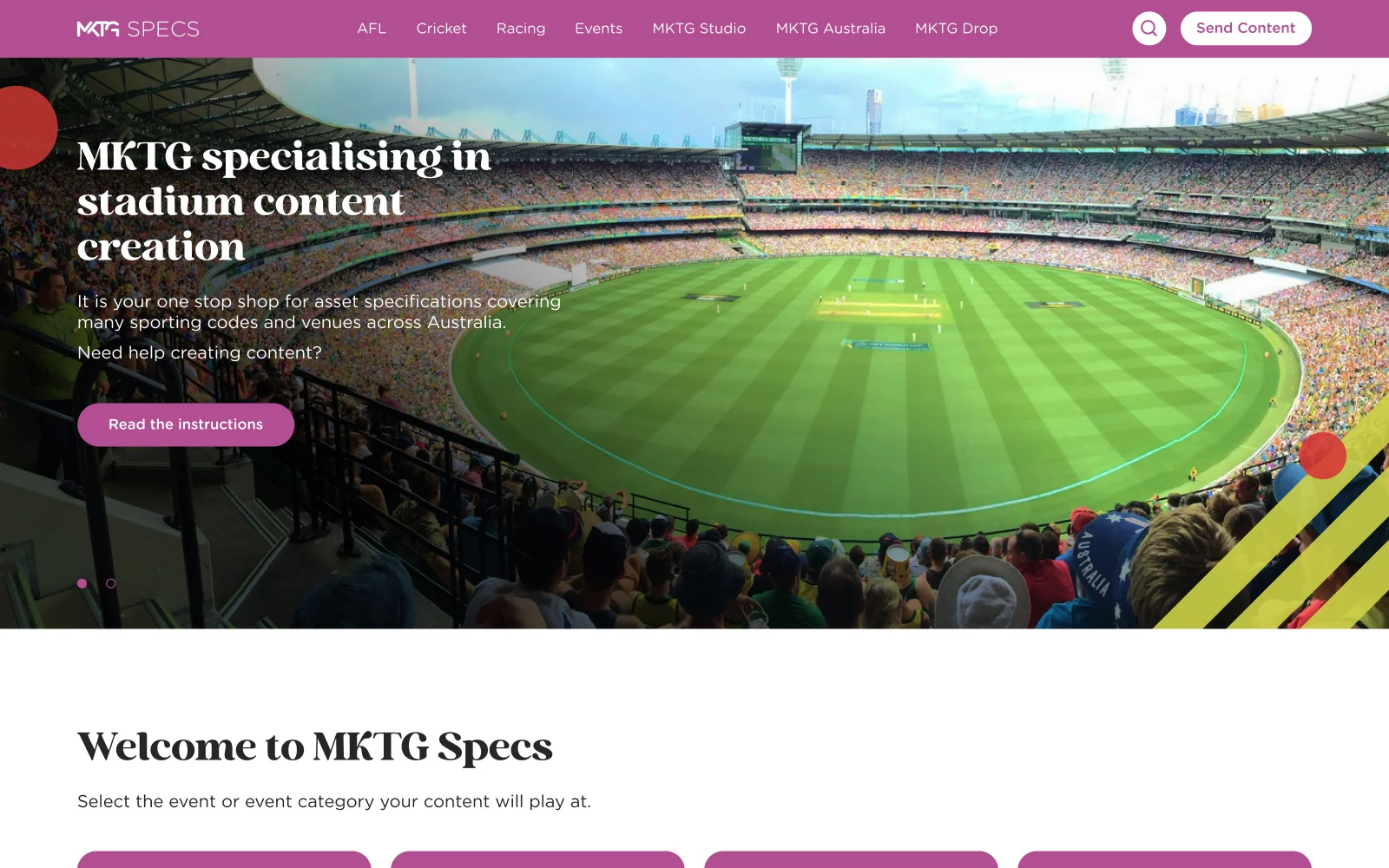 Services & Technologies
Custom WordPress Theme
Gravity Forms integration
Custom Widgets for Elementor Pro
Client
MKTG Sports + Entertainment
About the Project
MKTG is an Australian global integrated agency that leverages the power of sports, entertainment, culture and community to help brands and rights holders move at the speed of fans with meaningful marketing solutions and experiences. The company is available to help create video content.
Competence
Video Production, Advertisement
Industry
Media, Advertising, Marketing
Our Goal
After developing a new brand identity, MKTG required a redesign of their website to align with the new guidelines.
The updated website was required to include a comprehensive list of available digital equipment and the corresponding booking regulations for sporting events. Additionally, it needed to have an easily accessible search function for any required information, technical specifications for media content, and a user-friendly form for ordering media content creation services.
Solution
We carried out a complete overhaul of the MKTG website, incorporating comfortable navigation and fulfilling all of the client's requirements. The website now allows users to find all necessary information in just two clicks.
To achieve this, we developed six different types of pages and established a user-friendly content management system. Additionally, we implemented a convenient stadium search function that provides a list of available digital equipment for booking and displays available dates.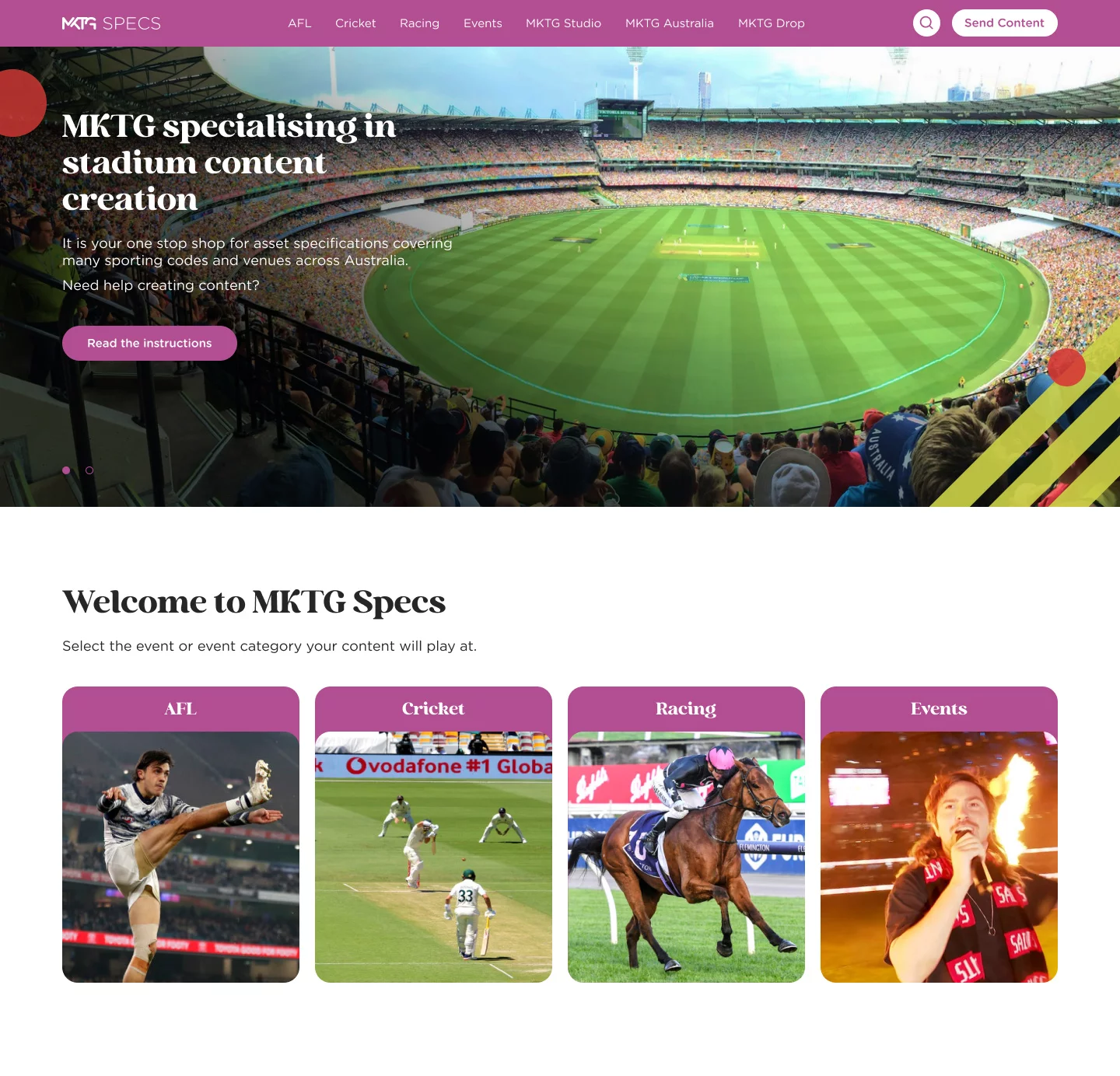 Home Page
The home page of the MKTG website had specific functional and content requirements as requested by the client. These included the addition of a slider on the main screen that could be customized according to the client's needs, a separate block containing four categories of events for which digital equipment could be reserved, the integration of a connection to the general mailing list, and the creation of a multifunctional footer displaying a complete list of all internal pages.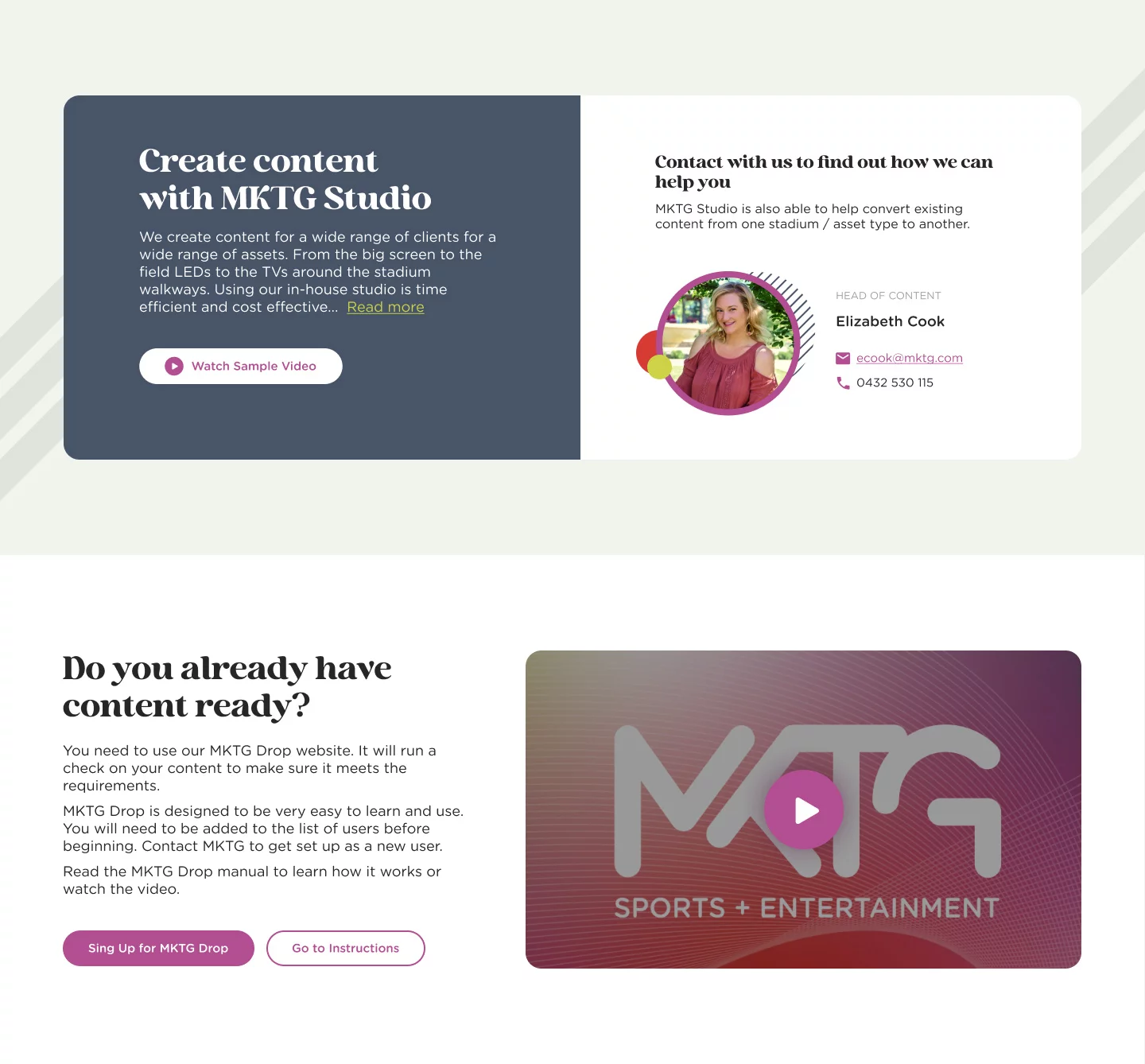 Custom Scenarios
We considered all of the client's requests and also conducted research to identify different types of visitors to the MKTG website, including regular customers with finished content, first-time visitors who already had video content, and visitors who needed assistance in creating content.
Custom scenarios were developed for different types of visitors, with two additional functional blocks added to the homepage for ordering content creation and uploading content to the MKTG Drop platform.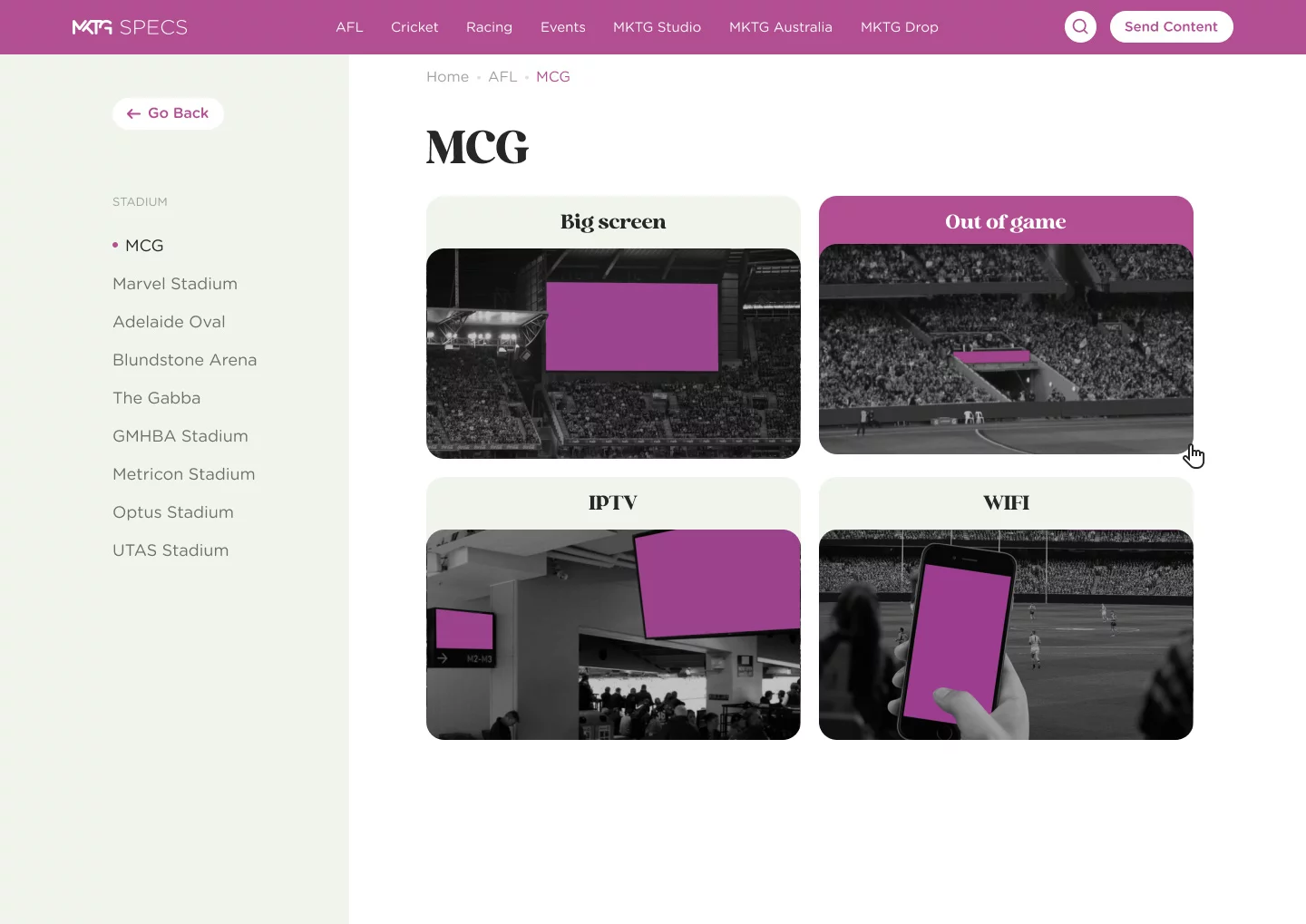 Internal Pages
Special emphasis was given to designing the internal pages of the website. Custom Elementor widgets were created for category template pages and individual post template pages to include a filter that displays child categories of the parent category in the sidebar for the current category. Similarly, for the individual post, a list of posts of the current category is displayed. Additionally, manual sorting of the order of displaying categories and posts was implemented.
Result
The development team successfully executed a comprehensive overhaul of MKTG's website by incorporating cutting-edge technical solutions while prioritizing the visitors' user experience and devising various modes of interaction with the website.
To create the pages and templates, the team utilized the Elementor Pro plugin while employing the Theme Builder to design the header, footer, and templates. For the contact form, they utilized the Gravity Forms plugin. These tools collectively enabled our team to deliver the final website, which proved satisfactory to our client. The website is now modern, easy to use, and effective in meeting the needs of MKTG and their clients.
More Case Studies
Explore our other projects
Transform Your Vision
Request your website now
Over 900 companies trust us with their online presence
Outstanding. Knowledgable, responsive, supportive and proactive.
Belov digital agency is extremely easy to work with, and does fast, quality work.
The team I think did an excellent job. They were very good at communicating clearly with me online. Were very fair with their work. While I am not an expert it looks like everything was done correctly. I would work with them again without hesitation.