Heartland Storage – streamlining reservations with just two clicks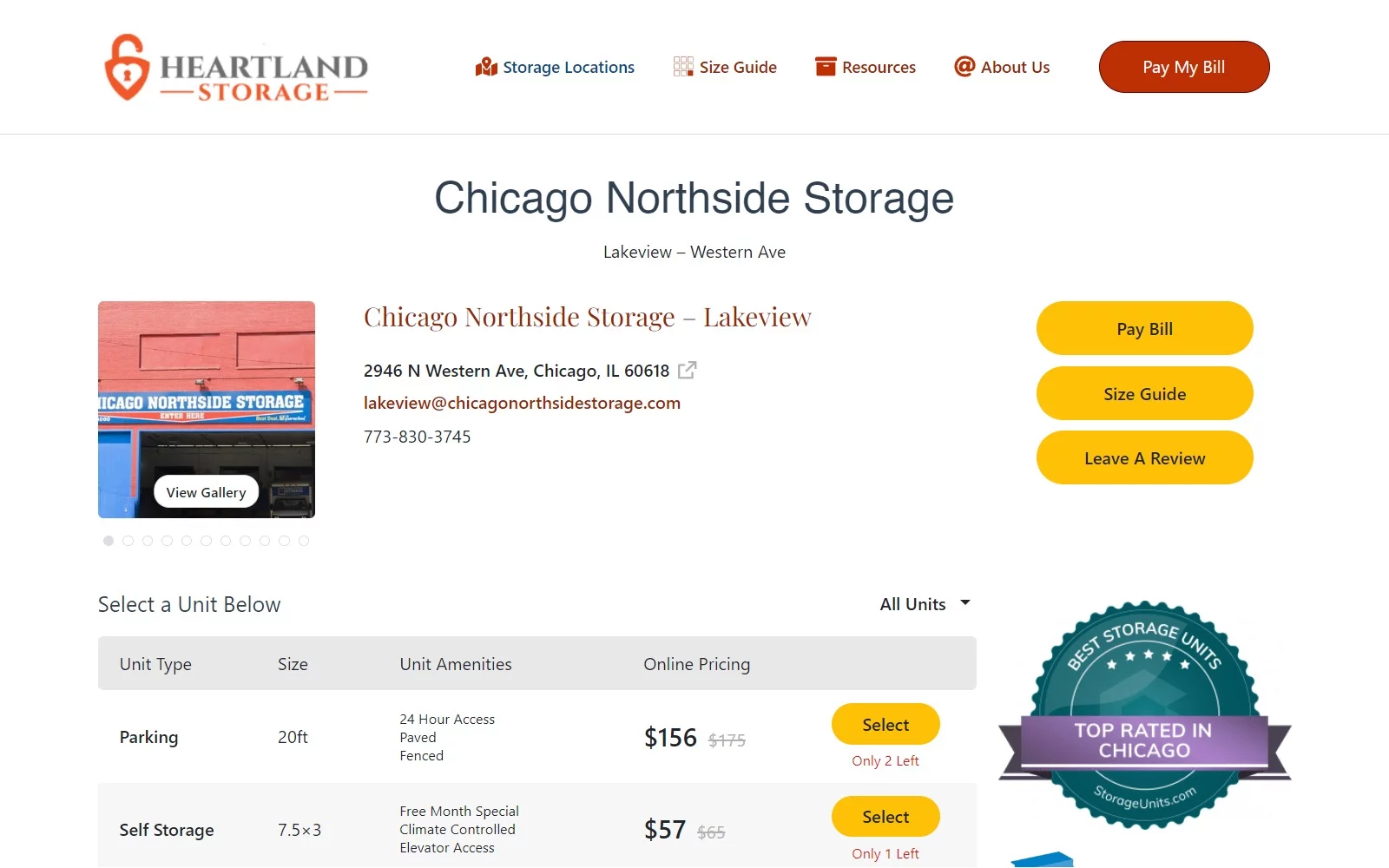 Services & Technologies
Content Management Website
Establishing Real Estate Rental Processes
Enhancing Service Delivery and User Satisfaction
About the Project
The project involved creating a storage reservation page for HSG company. We needed to design and implement functionality that would allow users to book storage spaces in just a couple of clicks.
Competence
Convenient family owned self storage
Our Goals
The HSG team reached out to us, seeking assistance in crafting a user-friendly scenario that would streamline the reservation process and bolster customer loyalty. Alongside this, there was a pressing need for the webpage to provide up-to-the-minute booking information.
Within the framework of this project, we established a range of objectives. These encompassed elevating user loyalty, fostering trust in the company's services, cultivating an environment conducive to recurring customer interactions, and driving increased traffic to the website.
Solution
To attain the mentioned goals, a unique approach was indispensable as it necessitated the creation of a bespoke plugin for acquiring data regarding storage units from an external API.
To facilitate the user's search for available storage spaces, we integrated a comprehensive filtering system. Additionally, to bolster user confidence, our strategy included the incorporation of a reviews widget and the display of badges on the reservation page.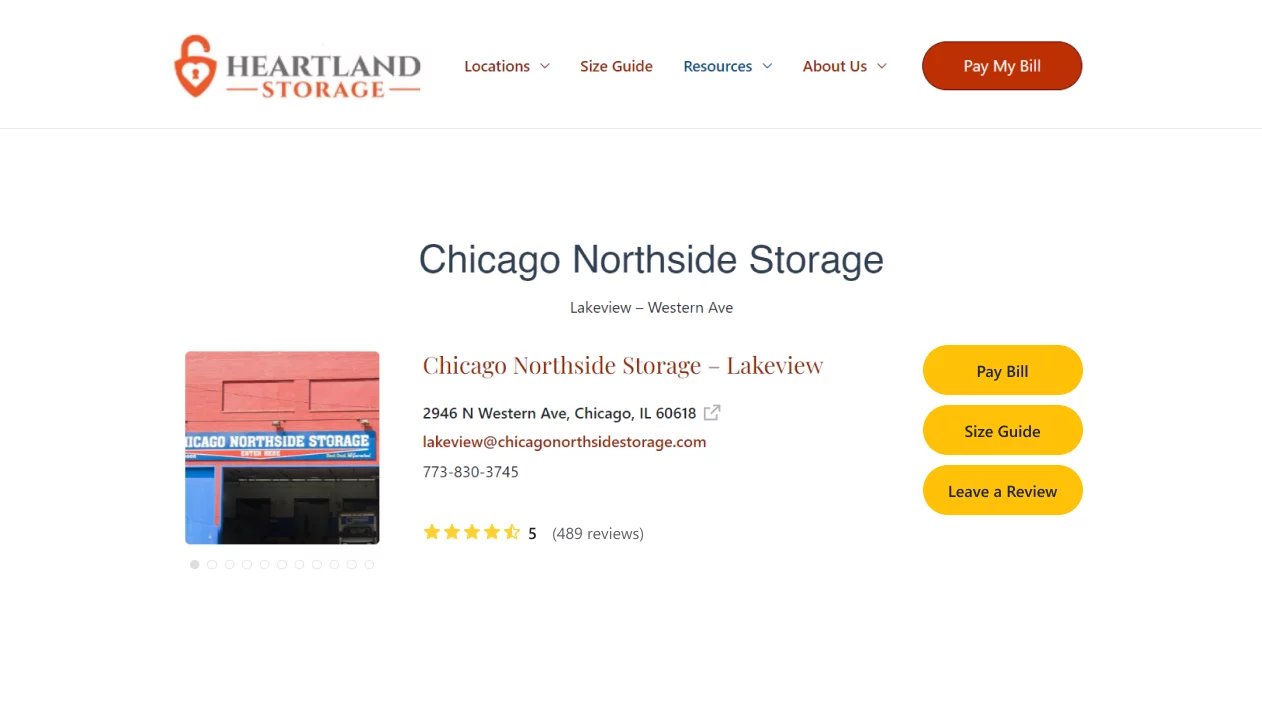 Displaying Storage Ratings
All storage units differed in location, storage area, and available booking dates. In addition to the website's primary goal of attracting customers, we aimed to increase trust ratings. To achieve this, we placed the storage unit rating in the first section of the website, with the option to navigate to the reviews page where users could form their opinions about the storage's potential. We also provided a link to a guide illustrating storage sizes.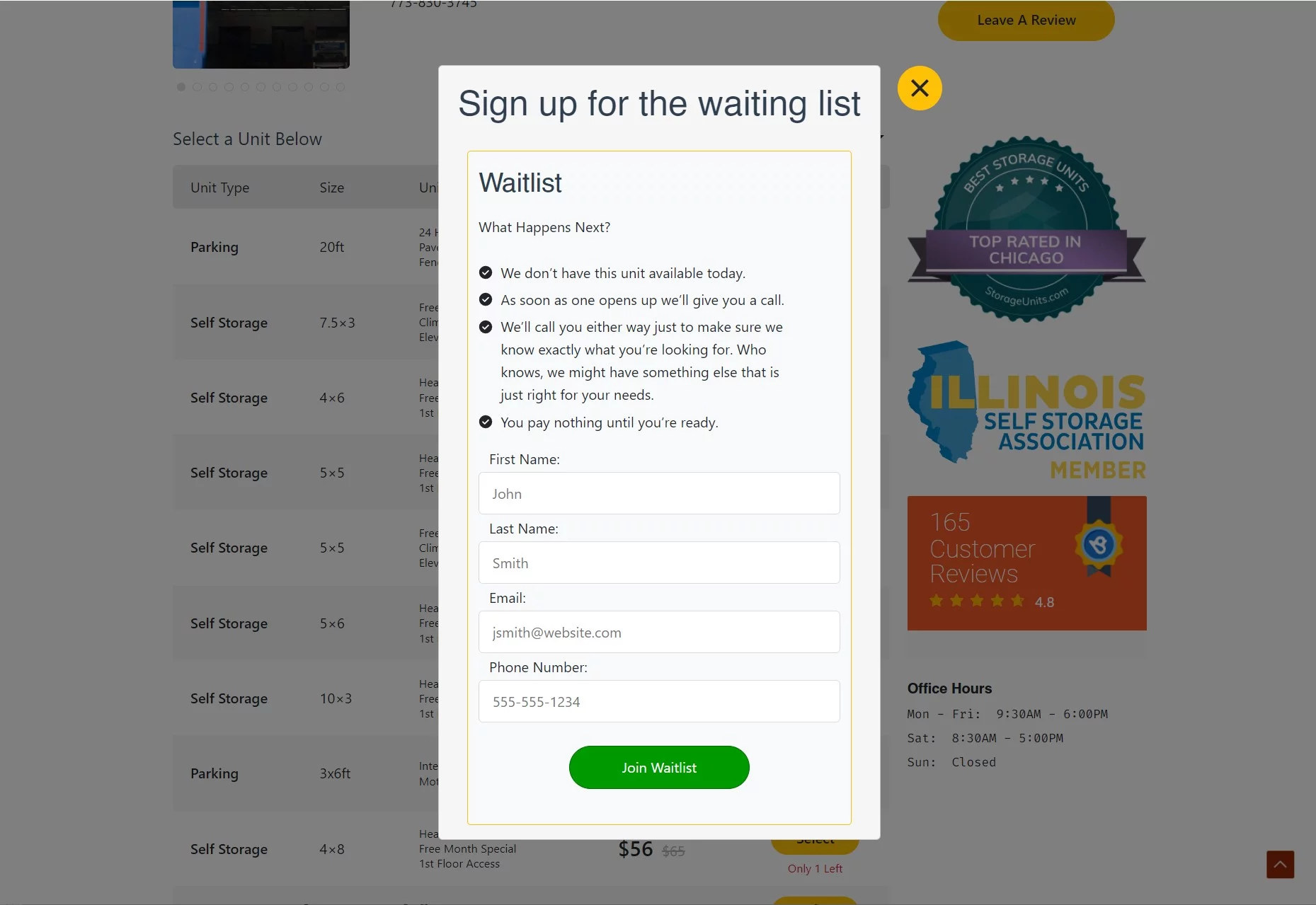 Booking Functionality
We understood that only users could decide whether to wait for available booking dates or choose an available storages. Thus, we incorporated a Waiting List feature. This way, the company didn't hinder users but instead assisted them in selecting the most optimal storage. This approach ensured user satisfaction and increased the likelihood of repeat business.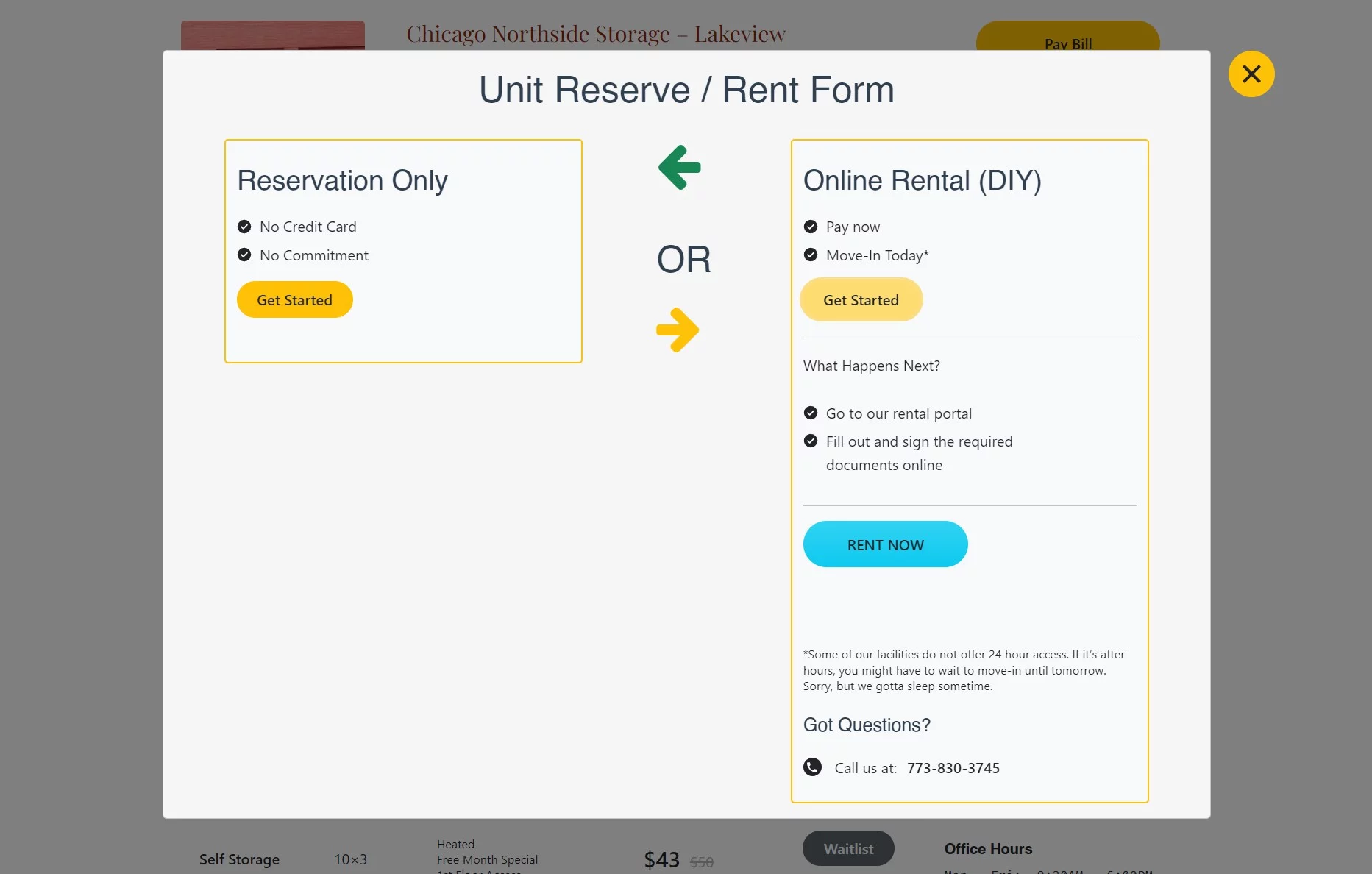 Payment Versatility
Creating a user-friendly atmosphere on the website was vital for the company. Therefore, we decided to provide detailed information about payment methods and streamline the online payment process to just a couple of clicks. A Pop-Up feature addressed this, offering payment flexibility. This approach cultivated a positive user experience when using the company's services.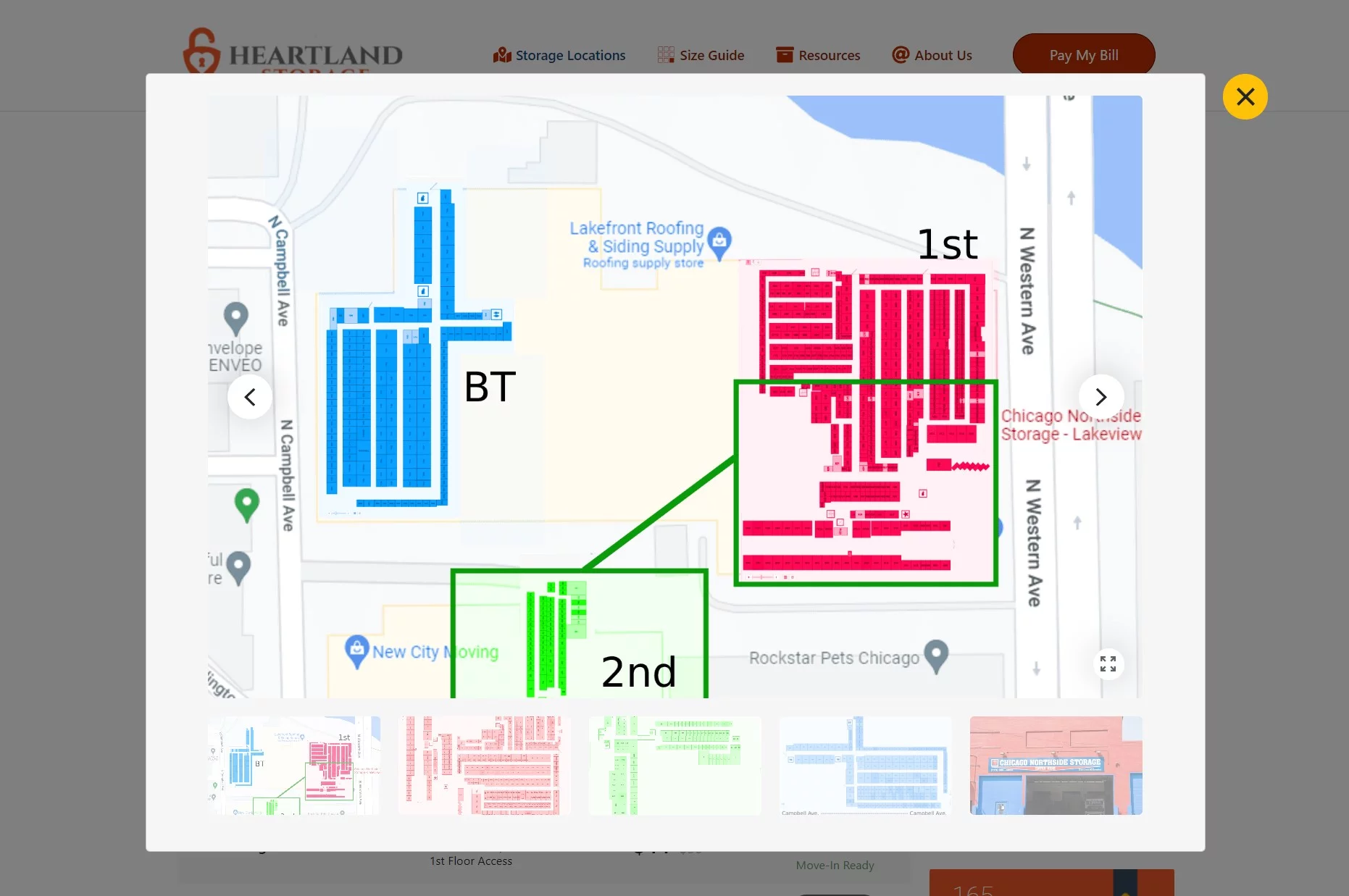 Space Visualization
In addition to essential storage information (rating, reviews, location, and available booking dates), we provided a visualization of the storage units on a map and a photo gallery. This allowed users to preview potential storage spaces, ultimately boosting user loyalty.
Results
In addition to thoughtful website functionality, we ensured the company could easily manage its content. Notably, the administrative panel was designed so the client could rearrange content blocks according to their preferences. This provided maximum user convenience.
The page contained detailed information about the storage unit, as well as the office and storage hours. All conditions were created for user convenience, with a simplified payment process and a prominent CTA button on the first screen of the website. This enabled users to make booking decisions quickly. Elements like ratings and photo galleries allowed users to form impressions of the storage unit even before visiting it.
More Case Studies
Explore our other projects
Transform Your Vision
Request your website now
Over 900 companies trust us with their online presence
Very responsive, fast, worked with me to get everything just right!
Job completed as promised! Plus, they helped me as clear as possible about what tasks were needed which was very helpful. Thank you!!
Alex and his team were amazing in their responsiveness with the tightest of timelines working with a designer not versed in WP. Delivered pages as-designed in less than 2 days on-time at exceptionally fair budget.