Incorporating E-Learning Features into Nathan Cole's Website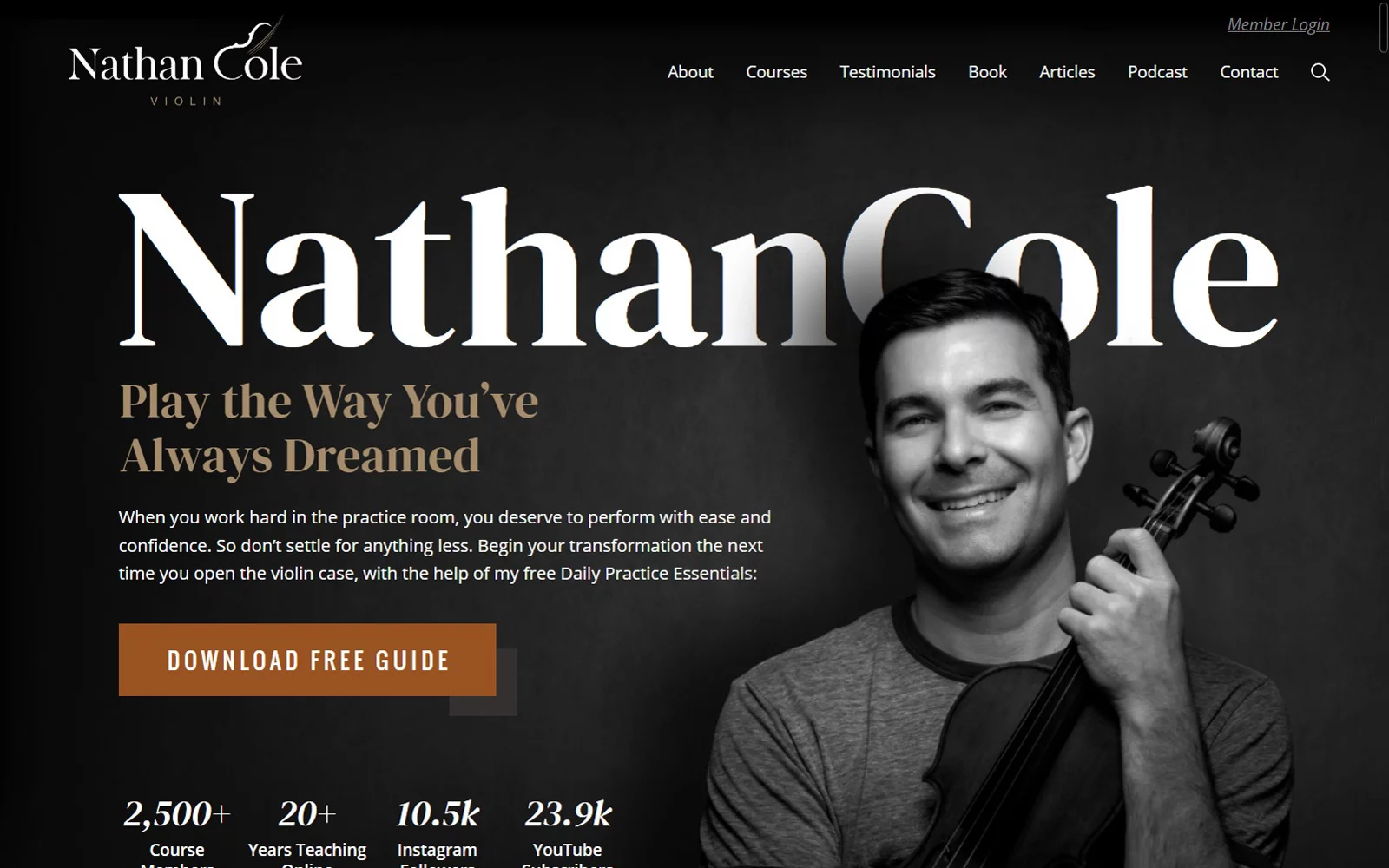 Services & Technologies
PRO website for the simple content management
User data processing
E-commerce functionality
Podcasts integration
E-learning platform integration
Client
Nathan Cole, Associate Concertmaster of the Los Angeles Philharmonic Orchestra
About the Project
The client previously had multiple websites with various content types, including blog articles, podcasts, and educational courses. The primary objective was to migrate all the content and consolidate it into a single website. This involved configuring the website for seamless functionality, ensuring compatibility, and setting up course sales on the website.
Competence
Deputy Concertmaster of the Los Angeles Philharmonic, lecturer at the Colburn Conservatory
Industry
Music Education and Instruction
Our Goals
Previously, the client had several websites with different types of content. It was crucial to seamlessly migrate all content while also setting up course sales on the website. One of the key aspects of our development team's work was the careful selection of plugins and the customization of their standard templates.
The client's website needed a complete redesign. Our development team, utilizing technologies such as JS, PHP, and CSS, brought the Nathan Coles project to life. This website offers courses on learning to play instruments such as the violin and viola.
Solution
A standout feature of this website is its integration of e-learning. We offer a carefully curated range of courses designed for effective learning. This functionality is easily expandable with the LearnDash plugin, ensuring a seamless and efficient learning experience.
In summary, this project showcases our team's expertise in creating a robust digital ecosystem. From intricate Gutenberg blocks to diverse content, it all comes together to provide an engaging and informative online presence. The new website seamlessly adjusts to various devices.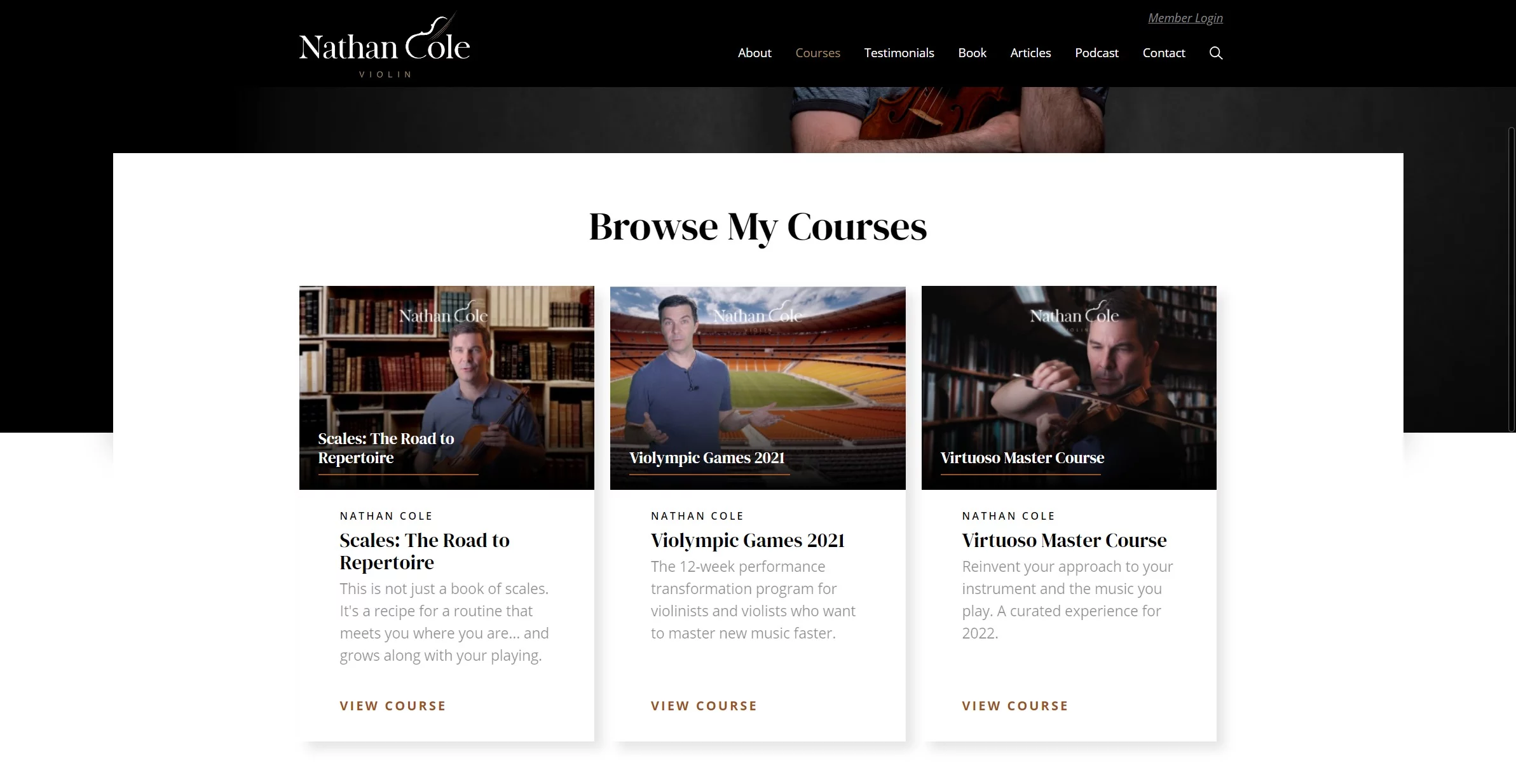 E-learning Management System
We have established an ideal environment on the website for conducting courses, facilitating the exchange of educational content, and ensuring the active engagement of students. This carefully designed ecosystem promotes seamless learning experiences, making it easier for students to access and interact with course materials.
With user-friendly features and intuitive navigation, students can easily navigate through courses, access resources, and track their progress. This not only enhances the learning process but also contributes to higher levels of student satisfaction and retention.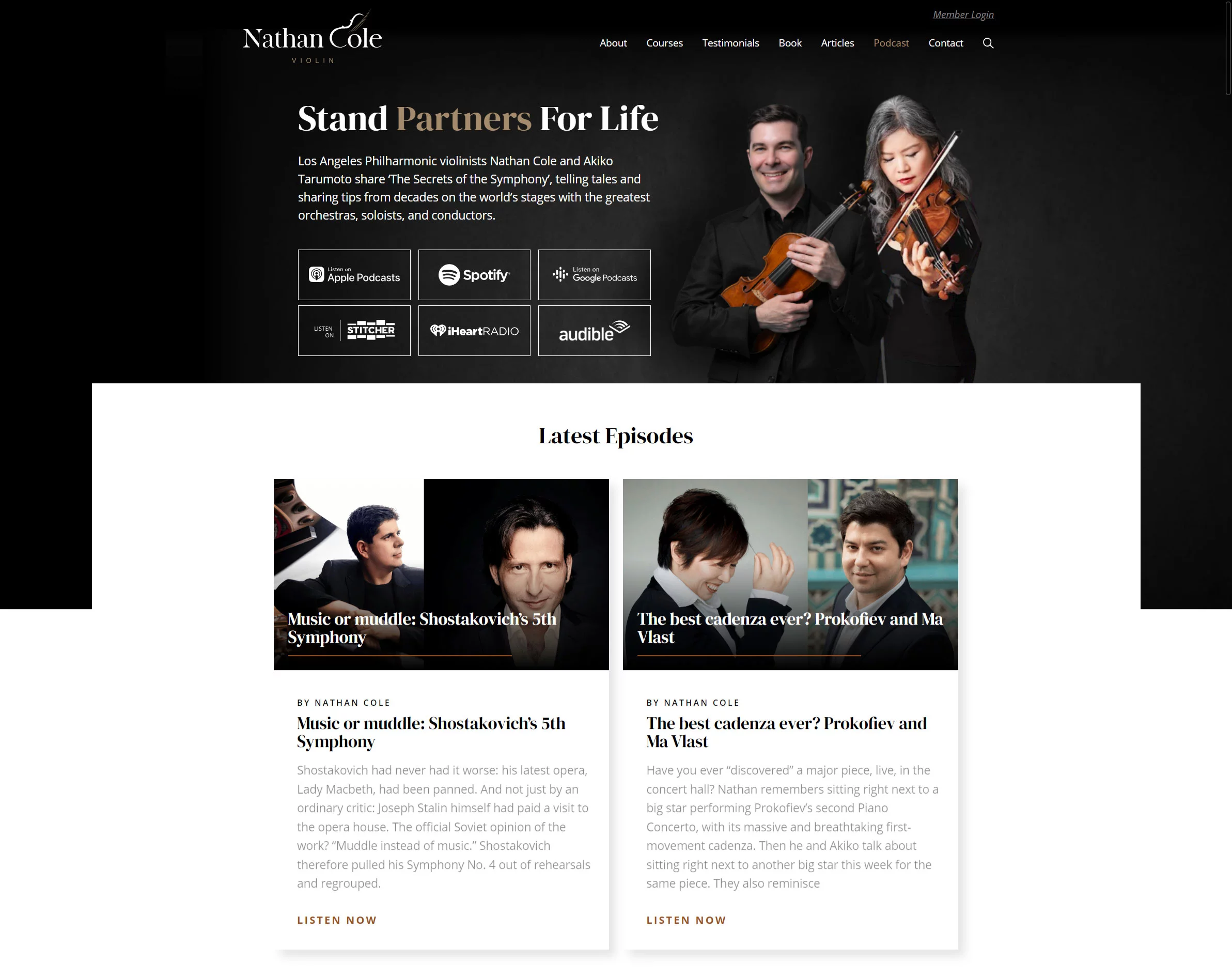 Podcasts
Our team has successfully integrated the musician's podcasts into the website. This integration enables Nathan Cole to effortlessly share his music and audio materials, making them easily accessible for both listening and downloading. The inclusion of podcasts not only boosts website traffic but also has a positive impact on conversion rates, ultimately improving the website's search engine ranking.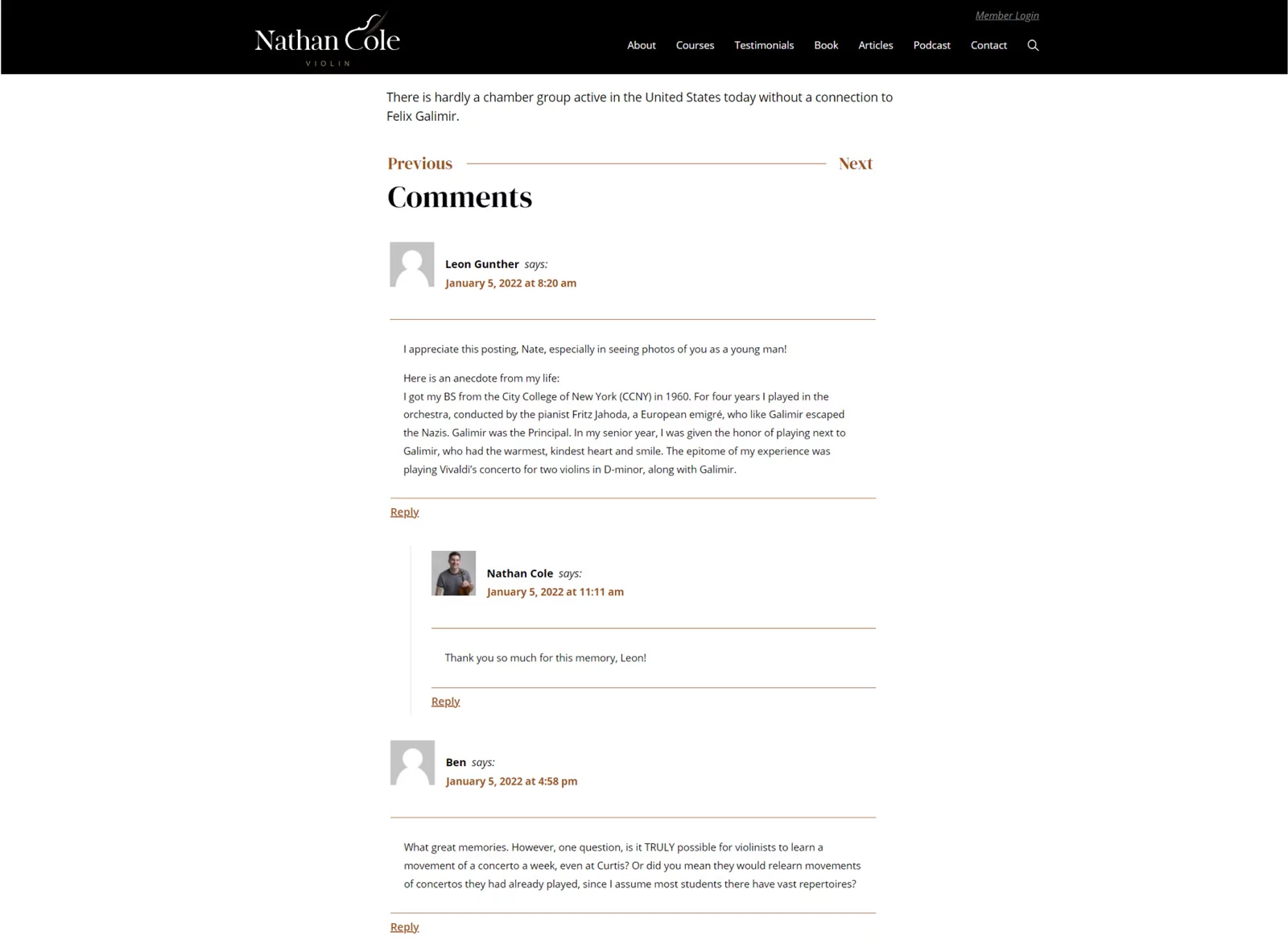 Collaborative Learning
We have improved the website by including a forum function dedicated to courses. Our team has easily integrated this functionality, ensuring that it works harmoniously with the rest of the website components.
We spent time fine-tuning the configuration, ensuring the smooth and efficient operation of the forum, and offering an interactive space for course discussion and interaction. This forum function allows course participants to participate in discussions, receive clarifications, and create a collaborative learning environment.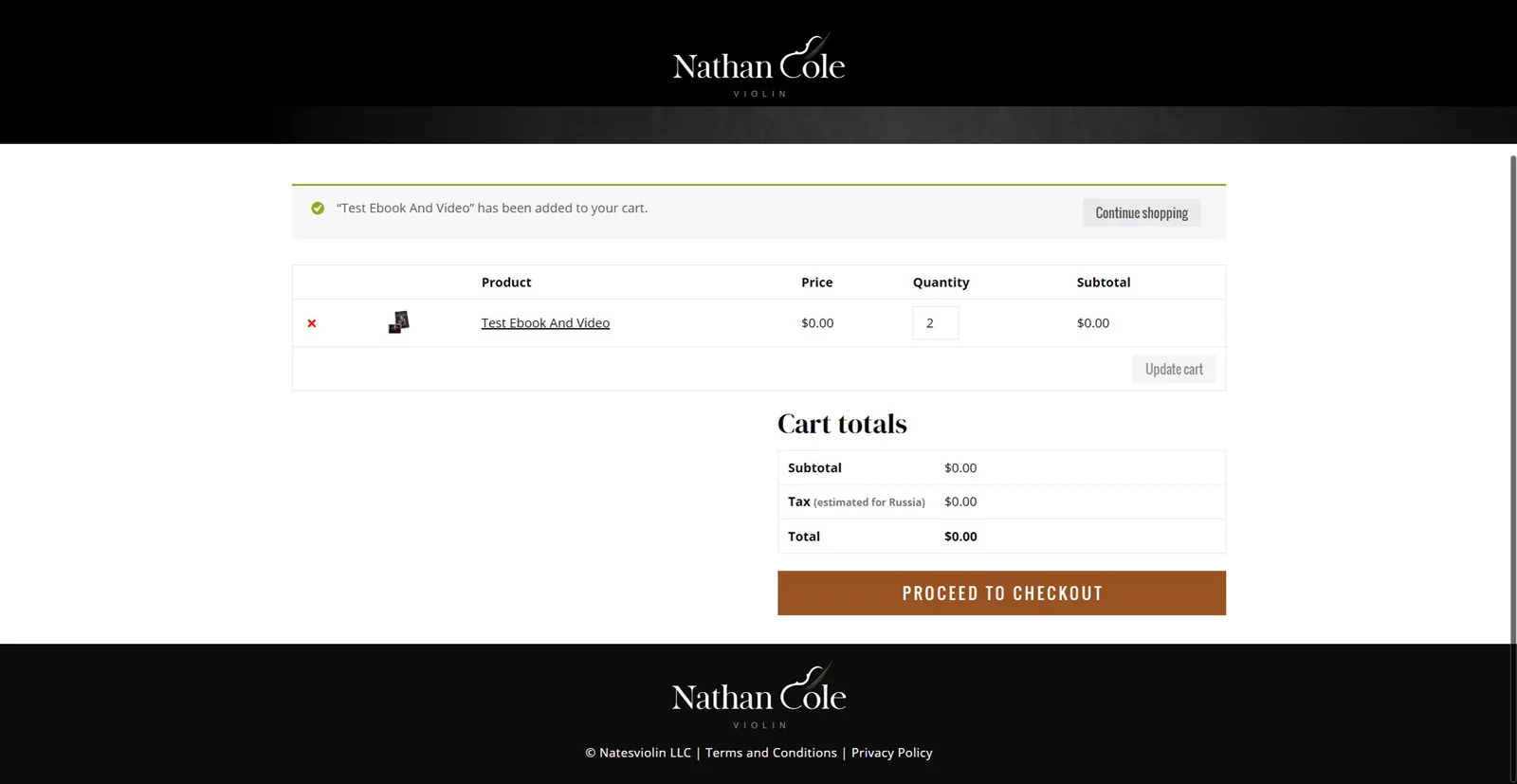 Selling Courses
We have simplified the course purchasing process by integrating advanced e-commerce tools into the website. This has made the buying process exceptionally easy and user-friendly. You can complete the purchase of any course you desire within just a few minutes. Following your purchase, you will have instant access to your dashboard, where you can access all course materials and modules.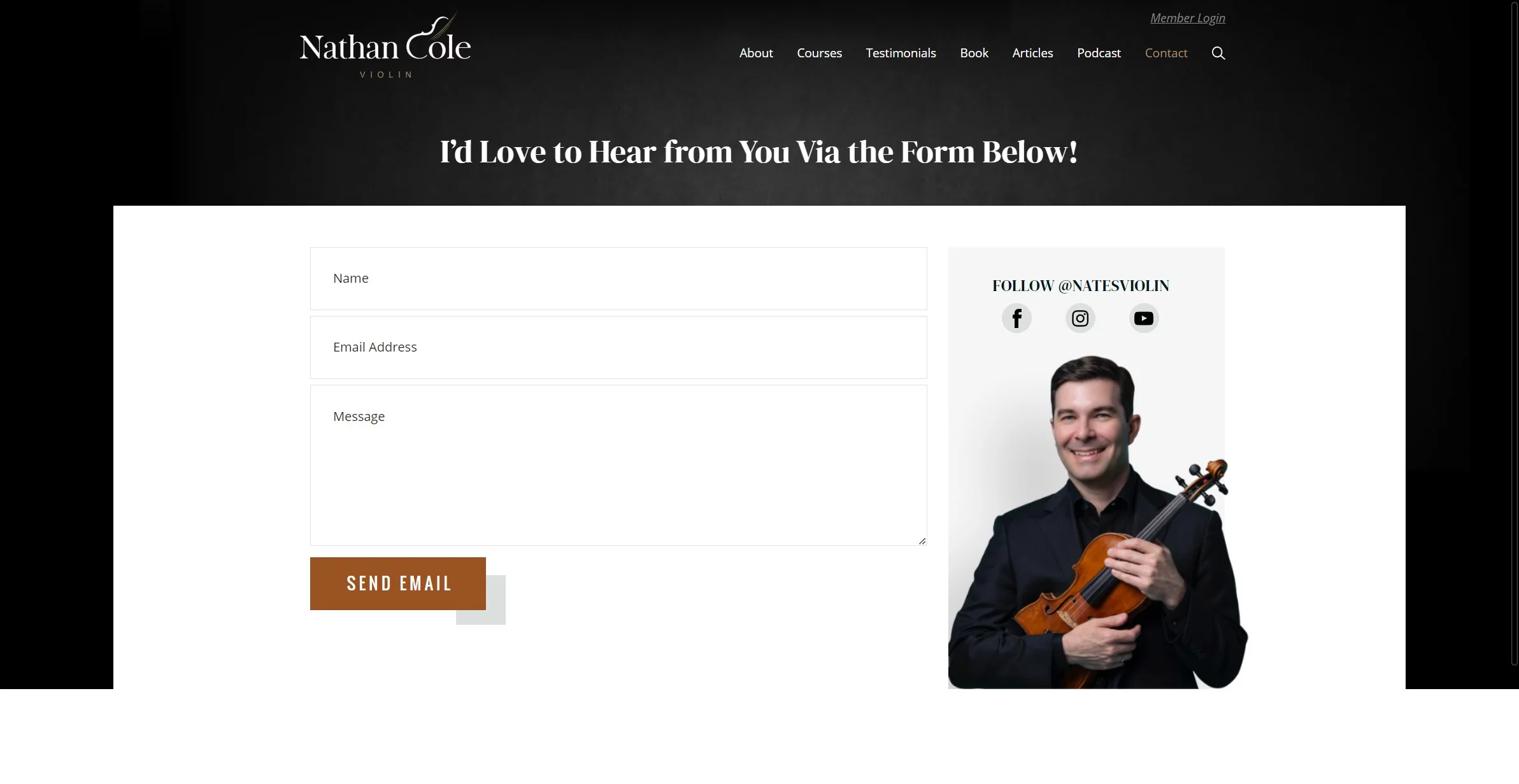 Maintaining Continuous User Engagement
The developers have integrated a user-friendly feedback form into the website. This form significantly enhances the overall user experience and plays a crucial role in building trust and confidence in the product. The feedback received through this form is invaluable as it helps in continuous improvement and tailoring the content to meet users' needs.
This interactive element fosters a stronger connection between Nathan Cole and his audience, creating a sense of collaboration and responsiveness. By actively seeking and valuing user feedback, the website ensures that it remains a dynamic and user-centric platform.
Result
The outcome of our collaboration with Nathan Coles culminated in the successful development of a dynamic and versatile website. This platform seamlessly integrates a diverse range of content, encompassing blogs, podcasts, and courses.
Our team has undertaken the task of streamlining the course sales process, concurrently enhancing user engagement through the incorporation of interactive forms on the website. We've meticulously attended to every detail, ensuring that each element aligns perfectly with the site's aesthetic and functional criteria.
In summary, the Nathan Cole website stands as a testament to the harmonious fusion of creativity and technical prowess. It offers Nathan a dynamic platform to disseminate his music and educational resources effectively to his audience.
More Case Studies
Explore our other projects
Transform Your Vision
Request your website now
Over 900 companies trust us with their online presence
Belov Digital is super fast and does a great job helping us!
Alex, founder of Belov Digital, is my most treasured business consultant because of his personality, expertise & gentle ways of working with me.
Great job! Very helpful through the whole process, quick turnaround time and a very good communications.