Developing a High-Conversion Website for Sled Dog Talk
Services & Technologies
Website for content management
Simplifying event organization and route planning
Website monetization
Successful service delivery and increased user satisfaction
Client
Sled Dog Enthusiast Community
About the Project
The client approached us with a request to create a user-friendly, popular, and functional website. The Belov Digital Agency team needed to select the right tools to make the site highly conversion-friendly among community members. Additionally, the goal was to create a unified and convenient information resource to streamline the organization of races and set up the sale of professional equipment.
Competence
Sled Dog Enthusiast Community & Advocacy
Our Goals
In this project, we outlined several objectives. Our top priority was to implement the website as an MVP (Minimum Viable Product). The site needed to incorporate numerous integrations aimed at simplifying race organization and increasing the loyalty of community participants.
In light of this, we had to analyze and select tools and plugins that best aligned with the client's requirements and allowed for the creation of an optimized, fast-working website. Another goal was to form a community of dog sledding riders to immerse users in the professional racing environment and introduce and to a wealth of terminology. The client wanted to enable site users to termsand edit terms. This feature was designed to facilitate interaction among participants.
Solution
To achieve all of the above objectives, we implemented options on the website such as an editable glossary, a forum, event planning, route sharing, and specialized inventory sales. Furthermore, we have implemented a popular monetization method by placing zones for Google AdSense advertising banners on internal pages of the website.
Our primary focus was on designing key pages and global elements. This strategy was devised to guarantee a coherent, organized, and operational website that offers a smooth and user-friendly experience. All these actions enabled us to develop a frequently visited website with a high conversion rate, where individuals with similar interests congregated.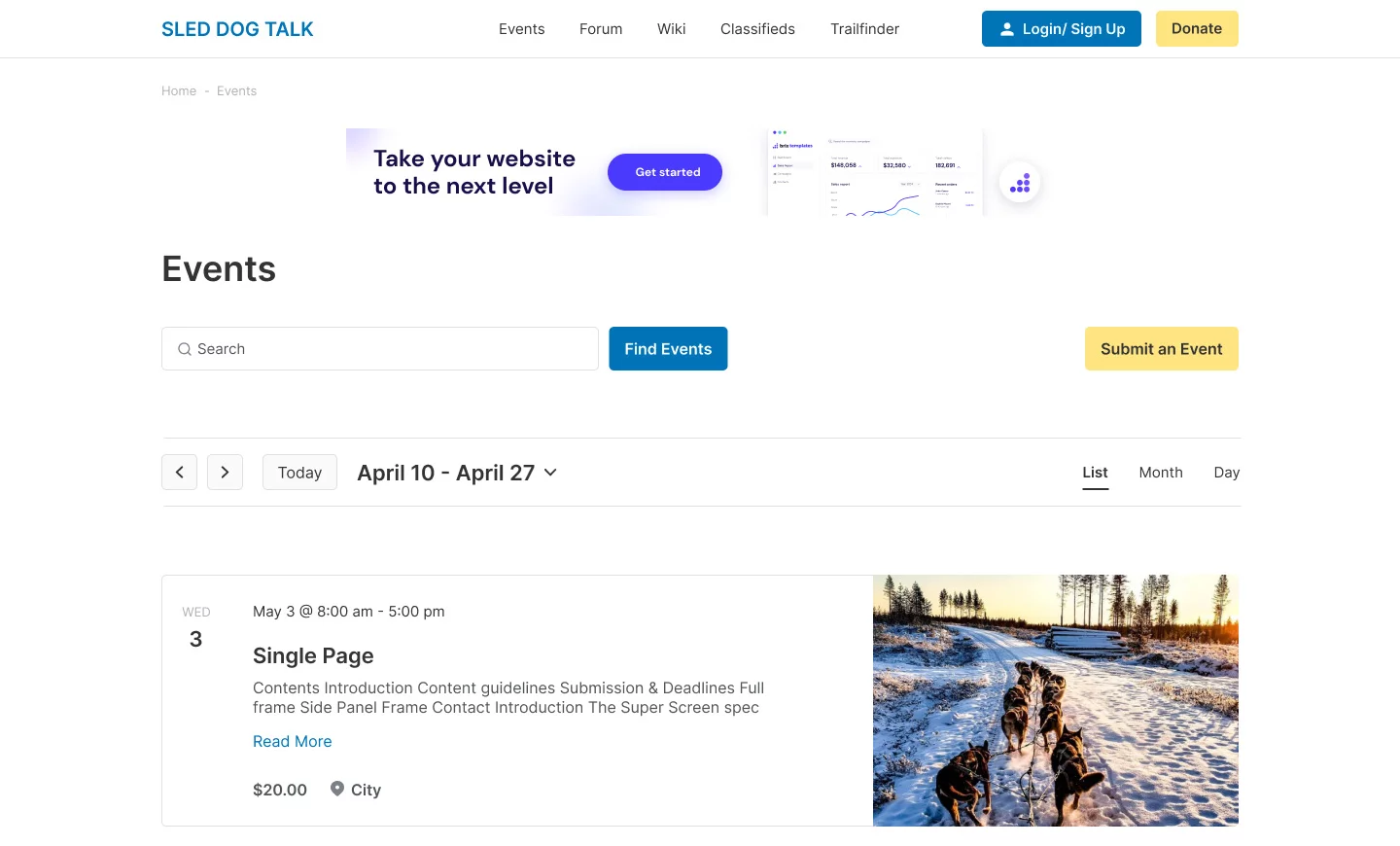 Event Planning
One of the main goals of the website is to unite members of the Sled Dog Community and simplify and improve their communication while coordinating group events and competitions. As a result, our developers used several tools, including event calendar integration. This allows users to independently register events, exchange information about dates and venues of events, track the number of participants, collect feedback, and facilitate the organization of races. These features enable client to boost race participation, enhance community visibility, and draw in a fresh audience.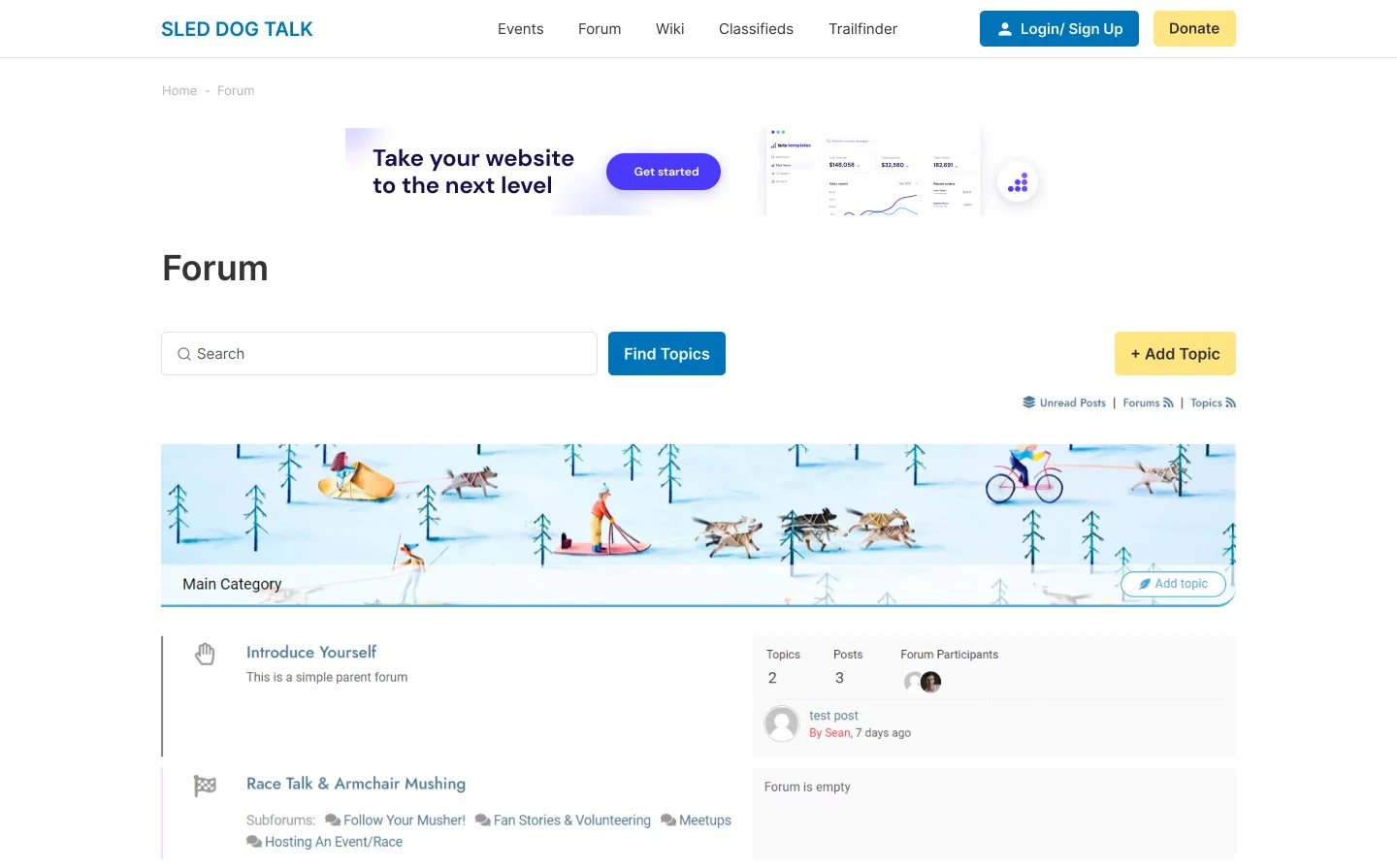 Effective Communication
Over time, the community has accumulated a substantial collection of media resources, information materials, and extensive discussions. Preserving this valuable content on the current website was essential, as it enhances SEO by expanding the volume of indexed content relevant to the site's niche. Furthermore, the forum posts user engagement, prolong the time users spend on the site, and enhances the site's expertise.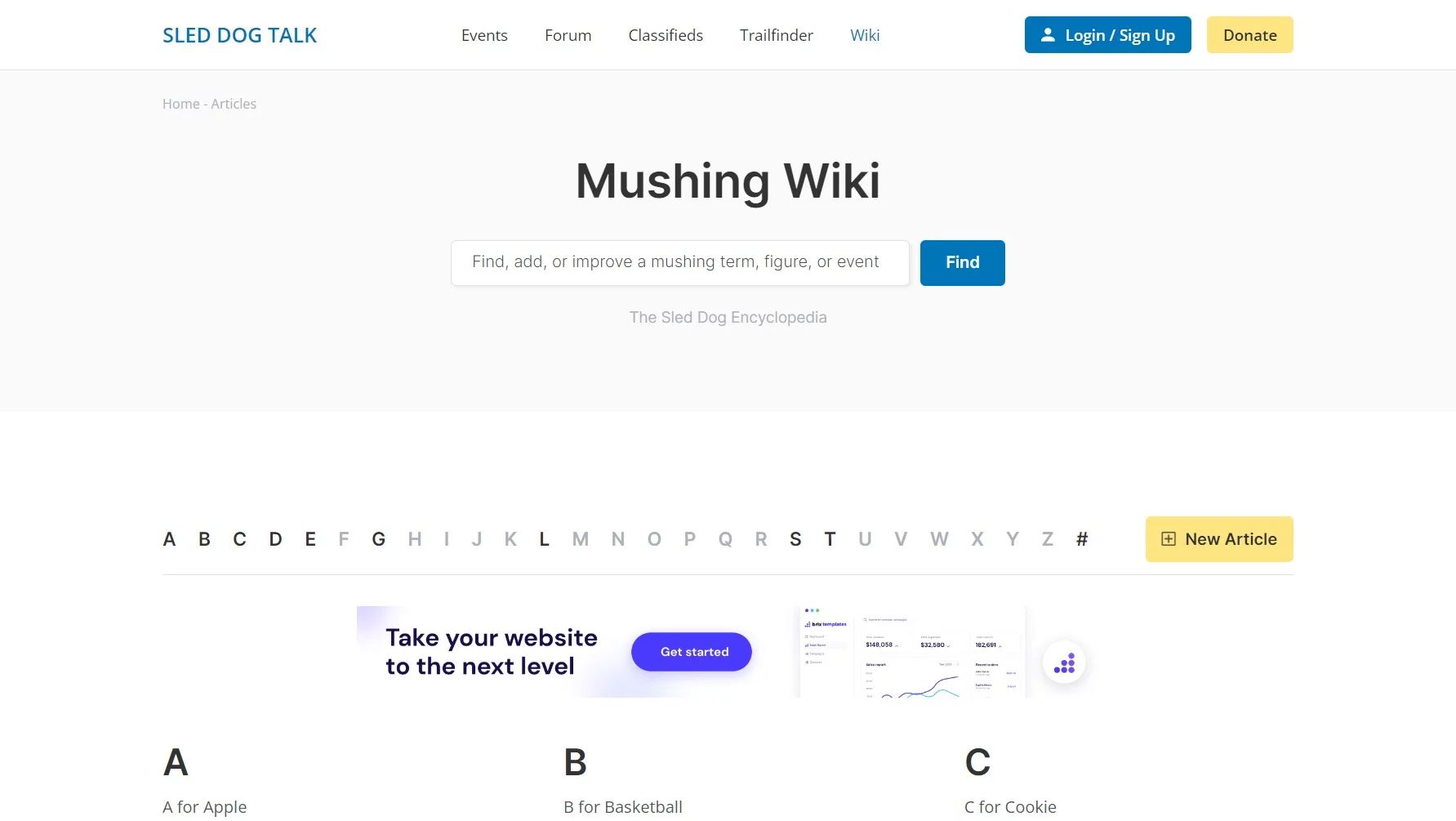 Knowledge Base
The knowledge base offers insights into particular phrases and terms linked to the Sled Dog Community. This can potentially draw in fresh members seeking information on this subject. Users can actively engage by contributing their interpretations of terms and making edits, fostering an active and involved community.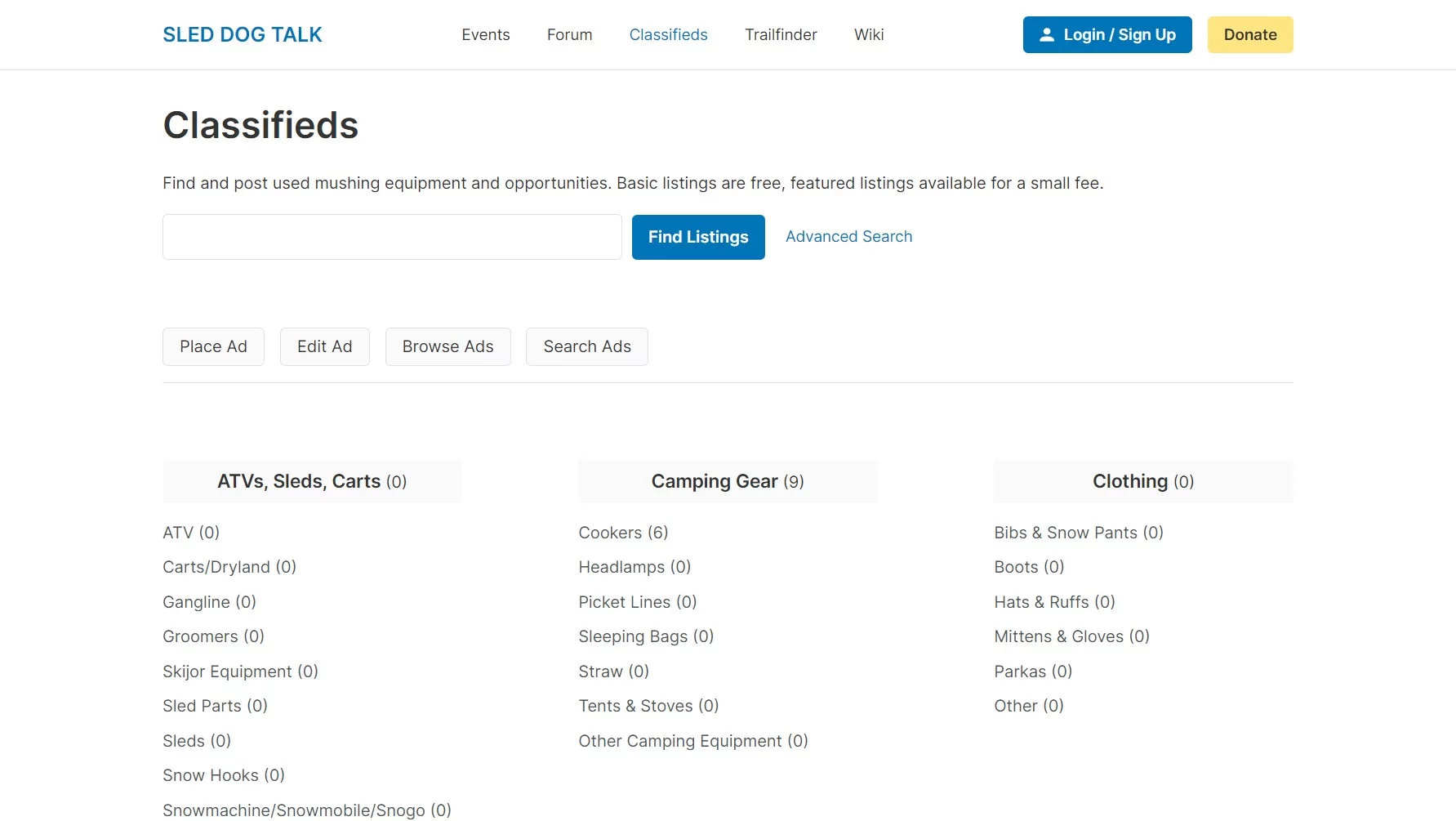 Classifieds
We're all familiar with the situation where there's a need to either find used equipment or upgrade existing gear, but it's often unclear how to dispose of unwanted items. Our client aimed to simplify this process as much as possible for members of their community, which is why they incorporated an extensive classifieds board on the website. This page contributes to increasing the site's conversion rates, attracting a larger number of regular users, and positively impacting the site's search engine optimization.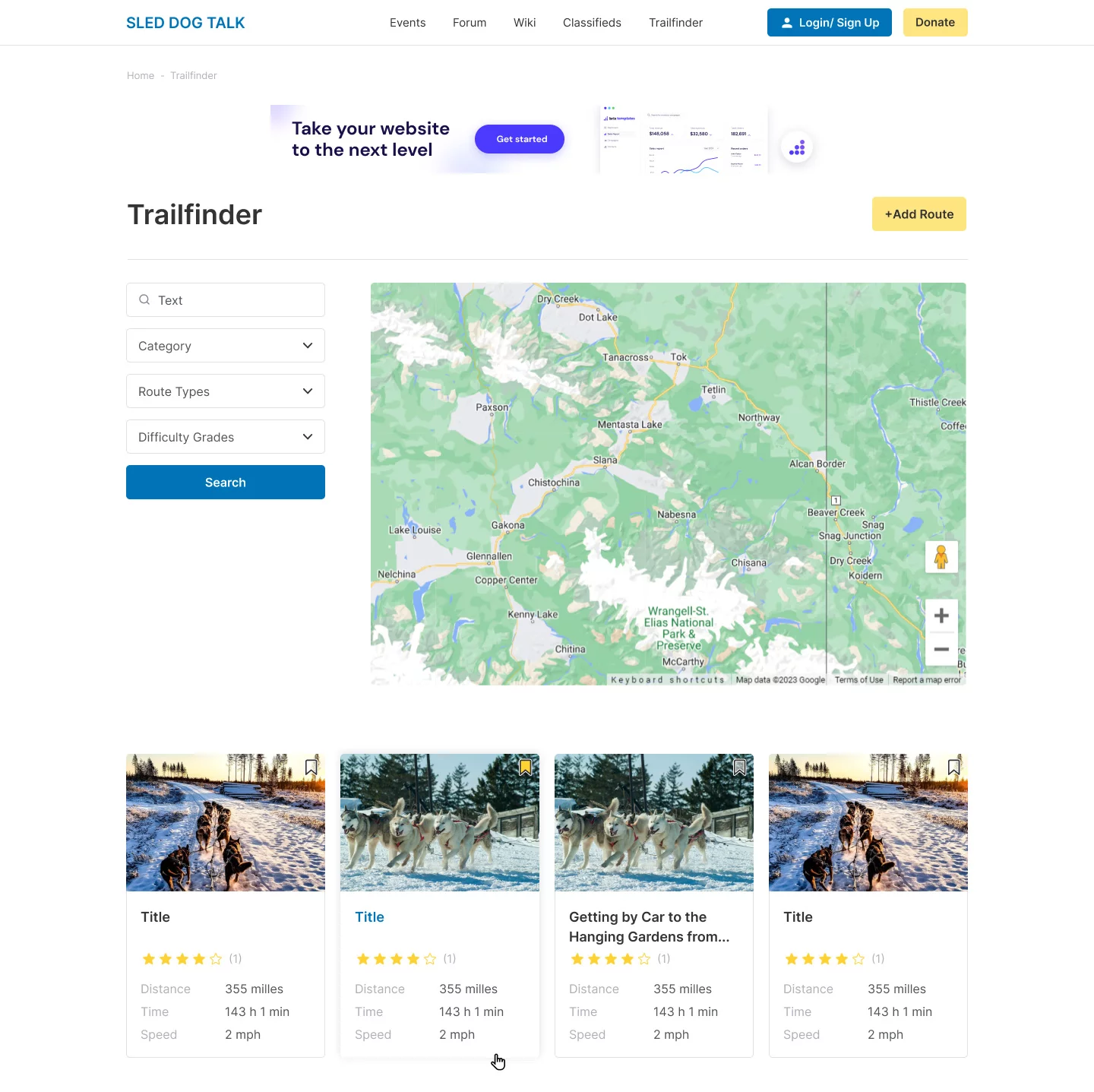 Routes
However, one of the key tasks within the Sled Dog Community is the exchange of approved routes. This information is crucial and thus needed to be prominently featured on the website. Such a page increases user engagement, encouraging them to delve into the route details. We've provided comprehensive descriptions for each route, including distance, duration, and average speed. Additionally, we've implemented a rating feature for each route, allowing users to exchange comments and gather insights. Any community member can share their own routes on this platform.
Result
So, the key features of the website included the integration of a vast array of functionality, site optimization, and project monetization. We implemented a donation system by connecting it to an appropriate service, allowing anyone interested to support and contribute to the project.
It houses materials that are indispensable to every community member, making their lives easier. The pages are designed to look great on any device, ensuring convenient access from any type of device.
The new website has led to an influx of new community members, facilitating the coordination of collaborative events and providing participants with the opportunity to exchange sled dog routes and other related content.
More Case Studies
Explore our other projects
Transform Your Vision
Request your website now
Over 900 companies trust us with their online presence
Belov digital agency is extremely easy to work with, and does fast, quality work.
Alex and his team exceeded expectations and came up with a sustainable and creatively efficient solution to our challenging issue. Everyone that saw the end result on our team was impressed with the solution. Very smart and fast and just great to work with all around."
I can always count on Belov Digital to respond quickly, with outstanding development work. I've learned a lot from the team as well! Thanks, Alex!