Unique interactive website for the Made Collaborative studio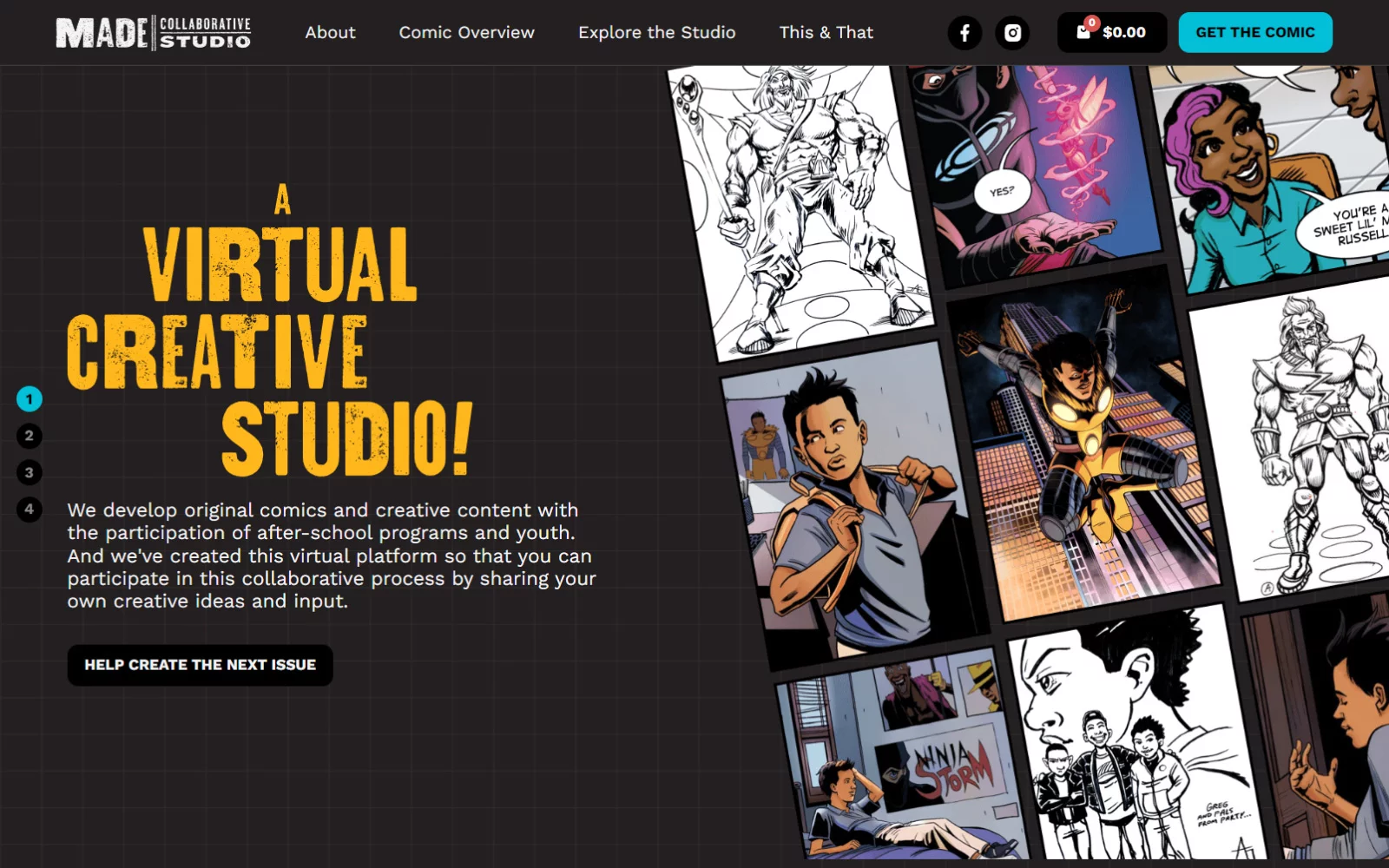 Services & Technologies
Enhancing Brand Visibility
Generating Project Interest
Content Administration
Product Sales
Client
Made Collaborative Studio
About the Project
Made Collaborative Studio represents a multifaceted project, encompassing functions such as uniting both the agency and creative youth, along with the sale of comics. Shortly before the project commenced, the client revamped the company's identity. Initially, the task involved redesigning various internal pages to enhance website navigation.
Competence
Comics, creative association of students
Industry
Entertainment, creativity
Our goals
Our client, a creative comic studio, aimed to showcase the project's distinctiveness and draw potential comic authors to their work.
Our team established several objectives to accomplish this:
Emphasizing brand visibility.
Attracting fresh resources to the project.
Simplifying communication.
Promoting the company.
Increasing sales.
Solution
Taking inspiration from the new brand guidelines and in close collaboration with the client, we crafted a novel website that deviated significantly from the previous iteration. Our designers conducted a complete overhaul of the visuals and user experience on the homepage.
We introduced an elevated concept to accentuate the company's distinctiveness and enhance brand recognition through structural adjustments to the homepage. During the process, we didn't merely redesign the website in accordance with the new brand identity; instead, we created an entirely new website from scratch, characterized by its unique style and designed to stand out.
The new creative website is rich in interactivity, engaging users in the creation of new comic releases.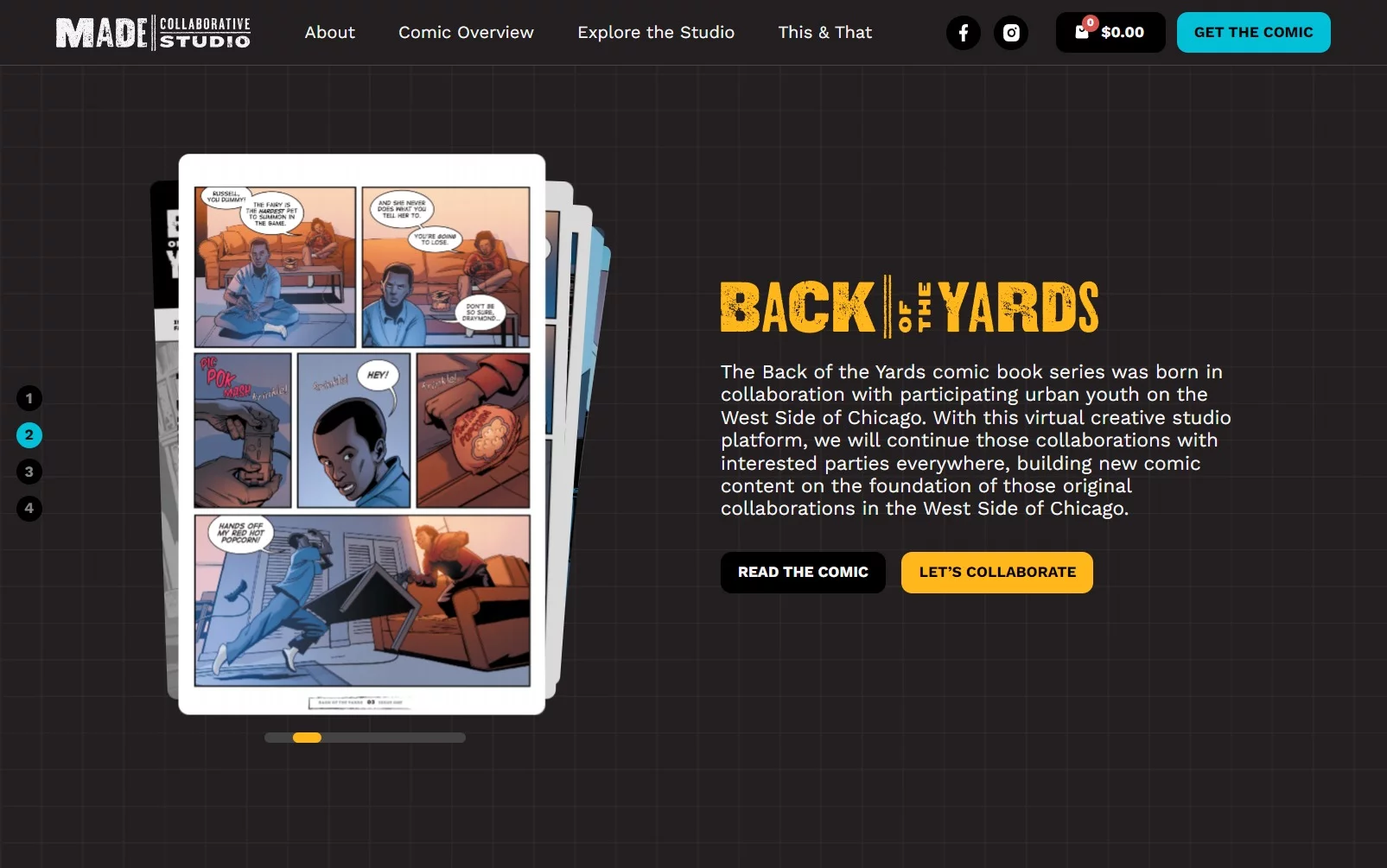 Navigation and logical flow
Our development team thoroughly restructured the page's layout. One innovative solution was the implementation of per-screen scrolling, simulating the flipping of presentation slides. The addition of micro-animations sustains user engagement, encouraging them to spend more time on the page.
We meticulously devised the page's navigation to steer users toward an enhanced interaction with the website. Each section offers the option to navigate to internal website pages, preserving navigational coherence.
A unique feature involved a segment featuring randomly shuffled event cards. This feature enables users to engage with the website, providing entertainment and encouraging extended stay, thus boosting the average time spent.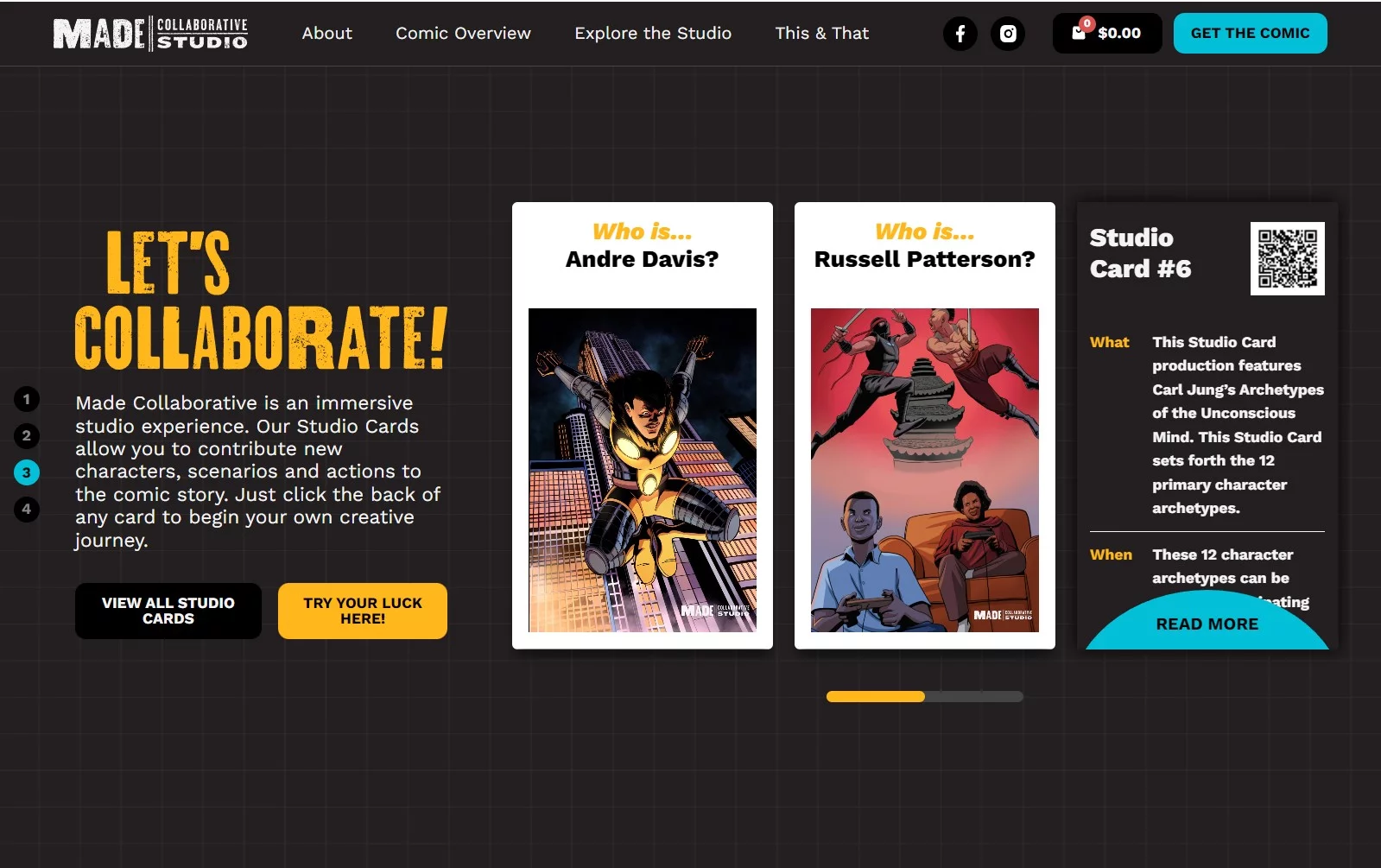 Interactivity
To involve users in comic creation and community building, we introduced various event card variations, categorized into three groups. Any user can select a card, aiding them in selecting materials for comic creation. Clicking on any card redirects them to an internal page with a user interaction form. This enhances communication between potential authors and community creators, fostering project loyalty, enhancing feedback, promoting comic creation, and expediting the release of the next issue.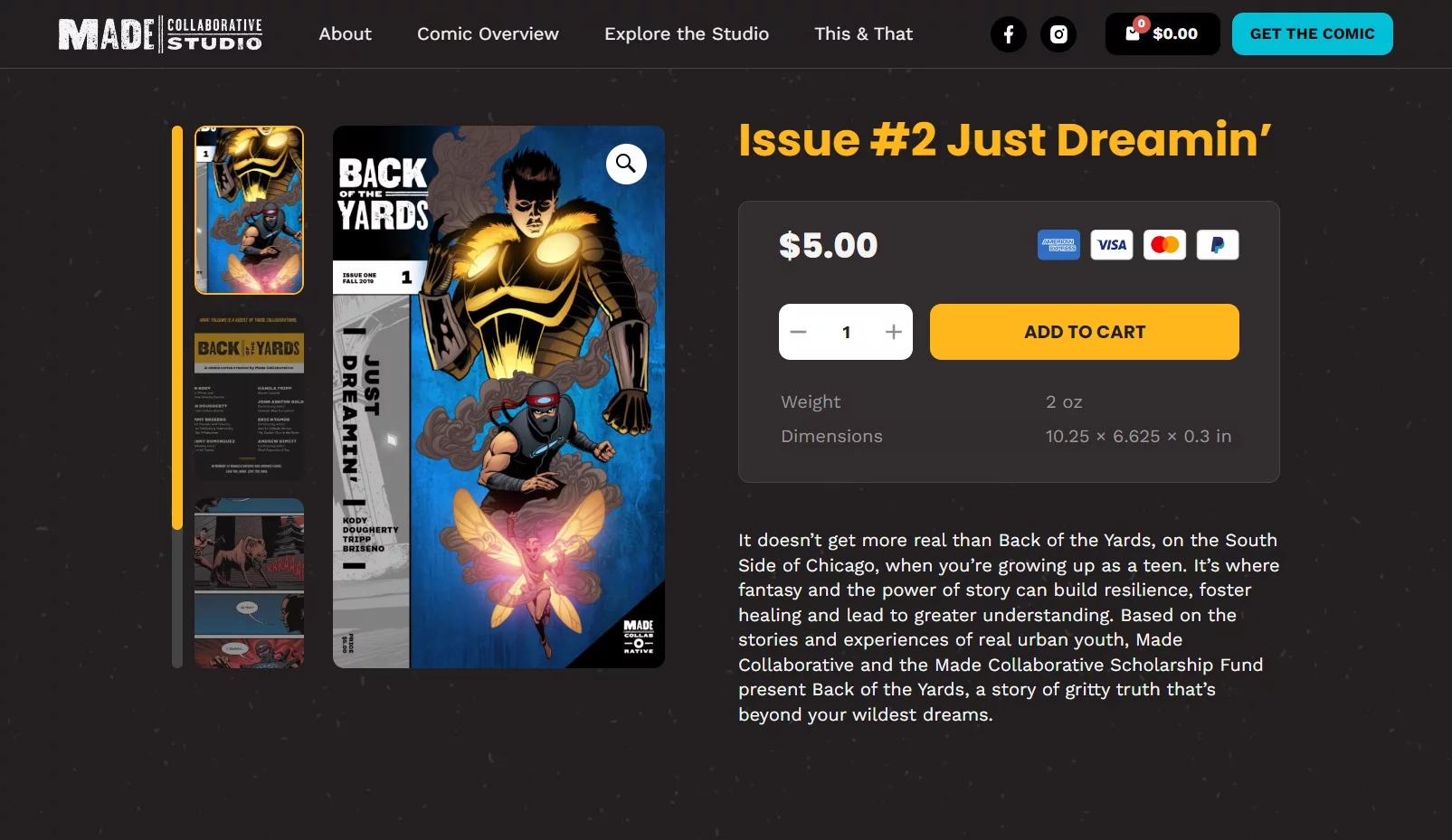 Boosting sales
To enhance sales, we incorporated a convenient navigation element (CTA button) in the website header, leading users to select their desired comic issue. This streamlines the user journey, simplifying the comic purchase process. The well-planned navigation aims to augment website conversions and bolster sales figures.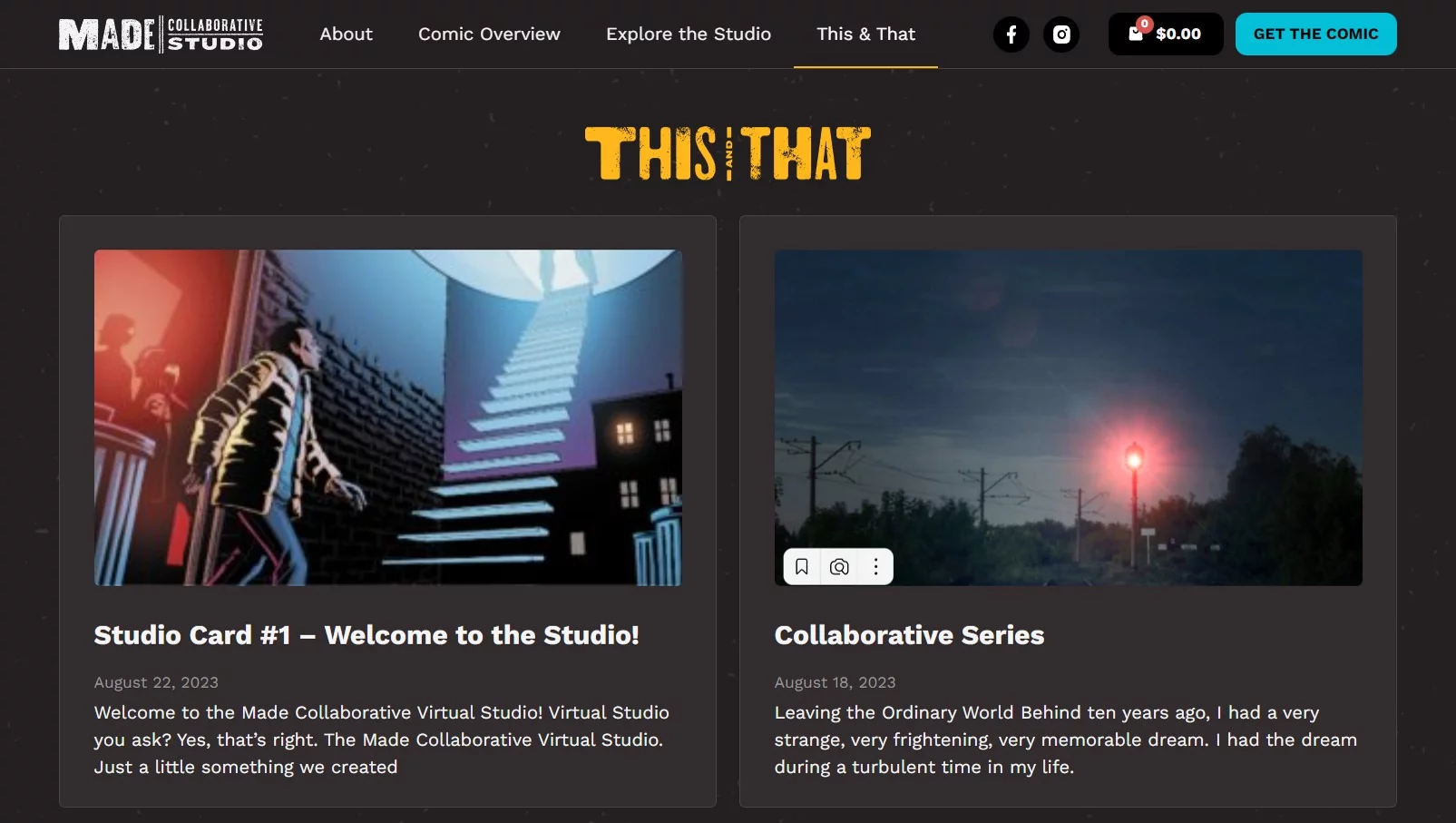 Brand recognition
A comprehensive website redesign proves to be a powerful approach to enhancing brand recognition. In pursuit of these goals, our team has implemented distinctive micro animations on the website and presented branded patterns as a background. The main goal is to emphasize brand awareness and, ultimately, attract investment in the project.
Results
Through the concerted efforts of Belov Digital Agency, we revitalized the company's brand. This attracted new visitors, fostered a website community, boosted sales, and enhanced company loyalty.
We prolonged the average duration of website visits, enhanced SEO rankings, and raised the website's standing in search engine results. Our web pages are meticulously crafted to deliver an exceptional appearance on all devices, guaranteeing convenient access from any type of gadget.
More Case Studies
Explore our other projects
Transform Your Vision
Request your website now
Over 900 companies trust us with their online presence
Belov Digital Agency are thorough and easy to work with. Good communication and offers understandable, clear answers to my questions.
Great job! Very helpful through the whole process, quick turnaround time and a very good communications.
Belov Agency was very prompt and did a great job restoring our website. Will use again for any future projects.